AMY GRANT AND VINCE GILL ANNOUNCE JUNE MUSICAL EVENT,
LAUNCHING CHALLENGE AMERICA, HONORING WOUNDED WARRIORS
AT THE JOHN F. KENNEDY CENTER FOR THE PERFORMING ARTS, MONDAY, JUNE 8

With Special Guests Michael McDonald, Alison Krauss, Darius Rucker, Mac McAnally, Melinda Doolittle and NY Times bestselling author Stephen Mansfield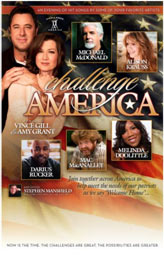 NEWS SOURCE: M Campbell & Associates
April 28, 2009
NASHVILLE, Tenn. (April 28, 2009) - Amy Grant and Vince Gill recently announced plans to host an evening of music at The John F. Kennedy Center for the Performing Arts in Washington, DC, on Monday, June 8, 2009, at 8 p.m., honoring wounded warriors and launching the nationwide Challenge America initiative. Challenge America will work with communities across America to support the development of recreational and occupational programs for returning injured military and their families.
Special musical guests slated to join Grant and Gill at the Monday night Kennedy Center launch event include Michael McDonald, Alison Krauss, Darius Rucker, Melinda Doolittle and Mac McAnally with NY Times bestselling author Stephen Mansfield. Tickets go on sale Saturday, May 2, and are priced at $50, $75 and $95 for general admission and $500 for Gold Circle Seating to include a post-show reception. Tickets are available at the Kennedy Center Box Office, via InstantCharge by calling (202) 467-4600, and online at www.kennedy-center.org.
"I'm excited about getting to play on stage with all of these talented folks and to share what we believe in so deeply. We want to make an impact on the individuals who have given to us in unimaginable ways. Challenge America is our way of honoring the men and women who truly are heroes," explains Vince Gill.
Challenge America is an outgrowth of Challenge Aspen, a non-profit organization that has provided adaptive recreation for people with disabilities since 1995. Since 2000, Amy Grant and Vince Gill have served Challenge Aspen in various capacities, hosting golf tournaments, providing entertainment during fundraisers, and volunteering, raising more than $3.5 million. The Kennedy Center concert event to launch Challenge America is a natural progression for Grant and Gill and for Challenge Aspen.
"Amy and Vince have been among our most ardent supporters," said Houston Cowan, CEO and Co-Founder of Challenge Aspen and Founder of Challenge America. "What we hear from wounded warriors is their simple desire to find a new normal life---a job they can be proud of, a home, and recreational opportunities with their families in their own communities. We are delighted that Amy and Vince are hosting an event of this magnitude to launch our organization to help provide access to these opportunities," explains Cowan.
"Every person in every community across the country has the opportunity to welcome home our wounded heroes with open arms," explains Amy Grant. "Vince and I want this event at The Kennedy Center to be a special night for launching Challenge America, and to inspire us all to find ways in our own communities to serve the ones who have served us," she adds.
Established in 1995, Challenge Aspen (http://www.challengeaspen.org) has provided adaptive recreational, cultural and competitive opportunities to thousands of individuals with disabilities from around the world. Based in Aspen/Snowmass, Colorado, Challenge Aspen is an internationally established charitable organization.
Challenge America (http://www.challengeamerica.com) is an outgrowth of Challenge Aspen that will be launched on June 8, 2009. The organization will work with new and existing organizations for the development of recreational and occupational programs for injured military and their families.
Vince Gill has sold more than 26 million albums and earned 18 CMA Awards, including Entertainer of the Year in 1993 and 1994. He is a member of the Grand Ole Opry, with 20 Grammy® Awards to date (more than any male country music artist) and was inducted into the prestigious Country Music Hall of Fame in 2007.
Amy Grant has sold over 30 million albums worldwide. She is best known for her Grammy® Award winning contemporary Christian and pop music, and recently received acclaim as a New York Times Best Selling author for Mosaic: Pieces of My Life So Far. Grant is a six-time Grammy® Award winner, 26-time Gospel Music Association Dove Award winner, and a member of the Gospel Music Association Hall of Fame.
For more info on Amy Grant, visit the JFH Artists Database.