AMY GRANT TO RELEASE NEW 4 SONG EP TITLED SHE COLORS MY DAY ON MAY 5 IN CELEBRATION OF MOTHER'S DAY
EP Receives iTunes ® Exclusive and Amazon.com Music Video Debut

GRAMMY ® Award Winning Artist Partners With Skincare Brand philosophy to Benefit the Entertainment Industry Foundation's (EIF) Women's Cancer Research Fund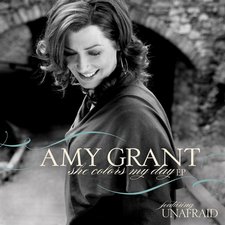 NEWS SOURCE: The M Collective
April 28, 2009
Nashville, Tenn. Apr. 28, 2009… GRAMMY ® Award Winning Singer/Songwriter, philanthropist and mother, Amy Grant will release her first new, non-Christmas music in five years with the release of She Colors My Day EP exclusively on iTunes ® the week of May 5 and in partnership with the skin care brand philosophy.
Grant will debut two new songs for Mother's Day: "She Colors My Day", a fun pop-song about a mother's love for her daughter, and the beautiful soul-stirring "Unafraid" which is a tribute to Amy's own mother. Available May 5 with a debut exclusively on iTunes ®, the 4-song EP also includes classic Grant hits "Baby Baby" and "Oh, How The Years Go By". The colorful music video for "She Colors My Day" will have an exclusive Amazon.com debut on May 12.
"I'm so glad to be releasing some new music," says Grant. "I've been working on a lot of new material and two of the new songs seemed to fit perfectly for a special Mother's Day release. 'Unafraid' is motherhood from every angle --- partner, parent, caregiver -- a perspective that every 40-something mom knows all too well. And 'She Colors My Day' makes me smile thinking of how my own daughters brighten up my life."
Amy Grant and songwriters Cristina Carlino (philosophy founder and creator) & Stuart Mathis are donating all artist and publishing royalties generated by the sale of the song "She Colors My Day" to the Entertainment Industry Foundation's Women's' Cancer Research Fund.
Alongside Grant's EP, philosophy is partnering with online photo and artwork company Snapfish to create personalized books for Mother's Day. For each book that is created, Snapfish will donate 50 percent of the net proceeds to the "She Colors My Day" project, a philosophy non-profit initiative to assist in raising funds to create a cure for breast cancer. philosophy is also releasing a bubble bath in honor of the charity.
about philosophy
philosophy is a lifestyle brand that celebrates feeling well and living joyously and wants to inspire its customers to live a better life by being better to themselves. Long before the "doctor" skincare brands of today, there was philosophy. Born from biomedic, the acclaimed medical company that pioneered some of today's most popular in-office treatments such as the micropeel. philosophy skincare has long been recommended by dermatologists and plastic surgeons around the country. philosophy is an international skincare and cosmetic company founded in 1996 and headquartered in phoenix, arizona. For more information please visit our website at www.philosophy.com.
about Amy Grant
Amy Grant's career spans over 25 years and stretches from her roots in gospel into an iconic pop star, songwriter, television personality, and philanthropist. Grant has sold more than 30 million albums and won six Grammys ® in multiple categories, beginning with the platinum selling Age to Age in 1982. She also has six #1 hits, including "Baby, Baby," and "Every Heartbeat" and is one of only two Christian artists to be awarded a star on the legendary Walk of Fame in Hollywood. Grant released her first live recording in 25 years with Time Again...Amy Grant Live in September 2006, and then announced her first ever label shift to EMI Music Group where her entire music catalog was re-mastered and released via a GREATEST HITS CD and made available for the first time digitally. Last fall she released her first new Christmas music in 9 years, THE CHRISTMAS COLLECTION, which in addition to four new songs, features tracks that were hand-picked by Grant to include the best songs from her previous albums that result in a classic Christmas album reminiscent of the Bing Crosby, Frank Sinatra, etc. albums of old. For more information, visit www.amygrant.com.
For more info on Amy Grant, visit the JFH Artists Database.