The Power of The Cross – Live at Free Chapel
with Ricardo Sanchez featured on "Kingdom Connection"
This Weekend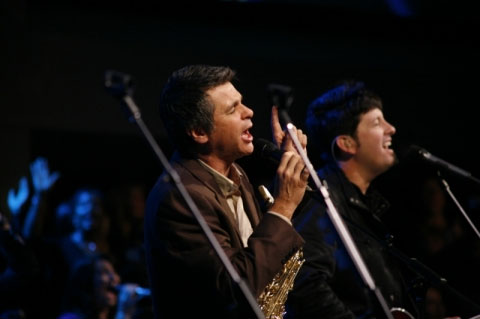 NEWS SOURCE: Spinhouse PR
May 1, 2009
A special edition of Jentezen Franklin's weekly television program "Kingdom Connection" will air next week featuring the new release, The Power Of The Cross - LIVE At Free Chapel with Ricardo Sanchez.
Pastor Jentezen and Ricardo will discuss this new project, share song stories and show LIVE video footage from the recording. This program will broadcast Sunday May 3 and Monday May 4 on TBN, Daystar and The Church Channel as well as several local outlets (see below). It will be re-aired at end of month.
Here are the TV listings:
Daystar: Sunday at 10:30 p.m. ET
TBN: Sunday at 9:00 a.m. and 3:30 p.m. ET; Monday at 9:00 p.m. ET
The Church Channel: Sunday at 5:30 p.m. ET
Charter 23: Gainesville/Hall County, GA
Sunday at 7:00 p.m. ET
Comcast 25: Forsyth/Bartow/Cherokee County, GA
Monday at 8:00 p.m. ET
KDOC 56: Los Angeles, CA
Sunday at 7:30 a.m. PT
WNEG: Greenville/Spart./Anderson, SC/Asheville, NC
Sunday at 8:00 a.m. ET
Free Chapel is the Gainesville, Ga.-based church of pastor and author Jentezen Franklin. The 14,000-member congregation is known for its dynamic worship music led by Ricardo Sanchez and its "Kingdom Connection" telecast with Pastor Franklin. The new Power of the Cross CD was recorded live at Free Chapel and features Sanchez, with guest appearances by Franklin and Israel Houghton.
Sanchez and Houghton, who appear throughout the project, also co-produced the album and co-wrote most of the songs for the 11-track album including the compelling title track. Pastor Franklin makes a guest appearance, playing the saxophone and singing the Andrae Crouch classic "The Blood Will Never Lose Its Power." All the songs are thematic in nature, focusing on the salvation and new life found in the sacrifice of the cross. The end result is a seamless musical experience that combines worship styles and delivers top-notch musicianship.
# # #


[2022]
Jan. | Feb. | March | April | May | June | July | Aug. | Sept. | Oct. | Nov. | Dec.
[2021]
Jan. | Feb. | March | April | May | June | July | Aug. | Sept. | Oct. | Nov. | Dec.
[2001 - 2022]
Visit our complete MUSIC NEWS ARCHIVE