INDELIBLE CREATIVE GROUP ARTIST TRAVIS COTTRELL RELEASES HIGHLY-ANTICIPATED JESUS SAVES LIVE CD AND EXCLUSIVE BONUS DVD ON JUNE 2, 2009
LIVE worship project includes appearances by Beth Moore, Max Lucado and Cindy Morgan

"God has given Travis what I believe is a gift of favor with audiences and congregations." - author/speaker Beth Moore.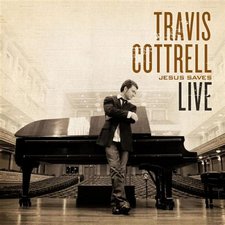 NEWS SOURCE: Rogers & Cowan
May 8, 2009
(LOS ANGELES, Calif.) May 7, 2009- Accomplished songwriter and worship leader, Travis Cottrell will release his highly-anticipated worship project Jesus Saves LIVE on June 2, 2009 through Indelible Creative Group.
Jesus Saves LIVE offers a beautifully woven collection of songs full of encouragement, beauty and truth. The 14-track fully orchestrated (with 4 new worship songs) project features the Woodstock Baptist Church 300 voice choir along with 7000 live worshippers in one extraordinary evening of worship in Atlanta, GA. Complete with a bonus DVD that includes behind the scenes footage and segments with world-renown teacher Beth Moore and best-selling author Max Lucado, Jesus Saves LIVE also features ten brand new recordings by Travis. In addition to Lucado and Moore, award-winning artist Cindy Morgan joins Travis to round out this powerful new worship package from Indelible Creative Group.
The first single from the project, "Jesus Saves," recently hit AC/ and Soft AC (Inspo) stations nationwide and rising on the Soft AC charts.
In addition to recent radio recognitions, Cottrell and Indelible Creative Group will also offer extra footage from the live worship event that will be released into online media via tangle.com, youtube.com, and bloggers nationwide. Worship Leader Magazine is also currently featuring an online and print-magazine contest through June '09 around the release of the CD and the Worship Leader Conference. The two winners will be flown to the conference to meet up with Travis and his team. For more information, please visit http://www.worshipleader.com/traviscottrell.
Along with the release of Jesus Saves LIVE, Travis Cottrell continues to tour, leading worship at all Living Proof Live events with national speaker/author Beth Moore and will be one of the featured worship leaders at the upcoming National Worship Leader Conference in July. For the past eight years, Travis has been privileged to lead worship for such well-known leaders as: Henry Blackaby, Beth Moore, T.W. Hunt, and Priscilla Schirer. Travis also recently participated in the58th Annual National Day of Prayer in Washington, D.C. on Thursday, May 7, 2009 and will be a featured artist this fall on the new Max Lucado "Fearless Worship" project to release Sept. 1.
For more information, please visit www.traviscottrell.com and www.Indelibleonline.com.
About Indelible Creative Group
Indelible Creative Group is a media company with the indelible mission of helping build God's kingdom by creating remarkable experiences through media products that are culturally and spiritually relevant. With music distribution through Word Entertainment and WEA (general market) and film distribution through Lionsgate, Indelible's projects include works by artists and innovators such as Travis Cottrell, Max Lucado, Lenny Leblanc, Erwin Raphael McManus, Phil Joel, Jeff Deyo and more as well as the popular children's artist, Miss PattyCake. For more information on Indelible visit www.indelibleonline.com.
###


[2022]
Jan. | Feb. | March | April | May | June | July | Aug. | Sept. | Oct. | Nov. | Dec.
[2021]
Jan. | Feb. | March | April | May | June | July | Aug. | Sept. | Oct. | Nov. | Dec.
[2001 - 2022]
Visit our complete MUSIC NEWS ARCHIVE