IN THE WAKE OF NOTRE DAME:
PRO LIFE FINDS A PASSIONATE VOICE IN GRAMMY WINNING CHRISTIAN SINGER-ACTRESS REBECCA ST. JAMES
Her Forthcoming Film Reveals the Too Often Tragic Personal
Toll of "Choice"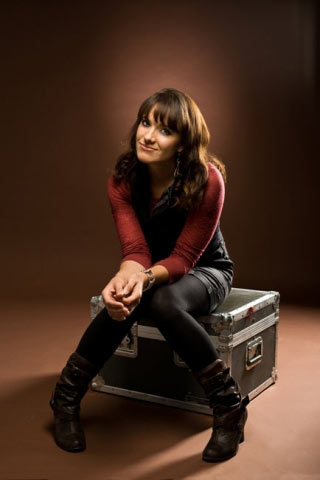 NEWS SOURCE: MorningStar PR
May 18, 2009
(Nashville, Tennessee) –May 18, 2009 – Grammy Award winning Christian singer Rebecca St. James' voice is among those being raised loudly this week on the side of life.
With the abortion issue on a high note of debate and national consciousness in the wake of President Obama's controversial appearance over the weekend at Notre Dame's commencement ceremonies, St. James feels that America cannot be silent on the crucial decision to choose life.
"Considering what happened yesterday at Notre Dame and the fact that 51% of Americans now claim to be pro life, it may be an uphill battle for this administration to continue a pro choice agenda," she noted in Los Angeles. "Mother Teresa, who I greatly admire, said it well—abortion is 'the greatest destroyer of peace'—she called it 'war against the child.'"
Long a passionate and outspoken advocate of abstinence from the global platform of millions of unit sales on her music and a chain of best-selling books, (her self-penned hit song, Wait For Me, has been an anthem for abstinence and birthed a franchise of books worldwide) Australian born St. James has now turned her creative focus to films. Not just any films--films with messages she hopes will positively impact lives.
Her starring role releasing this fall is a film called "Sarah's Choice," in which she portrays a young, single career woman facing an unplanned pregnancy. For her, it was more than a movie role that required both intense research and emotions. It was a first-hand encounter through her visits to crisis pregnancy centers and one-on-one interviews with lives that had been too often emotionally shattered by the aftermath of abortion.
"In studying of my role, I met with a number of young women who had actually had abortions. In literally every case, they had no idea of the immense trauma they would encounter after exercising their right of 'choice'," she noted.
"Considering the pro choice climate America's current leadership is attempting to foster, I am even more passionate about the need for this film. I want to help prevent life from being stolen from both children and their mothers, and hopefully bring a healing message to those that continue to grieve their loss."
Sarah's Choice releases this fall from Pure Flix.
Resource Rebecca St. James online: www.myspace.com/rebeccastjames
###
For more info on Rebecca St. James, visit the JFH Artists Database.


[2022]
Jan. | Feb. | March | April | May | June | July | Aug. | Sept. | Oct. | Nov. | Dec.
[2021]
Jan. | Feb. | March | April | May | June | July | Aug. | Sept. | Oct. | Nov. | Dec.
[2001 - 2022]
Visit our complete MUSIC NEWS ARCHIVE