MULTI-ARTIST WORSHIP ALBUM GLORY REVEALED II:
THE WORD OF GOD IN WORSHIP TO RELEASE JULY 14
Project visionaries Mac Powell, David Nasser Collaborate with 21 Artists and Writers to Craft Songs from Scripture at Week-Long Creative Retreat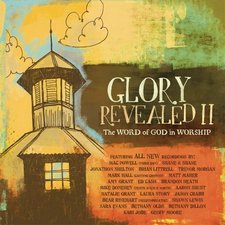 NEWS SOURCE: Provident Label Group
May 20, 2009
(Nashville, Tenn.) May 20, 2009—As a follow-up to their multiple Dove Award-winning 2007 release Glory Revealed: The Word of God in Worship, project visionaries Mac Powell (Third Day) and David Nasser (author/speaker) announce the release of a second CD in the award-winning series, titled Glory Revealed II: The Word of God in Worship. Set for a July 14 release, the Powell-produced project again blends roots-driven worship music with Biblical truth designed to musically stamp the word of God on the heart of listeners. Glory Revealed II features vocals from 21 different artists including Mark Hall, Amy Grant, Sara Evans, Shane & Shane, Natalie Grant and Brandon Heath, among others.
"When David and I talked about doing a second record, I really had a vision of us making music together," Powell said. "I wanted it to really be a retreat time where we could sleep late if we wanted to and spend some time in God's word together. I was hoping that it would naturally work, that people would go off on their own and start writing songs. It totally happened, and it was amazing."
Organic in feel and creation, Glory Revealed II was, in many ways, birthed as an outpouring of the original album's impact on the artists involved. The tour in particular served as a catalyst for the development of a tight-knit artistic and spiritual community, setting the stage for the latest musical installment and informing the musical direction for the new recording. Writers, musicians and artists gathered for a week-long creative retreat last summer in the woods of Georgia at a rustic hunting lodge, one that had been converted from a three-story grain silo.
Nasser said, "The lodge really added the ultimate Americana feel, a rustic scene with the tin roof and the wide-open spaces. This is the kind of music that has a lot of space so you don't miss the lyrics. You can't miss what makes this record so amazing and that is the word of God."
Glory Revealed II draws from several passages of Scripture, including excerpts from Psalms, Corinthians, Hebrews, Isaiah and more. Worship artist Matt Maher said, "Most Christian music is inspired by Scripture and references it or quotes it, but these songs are making much more of an intentional effort to immerse people in Scripture." Participating vocalist Jason Crabb, of Southern Gospel's The Crabb Family added, "Scripture is alive and it does something to our souls."
The first radio single, "Since the World Began," is performed by Matt Maher, Amy Grant, Ed Cash and Mac Powell. The song is currently adding at Christian AC radio. Recent Dove-winner for Male Vocalist of the Year, Brandon Heath says, "My favorite song is 'Since the World Began'. That's such a great line—'since the world began, no ear has heard or eye has seen a God like you.' I totally worship to that song in my car. I love, love, love that song. I'm excited for people to hear it as the first single."
Sonny Lallerstedt—who co-wrote "There is a City" and played multiple instruments on the CD—summarizes the special event album by saying, "What a privilege it is for us to be able to take these words—of Jesus, the disciples, the Old Testament, the New Testament—and to be able to set them on a plate for people to be able to really eat from and to really get that word in them."
For more on Glory Revealed II, and a listing of upcoming tour dates, please visit: http://www.gloryrevealed.com/. *A complete song list including performing artists is below:
Songs & Artists:
1. How Great – Mac Powell, Shane Everett, Jonathon Shelton, Brian Littrell
2. Rejoice In The Lord – Trevor Morgan, Mark Hall
3. Wake Up, Oh Sleeper – Jason Crabb, Jonathan Shelton, Bear Rinehart
4. Since The World Began – Matt Maher, Amy Grant, Ed Cash, Mac Powell
5. Psalm 23 – Trevor Morgan, Geoff Moore
6. Praise The Lord – Natalie Grant, Laura Story
7. What We Proclaim – Brandon Heath, Mike Donehey, Aaron Shust
8. Blessed Hope – Mac Powell, Shawn Lewis
9. There Is A City – Sara Evans, Bethany Olds
10. Cup Of Salvation – Shane & Shane
11. Never – Shawn Lewis, Bethany Dillon
12. To You Be The Glory – Matt Maher, Kari Jobe
Forged from a creative vision shared by Mac Powell, frontman for GRAMMY-winning rock band Third Day, and acclaimed author/speaker David Nasser, Glory Revealed: The Word of God in Worship won two Dove Awards, spawned the No. 1 song "By His Wounds," and inspired people around the world to sing Scripture. The 2009 installment, Glory Revealed II: The Word of God in Worship, brings 21 artists together to craft a new album sure to use musical creativity to plant God's word on hearts and minds of all ages. David Nasser's book, Glory Revealed: How The Invisible God Makes Himself Known continues to be the perfect companion to these records.
# # #


[2022]
Jan. | Feb. | March | April | May | June | July | Aug. | Sept. | Oct. | Nov. | Dec.
[2021]
Jan. | Feb. | March | April | May | June | July | Aug. | Sept. | Oct. | Nov. | Dec.
[2001 - 2022]
Visit our complete MUSIC NEWS ARCHIVE