GET READY TO LIVE LIFE LOUD AS HAWK NELSON IS GEARING UP
FOR FALL 2009 RELEASE
HAWK NELSON LOVES TOMS SHOES

NEWS SOURCE: Overture Media
May 26, 2009
SEATTLE, WA...May 26, 2009...The question "Where in the World is Hawk Nelson?" would be appropriate for the band that has been coast to coast this year playing in front of more than 350,000 fans with the Winter Jam Tour Spectacular (Jan.-March), REVOLVE tour (Jan.-Feb.), and finished up the Rock and Worship Roadshow in April. Despite this insane touring schedule, fans will be pleased to know that these road warriors have found time to record their fourth studio album in Nashville, TN. The new album "Live Life Loud" will release on Tooth & Nail Records / BEC Recordings this fall, October 6, 2009.
"Live Life Loud" features co-writing with Chris Stevens, Matthew Gerrard, TobyMac, Trevor McNevan, Steve Wilson, Bart Millard and others to be announced. The band has already been performing the title track and "Meaning of Life" for fans who attended the Rock and Worship Roadshow receiving a huge response. Stay tuned for more information about this new album. To wet fan's appetite, new songs such as "Live Life Loud" and "Meaning of Life" plus more will be available on digital retailers (iTunes, Amazon MP3) and also at Hawk Nelson's merch booth this summer.
In their efforts to continue to pave the road to help those in need, Hawk Nelson has committed to obtaining 5,000 pair of shoes to children in need with TOMS Shoes, whose motto is "One for One." For every pair purchased, TOMS gives a pair of shoes to a child in need. To help them reach their goal for children in Haiti, Hawk Nelson will be hosting six in-store "Style your Sole" with TOMS Shoes in July (dates below) while they are in local areas for concerts. The band encourages fans to come meet them and be one of the first 100 fans to buy a pair of TOMS Shoes to personally meet the guys and get autographs. During the "Style your Sole" you can purchase a pair of TOMS and decorate them for your very own customized pair.
ABOUT HAWK NELSON...
This powerhouse, pop rock foursome hailing from Canada has won the hearts of fans and media nationwide since their 2004 debut release "Letters to the President" with more than 600,000 lifetime sales and three studio projects later. Hawk Nelson has appeared on NBC's "American Dreams," had a cameo appearance in the hit Nickelodeon film "Yours, Mine, & Ours," where they played their original song "Bring Em Out," as well as had their songs featured on NBC's 2006 Stanley Cup promo spots, WB's Smallville, Summerland, & Laguna Beach. In 2008, "Hawk Nelson Is My Friend" debuted at #34 on the Billboard Top 200 selling more than 18k units. "Hawk Nelson Is My Friend" was also the top selling new release on the Christian album chart in addition to the comprehensive chart. The album also successfully debuted on the digital store iTunes with a No. 13 debut on the Top 100 albums chart on street day and remains on that chart one week later. Also the debut single "Friend Like That" sold 25,000 digital copies up to street week on iTunes. The album artwork also received GRAMMY and Dove nominations for "Best Packaging." For more information visit www.hawknelson.com.
HAWK NELSON LOVES TOMS SHOES...
Hawk loves TOMS Shoes. TOMS Shoes provide shoes for children in poverty stricken areas with the motto "One for One." For the band's effort, every pair of shoes purchased via Hawk Nelson's website, TOMS donates a pair of shoes to someone in Haiti as the band's ongoing involvement with the Hands & Feet Orphanage. Coming this year will be a Hawk Nelson TOMS shoe designed by the band. Check out HawkNelson.com to find out how you can buy a pair today and change the life of a child tomorrow. For more information visit www.tomsshoes.com
- ### -
July TOMS Shoes In-Stores with Hawk Nelson
2- Gaylord Texan Resort and Convention Center
1501 Gaylord Trail
Grapevine, TX 76051
Store: WIIFY (10 miles away)
10- Kingswood Amphitheater
16000 Theme Park Way
Doswell, VA 23047
Store: Need Supply Co. (20 miles away)
18- The Levy
River Road
Baton Rouge, LA
Store: Noelie Harmon (in Baton Rouge)
19- Linn County Fair & Expo
3700 Knox Butte Road
Albany, OR 97322
Store: Exit Real World (25 miles away in Salem, OR)
24- Six Flags Over Texas
Arlington, TX
Ph: 817.640.8900
Store: Teesie's Attic
25- Verizon Wireless Amphitheater
8808 Irvine Center Drive
Irvine, CA 92618
Store: Active Ride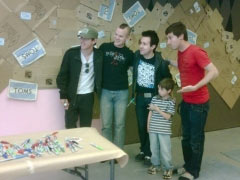 Hawk Nelson with a fan who came to the Oklahoma City TOMS Shoes Style Your Sole Event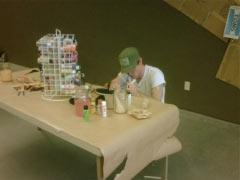 Hawk's Jason Dunn gets creative with TOMS Shoes
For more info on Hawk Nelson, visit the JFH Artists Database.
###


[2021]
Jan. | Feb. | March | April | May | June | July | Aug. | Sept. | Oct. | Nov. | Dec.
[2020]
Jan. | Feb. | March | April | May | June | July | Aug. | Sept. | Oct. | Nov. | Dec.
[2001 - 2020]
Visit our complete MUSIC NEWS ARCHIVE