RED UMBRELLA TO BEGIN WORK ON THIRD ALBUM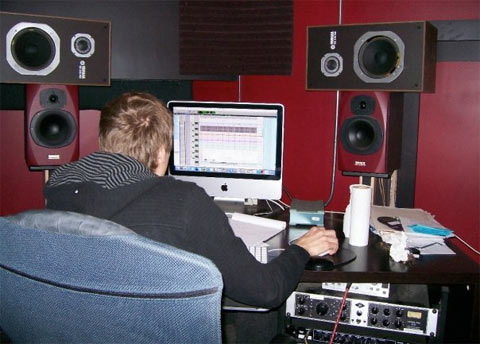 NEWS SOURCE: Red Umbrella, a Jesusfreakhideout.com report
May 26, 2009
Although the band just released their sophomore album, Living And Surviving, last Fall, Red Umbrella is already planning to begin work on their third record. Below is an update on recent happenings with the band...
Hello Everyone! Well we have lots of news because we waited so dang long to post any. Lets just get right to it.

Wedding Our bass player Kevin is getting married in two weeks! We are wishing Kevin and Sarah the best of luck and the most happiness as they venture into this legally binding (unless you change your mind later) contract of marriage. Their wedding is Saturday, June 6th across the pond in England. Her Majesty the Queen will not be attending despite several emails from Kevin. Please feel free to wish him luck at kevinandsaraharegettingmarriedinengland@gmail.com. Bass player? Kevin will be gone for a month in total and while we thought about just firing him, I think we'll just get a substitute for the interim. Welcome the incredible, incomparable Caleb Johannes to Red Umbrella for a short while as we try our best to cope with the loss of Kevin on bass. We're excited to have Caleb join us for a few shows. Ladies, please do your best to control your excitement.

Baby! More Jay and Michelle news... Aiden is going to be a big brother! We're expecting our new little one to come around new year's 2010. We don't know if we're having a boy or girl yet but we'll let you know when we're absolutely certain around new year's 2010.

B-Side Uploaded Head over to our fan page on Facebook or our profile on myspace.com to hear a b-side track from Living & Surviving!

Studio The band is heading back into the studio shortly to being work on the next record. What? You want to wait another 3 or 4 years like last time? Well, sorry to disappoint but we'll be cranking out a new one ASAP. That's really all I have on that.

Big Ticket As Michigan fans might have noticed we were not on the bill for Big Ticket festival this year. We'll be there after all and are scheduled to play on Saturday. Keep watching myspace and facebook for stage and time. Well that's all for now. Thanks for reading and we hope everyone is enjoying the great summer weather we've been having finally!
For more info on Red Umbrella, visit the JFH Artists Database.


[2021]
Jan. | Feb. | March | April | May | June | July | Aug. | Sept. | Oct. | Nov. | Dec.
[2020]
Jan. | Feb. | March | April | May | June | July | Aug. | Sept. | Oct. | Nov. | Dec.
[2001 - 2020]
Visit our complete MUSIC NEWS ARCHIVE