Worship Artist, Matt Papa, Signs With Centricity Music
Centricity Debut Project, Your Kingdom Come, Scheduled For Release August 18, 2009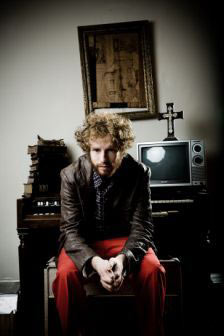 NEWS SOURCE: Bozeman Media
May 27, 2009
Nashville, TN (May 27, 2009) ----- Centricity Music is happy to announce the signing of worship artist, Matt Papa, to the label's artist roster. The first project from Papa, Your Kingdom Come, will be released August 18, 2009 and will be distributed by Word Label Distribution Group.
Your Kingdom Come was produced Jason Hoard (Fee, John Waller) and Allan Salmon (Lanae' Hale, This Beautiful Republic, Seabird). The project showcases songs that were written by Papa and takes this self-described "preacher with a guitar" to a whole new musical level. The first single, "Open Hands," will be going for adds at AC and CHR radio on June 19th. Papa performed the song during GMA week at Centricity Music's Monday night showcase and again at a private GMA press dinner in the Centricity suite. Each time the song reverberated with the audiences and delivered a powerful spiritual impact.
"From the moment I heard Matt's music I knew there was something special about what he does," says Guy Zabka, Director of A&R, Centricity Music. "As I've gotten to work with Matt I've learned that every song he writes, every note he sings and every song he performs is done with complete passion and conviction. His ability to call and lead people to worship is unmistakable and the joy he finds in spreading the Gospel is truly inspiring. To get to work with an artist of Matt's caliber is an honor for us at Centricity and we're very excited about what lies ahead for him and his ministry."
"With all my heart I want to be able to look back and say, when this career thing is over, is that the kingdom of God was advanced through this relationship...not the kingdom of Matt Papa," explains the artist. "I want to see disciples made, churches started, missionaries sent out, and most of all the praise and the gospel of Jesus Christ to spread all across this broken planet. Hand in hand I pray that we (Centricity and myself) would make music that makes much of Jesus, makes people adore Him, and makes Satan really, really angry. And I also hope to beat John Mays in racquetball one day soon."
Papa released his first self-titled project as an independent artist in 2006 that rapidly garnered the attention of the Christian music industry. ChristianMusicToday.com exclaims, "While other worship leaders have trouble making music that resonates with the church, sometimes allowing artistry or commercial appeal to get the best of them, Papa is able to balance it all without compromising the power of the song." The album also received national radio airplay and distribution at CBA bookstores across the country. The first single from the album, "You Are Good," was featured on Rick Warren's "The Invitation" CD compilation which sold over one-million units. Another tune from the self-titled album, "Unto the One," was featured on the 2007 WOW Worship multi-artist project. Papa has ministered and continues to minister with several organizations throughout the country that includes; Student Life, Georgia Baptist Convention, David Nasser Outreach. He currently resides in Atlanta, Georgia with his wife, Lauren, who is expecting their first child in June.
For more information on Papa, please visit www.mattpapa.com or www.centricitymusic.com.
Centricity Music is an independent recording and publishing company based in Bellevue, Washington and Nashville, Tennessee. The company's mission is to nurture the gifts and expand the influence of Christian artists around the world. Centricity Music's artist roster includes Jaime Jamgochian, Downhere, Circleslide, Jason Gray, Daniel Kirkley, Lanae' Hale, Andrew Peterson, High Valley, Matt Papa, Sixteen Cities and Me In Motion.


[2021]
Jan. | Feb. | March | April | May | June | July | Aug. | Sept. | Oct. | Nov. | Dec.
[2020]
Jan. | Feb. | March | April | May | June | July | Aug. | Sept. | Oct. | Nov. | Dec.
[2001 - 2020]
Visit our complete MUSIC NEWS ARCHIVE