JFH EVENING NEWS SHORTS FOR JUNE 3, 2009
News on Emery, David Crowder*Band, Starflyer 59, Britt Nicole, Kutless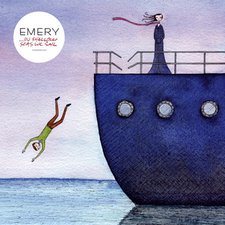 NEWS SOURCE: a Jesusfreakhideout.com report
June 3, 2009
Emery
Emery's new album ...In Shallow Seas We Sail is available in stores and online now! Enter Emery's "...In Shallow Seas We Scream" Contest to win a Squier Affinity Series Telecaster Guitar, Dean Markley Prize Pack and a copy of Emery's new album "...In Shallow Seas We Sail." All you have to do to enter is record yourself doing your best Emery scream and post it to the "...In Shallow Seas We Scream" contest group on YouTube. Check out the contest page for the details, and watch a couple of entries submitted by the band. (Source: Tooth & Nail Records)
David Crowder*Band
Posting at their Xanga site, David Crowder*Band says the group has completed recording sessions for its next studio album, Church Music (a follow-up to the hugely acclaimed Remedy), and now the project is being mastered in New York City by Ted Jensen (Norah Jones, Metallica).

"This is all really super, except when you get toward the end of the process there is something that becomes necessary that we, as a band, genuinely hate- the photo shoot," writes Crowder. Never ones to miss a chance at fun and creativity, Crowder's post includes a sneak-peek at the photo shoot, particularly this image you are invited to alter of drummer Bwack.

The band will be going out on tour in the fall to promote their new album, Church Music. You can pre-order priority tickets now. When you place your order for the priority ticket, an email will be sent to you with a link for a free download of one of the new songs from the new album that won't be available otherwise until the album releases! Click here for more details. (Source: Sparrow Records)
Britt Nicole
Britt Nicole has been busy in the studio working on her sophomore album, The Lost Get Found, set to release on August 11th. Her current single "The Lost Get Found," off of the new project, continues to gain airplay. Be sure to check out Britt's new MySpace layout and listen to the single! (Source: Sparrow Records)
Kutless
Want to chat with Kutless this Friday? Today, they announced: "Hey Everyone! At 5pm (EST) on FRIDAY we are launching our LIVE video chat, behind the scenes footage, update on our worship album, and more!! You can also ask questions (starting now)... go to this link now and start pluggin' away with any questions you may have! :) CLICK HERE to go to the LIVE FEED now and make sure and share it with your friends! We hope you can join us!"
Starflyer 59
On July 28th, Starflyer 59 will be releasing "Ghosts Of The Past." The double disc features 31 tracks of covers, b-sides, demos, and non-album versions of songs. Jason Martin's haunting vocal display perfectly accompanies the atmospheric mood set by the dreamy guitar lines, creating a sort of glimmering magic that could only come from one of Tooth & Nail's most gifted. Over ten albums deep, over fifteen years time, from the early guitar-heavy shoegazing era to the ethereal moodiness of The Fashion Focus years to the latest incarnations and recreations of themselves as keyboard-driven masters of chorus, this is and always will be a band who will deliver great songs with new sounds. "Ghosts Of The Past" stands out as the perfect addition to a SF59 fan's collection, and also a perfect starting point for someone interested in diving into the bands impressive and extensive catalogue. For a full tracklisting and album art, check the "Ghosts Of The Past" album page. (Source: Tooth & Nail Records)
For more info on these artists, visit the JFH Artists Database.


[2022]
Jan. | Feb. | March | April | May | June | July | Aug. | Sept. | Oct. | Nov. | Dec.
[2021]
Jan. | Feb. | March | April | May | June | July | Aug. | Sept. | Oct. | Nov. | Dec.
[2001 - 2022]
Visit our complete MUSIC NEWS ARCHIVE