M I K E S C H A I R

Self-Titled Debut Releases July 14th;

4-Man Band Invites The Listener To Take A Seat At mikestable;

Debut Single "Can't Take Away" Already Top 10 At Radio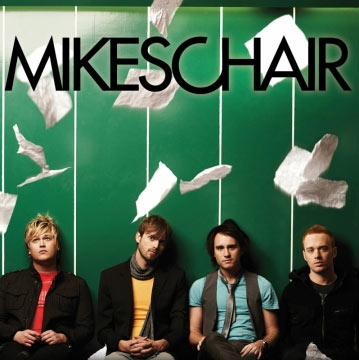 NEWS SOURCE: Vining Media
June 4, 2009
Nashville, TN - June 4, 2009 - According to their bio, the sound of MIKESCHAIR demands attention. It also claims that their upcoming debut, the self-titled project bows July 14th (Curb Records), sets out to entertain as well as inspire those who listen. If you have already heard their new hit radio single, "Can't Take Away," you'd agree. If you haven't heard it yet, when you do, there's no question you will be entertained and quickly inspired.
This is because the men of MIKESCHAIR - Mike Grayson, Sam Tinnesz, Jesse Hale, Jon Haire - like to contend that their music inspires action to change the world through love. Hailing from Belmont University in Nashville, TN, this quartet's blend of soulful rock guitars and bass grooves, violin and electronic textures tagged with catchy pop sing-along choruses, undoubtedly compels the listener to step up emotionally and spiritually.
Inquiring minds want to know, what's in the name?
Yes, there really is a chair involved, and yes, it was Mike's. "The 'chair' was the central gathering point where we got our start," explains Sam, the band's lead guitarist. As freshmen at Belmont, "All of us lived on the same floor of our dorm except for Mike. Since he was always hanging out with us on our floor, we decided to get him piece of furniture to make him feel a little more at home. The chair was his only piece of property on our floor." Mike wrote his name on that chair in big letters and it soon became his place of inspiration for songwriting and creative flow. The band name "is a reminder of our humble beginnings and how far God has brought us," explains Sam.
MIKESCHAIR - The 411
Even though they grew up in different parts of the U.S. and met at Belmont, each member of MIKESCHAIR has been inspired by music since they were children. Jon picked up the bass guitar in seventh grade, while Mike found his musical passion during his sixth grade year, eventually leading him to be a youth worship leader at his home church. Sam doesn't remember when music wasn't part of his life, and Jesse began training on classical violin at the age of four, thus honing his other musical skills showcased in MIKESCHAIR such as keys, synthesizers, and programming.
After a successful performance at Belmont University's Christian Music Showcase held during their freshmen year, the band cultivated their performing and songwriting skills and by the fall of their senior year, MIKESCHAIR signed with Curb Records. Not long after obtaining their record deal, they each earned their degrees from the Curb College of Entertainment and Music Business at Belmont.
MIKESCHAIR immediately plunged into full-time touring and songwriting, all preparation for their debut project out next month. Produced by the award-winning team of Jason Ingram and Rusty Varenkamp (Bebo Norman, Tenth Avenue North), with the exception of "Otherside" produced by Sean Neff, the result is notable and catchy songs that balance service, worship and entertainment. One such tune is the debut single, "Can't Take Away," quickly climbing up the charts and currently #7 at R&R's CHR chart.
Consistently on the road, MIKESCHAIR performs at a variety of churches, venues, festivals and youth camps. They have opened for acts such as Brandon Heath, Jeremy Camp, Jars of Clay, and MercyMe along the way.
mikestable
At every show, the group offers audiences to visit mikestable, a table dedicated to offering information for various causes, such as Food for the Hungry, IJM, Love 146 and more. It is their hope for people to be aware of what's going on in the world in terms of need, to give them empowerment, yet also give options. "The music isn't the full extent of our purpose," Jesse explains. "We are committing our time, effort and platform to helping those in need -- making ourselves available to be the hands and feet of Jesus. We're presenting something that's very precious to audiences and listeners. It's the Gospel in action."
In addition to their partnerships, it's the band's mission to invite everyone to bring a non-perishable food item to their shows, where every donated food item is then taken to local food banks and church outreach programs. This venture, which has actually been underway for a few years now, is continuing to grow as more items are donated at each concert (see photos below).
"Our prayer is that people will leave our shows, not with a sense of how awesome the music is, but with a deeper sense of searching and begin asking questions that they weren't asking when they showed up," concludes Mike.
MIKESCHAIR is managed by Creative Trust, Inc., and booked by Jeff Roberts & Associates, both located in the Nashville, TN area.
www.MIKESCHAIR.com
TOUR SCHEDULE*
June 6-10 - Roach, MO
June 17 - Nashville, TN
June 19 - Green Bay, WI
June 20 - Gaylord, MI
June 21 - Dayton, OH
June 25-28 - Palmer, TX
June 27th - Dallas, TX
July 3 - Huntsville, AL
July 6-9 - Roach, MO
July 14 - Tulsa, OK
July 23-26 - Mandeville, LA
Sept. 18-19 - Penn Yann, NY
*Dates are subject to change
Fall tour dates forthcoming.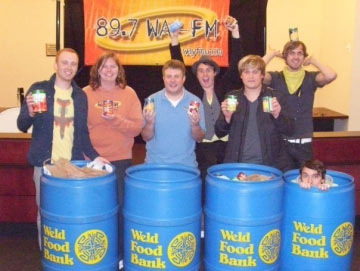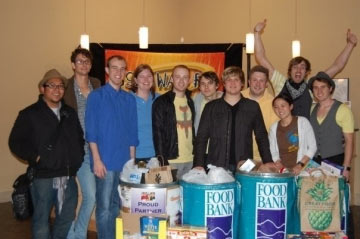 ###


[2021]
Jan. | Feb. | March | April | May | June | July | Aug. | Sept. | Oct. | Nov. | Dec.
[2020]
Jan. | Feb. | March | April | May | June | July | Aug. | Sept. | Oct. | Nov. | Dec.
[2001 - 2020]
Visit our complete MUSIC NEWS ARCHIVE