UNIVERSAL MUSIC GROUP PRESS PLAY TO APPEAR AS FEATURED MUSICAL GUEST ON #1 RATED NBC's THE TODAY SHOW AND FOX & FRIENDS NEXT WEEK
PRESS PLAY will perform and interview along with comedian Sinbad Monday, June 8 on The Today Show and Tuesday, June 9 on FOX & Friends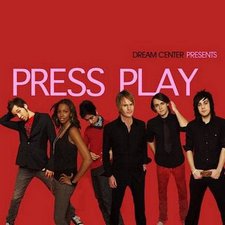 NEWS SOURCE: Rogers & Cowan
June 4, 2009
Universal artist PRESS PLAY will perform the band's current single "Life Is Beautiful" and conduct interviews next week on some of the nation's top rated and most watched television shows. These national media appearances come on the heels of the band's chart topping debut project Life Is Beautiful, which released on May 19 through Dream Records/Universal Christian Music Group.
The band will appear on NBC's The TODAY Show on Monday, June 8 followed by a live appearance on FOX & Friends on Tuesday, June 9, with more media opps to come.
Life Is Beautiful, the band's first nationwide release, debuted at #45 on the Billboard Top 200 music chart and at #2 on the Billboard Christian music charts in its first week.
PRESS PLAY and Sinbad, who personally supports the Dream Center outreach, will be discussing their upcoming projects and the work of the Dream Center, which has over 100 locations across the U.S. and feeds and rescues millions of people each year. The group is donating 100% of the proceeds from its record release to the work of the Dream Center to bring relief to inner-cities worldwide.
Brought together by a common passion for music and for seeing lives transformed, PRESS PLAY, a blend of pop, rock, and urban flair has exploded into the spotlight on and off-stage. Made up of Dave Hanley, Tyler Ray Logan, Anthony Rick, Paige Adkins (daughter of popular comedian Sinbad), Tate Huff and Brian Mondragon, PRESS PLAY showcases its varied talent and diversity throughout the project on the electric songs performed by band members. The record features guest appearances by top performers such as Darlene Zschech (Hillsong), IROCC and Tyler Williams (Everybody Hates Chris). Paige Adkins brings a powerful and soulful vocal edge to the debut single, "Life Is Beautiful."
PRESS PLAY performs for thousands of individuals from all walks of life each week in both New York and Los Angeles, making the L.A. Dream Center (www.dreamcenter.org) its home base. The Dream Center L.A., celebrating its 15th year, feeds 22,000 people weekly, houses 750 people on a daily basis, distributes 1 million pounds of food and clothes 5,000 people a month. The Press Play band members give their time to the vision of the Dream Center, founded by Matthew Barnett. The Dream Center is open 24 hours a day, 7 days a week, providing solutions to our community and society's troubling issues, including human trafficking, abandoned teens, gangs, homeless families, drugs and violence.
For more information about PRESS PLAY and Life Is Beautiful, please visit, http://www.labmediaonline.com/pressplay/ or http://www.thisispressplay.com/
###


[2021]
Jan. | Feb. | March | April | May | June | July | Aug. | Sept. | Oct. | Nov. | Dec.
[2020]
Jan. | Feb. | March | April | May | June | July | Aug. | Sept. | Oct. | Nov. | Dec.
[2001 - 2020]
Visit our complete MUSIC NEWS ARCHIVE