Music Row Toasts CHRIS SLIGH for Rascal Flatts' 10th Chart-Topper 'Here Comes Goodbye'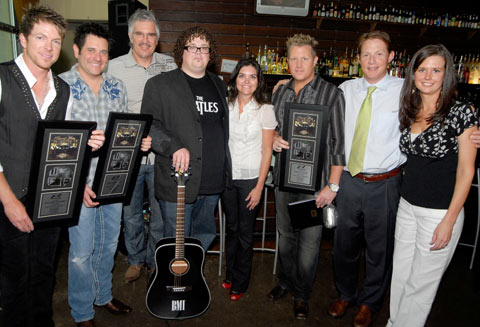 Pictured are (l-r): Rascal Flatts' Joe Don Rooney and Jay DeMarcus; Brentwood Benson Music Publishing's Dale Mathews; co-writer Chris Sligh; Brentwood Benson Music Publishing's Stacey Willbur; Rascal Flatts' Gary LeVox; BMI's Clay Bradley and Beth Mason. (photo by Kay Williams)
NEWS SOURCE: The M Collective
June 5, 2009
An enthusiastic crowd invaded Cabana on Tuesday, June 2 to celebrate Rascal Flatts' chart-topper, "Here Comes Goodbye." Co-written by Chris Sligh and Clint Lagerberg, the song helped make the trio's latest album, Unstoppable, the top-selling album in the country, with more than 350,000 copies sold in the first week alone.
Produced by Dann Huff, "Here Comes Goodbye" is the first no. 1 for both Sligh and Lagerberg, who were also nominated for a GMA Dove Award for Song of the Year this year with Sligh's hit single "Empty Me." Sligh first turned heads as a contestant in the sixth season of American Idol, and then became one of the best-selling new artists in the industry, also recently being nominated for a Dove Award for New Artist of the Year.
###
Having recently co-penned Rascal Flatts latest No. 1 single "Here Comes Goodbye" Chris Sligh's debut CD,"Running Back to You" became one of the best-selling Christian album on iTunes ® it's first week in 2008 the project that has wowed critics from USA Today to CCMmagazine.com. It also had the highest debut on Christian SoundScan in it's first week. Named as one of Entertainment Weekly's "Best Idol Auditions Ever," (http://www.ew.com/ew/gallery/0,,20007164_20008532_20174767,00.html)Sligh auditioned for American Idol more or less on a whim. To his surprise, his performance swept him onto a fast track to the final rounds. His willingness to take chances, his ironic wit, and his startlingly powerful vocals embedded him into the popular imagination, while his distinctive blend of talent, humor, confidence, and unpredictability led to an exchange with Simon Cowell that delighted the other judges, host Ryan Seacrest, and much of America. An official American Idol commentator for Entertainment Weekly online during season seven, Sligh operated on a three-week rotating schedule with two other commentators (Jon Peter Lewis and Nadia Turner), and wrote funny and informative commentaries through the lens of his experiences on American Idol.
For more information on Sligh go to http://www.chrissligh.com or http://www.myspace.com/chrissligh
For more info on Chris Sligh via JFH (including reviews), visit the JFH Artists Database.


[2022]
Jan. | Feb. | March | April | May | June | July | Aug. | Sept. | Oct. | Nov. | Dec.
[2021]
Jan. | Feb. | March | April | May | June | July | Aug. | Sept. | Oct. | Nov. | Dec.
[2001 - 2021]
Visit our complete MUSIC NEWS ARCHIVE