1000 GENERATIONS RELEASES DIGITAL EP AVAILABLE EXCLUSIVELY VIA VINEYARD MUSIC
Includes Upcoming Album's First Radio Single and Live Concert Recording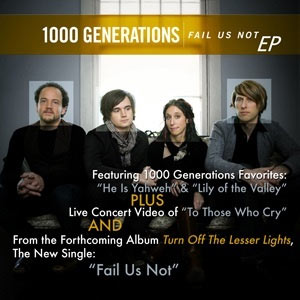 NEWS SOURCE: Propeller Consulting
June 9, 2009
NASHVILLE, TN (June 9, 2009) - Vineyard Music is set to introduce the newest addition to its artist roster, 1000 Generations, with the release of the "Fail Us Not" EP on Tuesday, June 9. This digital only release will be exclusively available at www.vineyardresources.com.
As a preview of their highly anticipated August 4 album release, Turn Off the Lesser Lights, the EP includes their first single, "Fail Us Not," as well as two newly remastered tracks from the band's 2003 eclectic independent worship album, Prayers, and a live concert recording.
Already receiving critical acclaim from the music industry and positive feedback from radio stations across the country, "Fail Us Not" is a descriptive melody of God's love in the face of life's adversities. The EP's first remastered track, "He Is Yahweh," boasts African influences and shades of Paul Simon's "Graceland," while "Lily Of The Valley" is a celebration of God's miracles and is enriched by beautiful cello strains that fit perfectly with the message.
The EP also features an exclusive live concert recording of "To Those Who Cry," a song from the band's second independent album released in 2006, which serves as an encouragement to those who are struggling with situations that may seem hopeless.
1000 Generations has gained a strong following, particularly among young listeners. ChristianityToday.com selected them as one of the top ten independent bands of the year, noting that their music "has everything you could ever want in a worship album: original songwriting, a relatively unique sound, breathtaking musicianship, and a passion for encouraging others to walk closer with the Lord."
Their self-produced Varietal Records debut showcases lead singers Steven and Amanda Potaczek on lead vocals and multiple instruments. With Lorin Lemme on the drums and Alain Picard on bass, the group strikes the perfect balance between creative edge and a profound worship experience. The pop-rock album leans heavily on both electric guitar and piano and features worship song arrangements that translate naturally to the live setting.
Turn Off the Lesser Lights will release August 4 nationwide through Word Distribution. For more information, please visit www.1000generations.com or www.varietalrecords.com.


[2022]
Jan. | Feb. | March | April | May | June | July | Aug. | Sept. | Oct. | Nov. | Dec.
[2021]
Jan. | Feb. | March | April | May | June | July | Aug. | Sept. | Oct. | Nov. | Dec.
[2001 - 2021]
Visit our complete MUSIC NEWS ARCHIVE