SHOWBREAD TO RELEASE "THE FEAR OF GOD" AUGUST 11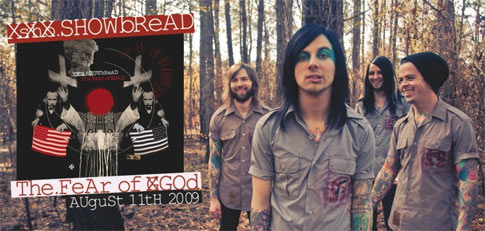 NEWS SOURCE: Showbread
June 16, 2009
"It is the purest form of Raw Rock" Showbread guitarist Mike Jensen says of their new album The Fear Of God, which is being released on Tooth And Nail records August 11th, 2009. "It's the best definition of Showbread". Not being able to fit their style of high energy, danceable rock music conveniently into any genre, Showbread began describing themselves as "Raw Rock" early in their career. When the first dissonant chord of the opening track "I'm Lost" rings out, it's easy to assume Jensen is telling the truth, this is pure Raw Rock.
If Showbread had a "formula" The Fear Of God might be described as a return to it, but after years of genre bending rock and roll and outright refusal to adhere to any type of musical rule whatsoever, a Showbread formula is difficult to pin down. Reuniting for the third time with acclaimed producer Sylvia Massy Shivy (Prince, Tool, Johnny Cash) and engineer Rich Veltrop (Phantom Planet, Slayer), the creative energy on the record is at its best. "I think it's a kind of developed re-imagining of the sound on our first two albums" explains singer Josh Dies, "The energy and aggression from No Sir, Nihilism Is Not Practical is there and the rock and roll foundation from Age Of Reptiles is there. At the same time, it doesn't sound like either of those records." "We've done so many different styles" bassist Patrick Porter says of Showbread's eleven-year existence. "I think a Showbread fan will hear this album and think that this is the best Showbread has ever sounded".
With enough screaming and punk rock energy to satisfy fans of Showbread's earlier chaotically tinged music and enough addictive synthesizer laced rhythm and melody to reel in the casual listener, it just might be that all the Showbread components are working in perfect synergy. The result is a bizarre mash up of elements of Refused and early Weezer. Guitarist Landon Ginnings however, warns that Showbread hasn't compromised their edge: "Even the melodies have a dirty floor to lay on". Chanting choruses, wailing feedback, chaos and structure all come together in a way that is undeniably Raw Rock.
Dies hints that the literary and theological Showbread tradition carries on with the new record as well. "It has a lot to do with embracing certain aspects of what the world views as madness. Yes, everything burns, and that's wonderful in a way." The biting satire that has become a Showbread staple makes a significant return as well on songs like "Shepherd, No Sheep" and "The Great Emasculation".
What an unusual and refreshing thing it is in the barren landscape of today's rock music to hear something that gives off no aura of conformity. Josh Dies plainly states "Appealing to anything other than our vision has never been an issue for us as a band. This time more than ever, all our members are working in unison to make the best Showbread record ever." The result? A blistering and visceral rock album. From the frenetically charged "Nothing Matters Anymore" to the album's devastating title track, The Fear Of God is an energy and sound that only Showbread can convey. Raw Rock in its pure and only form, and sounding better than ever.
# # #
For more info on Showbread, visit the JFH Artists Database.


[2022]
Jan. | Feb. | March | April | May | June | July | Aug. | Sept. | Oct. | Nov. | Dec.
[2021]
Jan. | Feb. | March | April | May | June | July | Aug. | Sept. | Oct. | Nov. | Dec.
[2001 - 2021]
Visit our complete MUSIC NEWS ARCHIVE