JFH EVENING NEWS SHORTS FOR TUESDAY JUNE 23, 2009
News on Jars Of Clay, Britt Nicole, August Burns Red, Abel, Sleeping Giant, Hands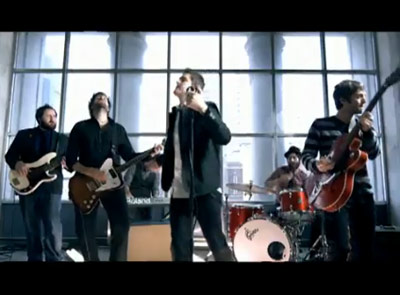 NEWS SOURCE: a Jesusfreakhideout.com report
June 23, 2009
>> Jars Of Clay Debuts "Two Hands" Video
Today, Jars Of Clay debuted a new music video for their song "Two Hands" from their latest album, The Long Fall Back To Earth. Vocalist Dan Haseltine writes...
"Sometimes music videos tell stories. This video tells the story of a band's journey to get our own hands dirty. Someone once defined the role of an artist as the act of looking at the world and describing it...not just as the world is... but also as it should be.

There is only so much looking and describing a band can do when faced with injustices, and tragedies... and also the heroic stories of those who rise above their fears and overcome insurmountable obstacles. Two Hands is a song about overcoming our own fears and finding reasons to care about others even when we don't feel equipped to do so.

This video shows our work in Africa with Blood:Water Mission. We hope it inspires you, and allows you to dream about how you can use your two hands to love and serve those around you. And when you are done watching the video... check out www.bloodwatermission.com AND come visit us out on the Creationfest Tour this Fall!"
Check out "Two Hands" now streaming on the
JFH Music Videos
page!
>> Britt Nicole Talks About New Single
Click here for a video revealing Britt Nicole's take on her new radio single, "The Lost Get Found," from her forthcoming August 11 release of the same title. The song, currently available for purchase at iTunes, debuted at no. 4 on the Soundscan Christian/Gospel digital tracks chart. (source: Savvy Media)
>> August Burns Red Debuts New Song
August Burns Red debuted new song "Existence" yesterday from their forthcoming album Constellations. ABR writes, "The new song "Existence" is up now! We hope you guys are stoked on it. Don't forget that we'll be putting up another new song here next week. Constellations is out July 14th!"
>> Facedown Records Signs Abel To Dreamt Music
Facedown Records announced their latest signing, Abel, this afternoon. The label wrote: "We could not be more excited to announce the newest addition to the Dreamt Music roster. Please welcome Abel from Poughkeepsie, NY. Check them out on their myspace and welcome them to the family. We will be releasing a 5 song EP for the band titled The Honest Love very soon. Stay posted for a release date and more info and if you are going to Cornerstone Festival, make sure to check them out there!

Bio: It is obvious that Abel, a three piece from Poughkeepsie, NY, live and breath music. From their soaring guitars to the dramatic progressions that inhabit their songs, Abel allows soulfulness to reign supreme. Writing from a profoundly compassionate place, the band creates music that is drenched in empathetic lyrics and infectious choruses. Abel has captured the heart of the indie movement by equipping the honesty in their creativity, and they are careful to let themselves be led by that honesty. Abel will release their 5 song EP The Honest Love this summer with Dreamt Music.
>> Cali Best Buy To Host Sleeping Giant Listening Party 6/26
According to a flier sent out by Facedown Records today, a best buy in California will be hosting a Sleeping Giant, Sons Of Thunder listening party this Friday! The flier reads: June 26, 2009 at 5PM, Best Buy San Bernardino / 888 Harriman PL / San Bernardino, CA 92408. That night, the band also plays a show at 7PM in Yucaipa, CA (Paradigm / 13700 Calimesa Blvd / Yucaipa, CA 92399). The flier also states that if you buy the CD at the Best Buy listening party and bring your receipt to the show, you'll receive $2 off your $10 ticket that night! For more on Sleeping Giant, visit http://myspace.com/sleepingxgiant
>> Hands Post New Song From Debut Online
"Hands have posted a new song from their forthcoming Facedown debut Creator which is due to be released on July 21. You can hear "Resistance" here: http://www.myspace.com/wearehands Hands will be on tour with The Showdown this summer starting in mid-July. Before they meet up with The Showdown they will also be playing a handful of dates with A Hope For Home." (source: Facedown Records)
For more info on these artists, visit the JFH Artists Database.


[2022]
Jan. | Feb. | March | April | May | June | July | Aug. | Sept. | Oct. | Nov. | Dec.
[2021]
Jan. | Feb. | March | April | May | June | July | Aug. | Sept. | Oct. | Nov. | Dec.
[2001 - 2021]
Visit our complete MUSIC NEWS ARCHIVE