JONNY DIAZ GOES #1 WITH IMPACTFUL SINGLE "MORE BEAUTIFUL YOU";
Radio Support Continues To Swell Across The Board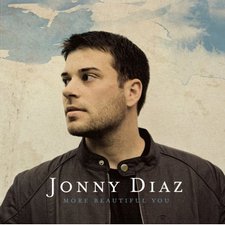 NEWS SOURCE: Vining Media
June 24, 2009
(June 24, 2009) - "More Beautiful You," the single by INO Records' recording artist Jonny Diaz (pronounced "DYE-az"), has topped the charts. This week, the hit song claims the #1 spot on the AC Indicator Charts (according to Radio & Records Music Tracking/Billboard). This is the first single released from Diaz's fourth recorded project, More Beautiful You, his very first with INO Records.
"I've been blown away at how God is choosing to use this song," exclaims Diaz over the song's top chart position. "I really can't take any credit for its success, but I am thankful that He is using me as a vessel to share this extremely important message."
Radio support continues to grow across the board for "More Beautiful You" with new adds at AC from K-LOVE Radio Network, American Family Radio, WGTS / Washington, DC, KTSY / Boise, ID, and CHR stations KDUV/ Visalia, CA, & WJLZ / Virginia Beach, VA.
Co-written by Diaz, the song aims to tell women they were created by God with a specific purpose in mind and continues to impact listeners of all ages. In addition, "More Beautiful You" has not only been taking over the radio airwaves but is also a huge hit on the internet and television, thanks to its unique music video. Premiering the first week in June on the Spirit Network and currently can be viewed online at Tangle.com (http://www.tangle.com/view_video.php?viewkey=c767af658b0bc8e8197f), the video showcases how girls of all ages compare themselves to the "perfect" pictures of celebrities and models in magazines and on the internet. The viewer sees this video story unfold through a mother and daughter being doted on by makeup artists and hair stylists, ending with the message that touched up photos and a lot of makeup don't matter. What matters most is to embrace who God made you to be.
Celebrating the emerging success of "More Beautiful You," station programmers and talent have been happy to share their thoughts, as well as their listeners', about this hit song:
Susan O'Donnell of KSBJ / Houston, TX - "I can tell you 'More Beautiful You' hits to the heart of parents thinking about their daughters, and the messages about beauty she is getting even in their preteens. But, we've also heard from women who are in tears because the beautiful message is one that speaks to the heart of most women. Many of them struggle constantly with the child's need to know they are beautiful even now as a grown woman when they haven't felt it for along time."
Caryn Cruise of KXOJ / Tulsa, OK - "We receive requests for 'More Beautiful You' ALL the time! Women, no matter how old or young have really connected with it because it answers the question we're all wondering - am I beautiful and do I have value? The answer is YES! Thanks Jonny!"
Marisa Lykins of WYLV / Knoxville, TN - "It's important for girls to hear strong Godly women say that we don't need to look to the world for our identity, that who we already are, the way we already are, is more than enough... but its just as important if not more so that we hear that message from Godly men. The most powerful change comes I think when men themselves also get the chance to hear that message. Speaking God's truth into the lives of women, 'More Beautiful You' is also speaking the challenge of this truth into the lives of other men. A challenge to understand that how we women see ourselves first is through the reflection in their eyes - and when that reflection is shining back God's perfect love and acceptance to who we are, we finally allow ourselves to be loved fully by our Heavenly Father the way He intended! Thank you for speaking such precious and life changing truth Jonny Diaz!"
Morgan Smith of SOLUTION FM / Bangor, ME - "The culture we live in is full of negative influences on a woman's self esteem. From magazine covers to unreal 'reality' shows we are made to feel like we need to be physically perfect in every way if we ever want to be loved. 'More Beautiful You' from Jonny Diaz is a very powerful reminder to women and girls of all ages that life is about more than beauty. God created us to be exactly who He wants us to be. It's one of our most requested songs. From teenage girls to the fathers of young girls ... people are paying attention to this song!"
For more info on Jonny Diaz, visit the JFH Artists Database.


[2021]
Jan. | Feb. | March | April | May | June | July | Aug. | Sept. | Oct. | Nov. | Dec.
[2020]
Jan. | Feb. | March | April | May | June | July | Aug. | Sept. | Oct. | Nov. | Dec.
[2001 - 2020]
Visit our complete MUSIC NEWS ARCHIVE