MARIA'S BIG HOUSE OF HOPE OPENS
JULY 2ND IN CHINA
Show Hope Staff Celebrates Tuesday Evening With Stateside Grand Opening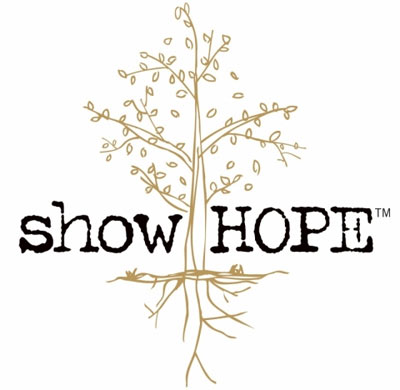 NEWS SOURCE: Vining Media
June 25, 2009
Nashville, TN - June 25, 2009 - Show HopeTM, the adoption ministry of Steven Curtis and Mary Beth Chapman, announces the official opening of Maria's Big House of Hope on July 2nd in Luoyang, China. As the finishing touches are being made to this healing home for special needs orphans, the offices of Show Hope, located in Franklin, Tennessee, celebrated stateside for the hope and future of these orphans Tuesday evening at an invite-only open house for friends and family.
About Maria's Big House of Hope
Maria's Big House of Hope is a healing home dedicated to saving the lives of special needs orphans in China. Show Hope is proud to open the doors to this exciting project that provides for orphans throughout the country who are in desperate need of surgeries and special medical attention, offering them the highest level of care and enabling the children to thrive. In turn, there is hope that this necessary medical attention increases the orphans chances of being adopted. The facility is named in loving memory of the Chapman's 5-year old daughter, Maria Sue Chunxi Chapman, whom they adopted from China in 2004 when she was just one year old.
Luoyang, located in the Henan Chinese province with a population of approximately six million people, is one of the poorest provinces in all of China and is the chosen location for this caring facility that will be a beacon of hope to the people of China and the world. The state-run Luoyang orphanage takes care of nearly 700 children, currently giving care for most of the special needs orphans from all around Henan. By now partnering with Maria's Big House of Hope, the most ill of the orphans will be offered further medical care that they so desperately need.
The Six Floors
At completion, Maria's Big House of Hope is a 60,000 square foot six-story building equipped with everything needed to care for these special needs orphans. There are 128 beds with 190 nurses and nannies on staff, when at full capacity. Every orphan in the facility is five years old or younger, representing some of the neediest orphans in China.
The first level consists of an entrance/reception area, office, small exam room, kitchen, laundry, and accommodations for caretakers. 24 beds are available to the children on this floor who have been through surgery, recovered, and awaiting adoption.
The second and third floors holds children with long-term chronic care who are not healthy enough to survive on their own or in the state-run orphanage. Because of their condition they are also not likely to be adopted. 72 beds are available between these two floors, along with an area for physical therapy.
The fourth floor has 28 beds and is dedicated to hospice care for children who are terminal. This floor also offers an intensive care area, emergency room, and isolation room. Every new orphan to Maria's Big House is brought to the fourth floor for evaluation, registration, and diagnosis.
The fifth level is the home of the building's operation theater with rooms for 10-16 children who are coming in from all over China for them to stay before and after surgery. Only surgeries such as minor orthopedic and cleft pallet surgery will take place on this floor. A training room for incoming staff and an infirmary are also located here.
The sixth floor is the living quarters for long-term staff and visiting medical physicians. This area also allows groups with up to 20 people.
###
For more information about Maria's Big House of Hope and Show Hope, please visit
www.ShowHope.org


[2022]
Jan. | Feb. | March | April | May | June | July | Aug. | Sept. | Oct. | Nov. | Dec.
[2021]
Jan. | Feb. | March | April | May | June | July | Aug. | Sept. | Oct. | Nov. | Dec.
[2001 - 2021]
Visit our complete MUSIC NEWS ARCHIVE