ORPHANS DESERVE BETTER CAMPAIGN
TAKES ON WARNER BROS FILM
ORPHAN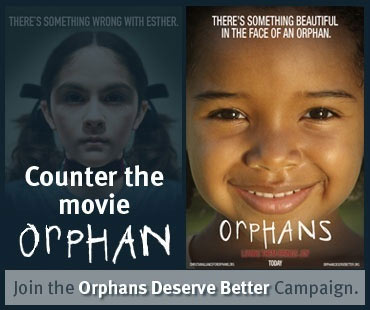 NEWS SOURCE: Vining Media
June 29, 2009
Washington, DC, June 29, 2009--Today, a coalition of more than fifty Christian organizations that serve and advocate for orphans launches a national grassroots campaign titled "Orphans Deserve Better" to counter Warner Bros' summer horror movie, Orphan.
"The movie Orphan does no favors for the boys and girls who share its name," said Jedd Medefind, President of the Christian Alliance for Orphans. "Organizations, advocates and ordinary citizens have every reason to raise a respectful but firm counter voice--orphans deserve better than the messages this film conveys."
Orphan advocates are concerned Orphan will feed perceptions that children who've lost their parents are oddities or worse, while also reducing chances they will be received into permanent families through adoption. Meanwhile, movie reviews describe Orphan as the "anti-adoption horror film of the year"--sure to "scare prospective parents from ever adopting." The controversy has prompted Warner Bros to remove its most inflammatory line from the trailer, but the movie is sure to stir more debate when it is released on July 24.
The website www.OrphansDeserveBetter.Org serves as a hub for the campaign, which supporters explain is intended not to "bash" Warner Bros but to educate and stir response to the needs of orphans.
Individuals are invited to join the campaign in a range of ways. The site enables families and individuals to post their own stories, pictures, blogs and videos that "tell a truer story" than the movie Orphan. The personal accounts show with real-life color that, although sometimes requiring sacrifices, serving orphans brings the kind of joy not found anywhere else.
The site also offers practical steps ordinary people can take to help orphans. In addition, individuals can sign a letter to Warner Bros, urging that a portion of profits from the movie be used to help orphans.
"This campaign is just one small way to answer the prophet Isaiah's call to 'Defend the cause of the fatherless,'" said Scott Hasenbalg of Show Hope, which supports orphan care and adoptions worldwide. "We do want to stand up to the distortions portrayed in Orphan, but even more important is to harness this opportunity to enable Christians to live out their mandate to care for orphans in both word and deed."
###


[2021]
Jan. | Feb. | March | April | May | June | July | Aug. | Sept. | Oct. | Nov. | Dec.
[2020]
Jan. | Feb. | March | April | May | June | July | Aug. | Sept. | Oct. | Nov. | Dec.
[2001 - 2020]
Visit our complete MUSIC NEWS ARCHIVE