PHILLIPS, CRAIG & DEAN'S FEARLESS STREETS TODAY
"REVELATION SONG" CONTINUES REIGN AS NO. 1 CHRISTIAN SONG
Album Release Concert Sells Out with Hundreds Being Turned Away

Fearless Receives Early Media Acclaim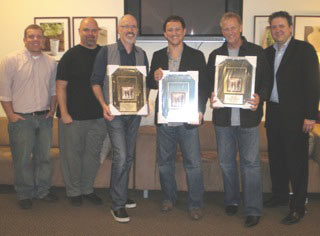 Phillips, Craig and Dean are presented with No. 1 plaques in recognition of their single "Revelation Song" at Gateway Church in Dallas, TX on Fri. Jul. 31. From L to R: Kai Elmer (Manager of National Programming INO Records), Dan Michaels (Senior Vice President Marketing/Promotions INO Records) Shawn Craig, Randy Phillips, Dan Dean and Chris Erlanson (168 Management).
NEWS SOURCE: The M Collective
August 4, 2009
· It's a good week to be Phillips, Craig and Dean! Their latest recording Fearless (INO Records) is available at retail today, Aug. 4. "Revelation Song" continues to reign in the No. 1 spot for the fourth week in a row at Billboard Christian AC and Soft AC/INSPO radio charts. The single has also been in the No. 1 position on the iTunes ® Christian and Gospel top songs chart. Phillips, Craig and Dean are also embarking on a massive two-week promo tour with stops in Houston, Dallas, Tulsa, Nashville, Spartanburg, Orlando, Atlanta, San Antonio and Birmingham.
· The Fearless' album release concert garnered a sell out crowd on Fri. Jul. 31 in Dallas, TX. The Gateway Church fittingly served as host to the event. The band and Gateway church member/Revelation Song" songwriter, Jennie Riddle, were presented with a plaque commemorating the #1 radio single in front of the sold out crowd.
· Produced by Bernie Herms, the 10 track album features songs co-written by each band member including "The Distance," "Nothing to Prove" and "The Spirit of God is Here." Fearless was born out of struggles from people in the congregations that the three pastors face and offers hope for these tough situations.
· Early reviews are matching the anticipation for the release of Fearless. Below is just a sample of what the critics are saying…
"If you had told me several years ago that some of the best executed modern rock of 2009 would be released by Phillips Craig and Dean, I would have personally signed your commitment papers. BUT....well, that is exactly what has happened. The beauty of the trio's new project, Fearless is its lack of pretense: They aren't trying to set the worship world on fire with their artistry, yet they are making seriously good worship music that is just as viable in the modern rock arena as in the church... Fearless finds the group at the height of their powers." - Christian Musician
"Having witnessed congregants' heightened anxieties due to current world crises, the shepherding trio focuses their tenth disc on encouraging true worshippers to stand strong in the faith." – Christianity Today
"... worship veterans Phillips, Craig and Dean's new CD showcases the heart and innovative performance that have made PC&D household favorites and a standard in churches far and wide. Showcasing the current radio chart-climber "Revelation Song," Fearless offers new melodies that are instantly sing-able and soul inspiring." - New Release Tuesday
"... a mix of inspirational tracks from other songwriters and a few originals sprinkled in along the way in a cohesive mix intended to encourage the church in these troubled times... The power of the song "Revelation Song" resonates through the pastor trio and becomes the strongest track on the new album... the market for this is obvious and should stand ready for another solid collection from Phillips, Craig & Dean." - CCM
"Fearless picks up where "Top Of My Lungs" left off... The album seems familiar and catchy and if you are a long-time Phillips, Craig & Dean fan, you won't be disappointed with Fearless. - Christian Music Review
Since forming, Phillips, Craig & Dean has released 10 albums which has produced 16 No. 1 radio hits, two million plus records sold and nine Dove Award nominations.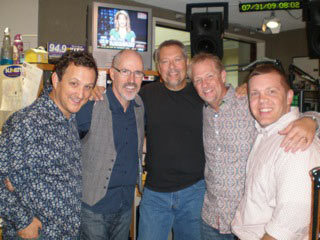 Phillips, Craig and Dean visit with morning show host Frank Reed at KLTY in Dallas, TX. From L to R: Randy Phillips, Shawn Craig, Frank Reed, Dan Dean and Kai Elmer (Manager of National Promotions INO Records).
For more info on Phillips, Craig and Dean, visit the JFH Artists Database.


[2021]
Jan. | Feb. | March | April | May | June | July | Aug. | Sept. | Oct. | Nov. | Dec.
[2020]
Jan. | Feb. | March | April | May | June | July | Aug. | Sept. | Oct. | Nov. | Dec.
[2001 - 2020]
Visit our complete MUSIC NEWS ARCHIVE