JFH NEWS SHORTS FOR SATURDAY AUGUST 8, 2009
News on MercyMe, Stryper, The Almost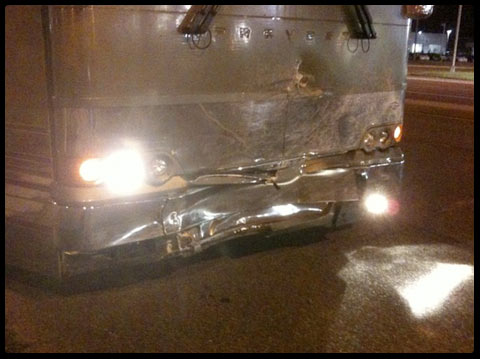 NEWS SOURCE: a Jesusfreakhideout.com report
August 8, 2009
>> Car Collides With MercyMe's Bus: Band Is OK, 2 Car Passengers Fatal
Last night, MercyMe frontman Bart Millard posted on Twitter, "Car just hit our tour bus. We are ok, but 2 of the 3 in the car did not make it. The one that did is pregnant. Please start praying." Three hours later, Millard posted an update, "Can't sleep. Officers left to notify families of their loss. My heart aches. Girl driving is 35 wks pregnant. Both are stable." Our hearts go out to the MercyMe guys and the families of the victims. Please be praying for everyone involved! Below is a blog the band posted on their official site, MercyMe.org.
"Please join with us in praying for the families of the car that hit our bus last night. Our hearts break for their families.

By Natalie Hess
Story Published: Aug 8, 2009 at 7:06 AM EDT
Story Updated: Aug 8, 2009 at 7:07 AM EDT

FORT WAYNE, Ind. (Indiana's NewsCenter) - Two passengers in a car that turned into the path of a tour bus on Lima Road this morning have died, while the driver remains in critical condition.

Police say a tour bus was traveling north through a green light at the intersection of Lima and Coliseum Boulevard around 1:15 a.m. this morning when a black car turned abruptly into its path. The car, a black Chevy Corsica, was heading south on Lima but turned suddenly eastbound onto Coliseum, says Public Information Officer Liza Thomas. The car drove directly into the path of the bus.

According to police, a female passenger and a male passenger in that car were pronounced dead at the scene. The driver was taken to a local hospital in critical condition. No one on the bus was injured.

The identities of the victims are still unknown. The Fort Wayne and Allen County FACT team, Allen County Prosecutor and Allen County Coroner's office are assisting the Fort Wayne Police department with the investigation.

mm"
>> Stryper Bassist Bows Out Of Reunion Tour
This is from Stryper.com. Thanks to Jesse for passing this on...
"Friends,

Bassist Tracy Ferrie will not be performing on the U.S. leg of the Stryper tour. Instead, original bassist Timothy Gaines will be the sole bass player. What was originally planned as a 2-set show, will now be one full 90-minute show, consisting of all the greatest hits and new Stryper material. The band will be wearing new yellow and black outfits designed by the original outfit designer. All original members, Michael Sweet, Robert Sweet, Oz Fox, and Tim Gaines will be performing on the 25th Anniversary U.S. tour.

Tracy has made the very honorable decision, one in which we support, to put the needs of his family first. Contrary to what many may believe, most professional musicians (especially those with families) have other jobs when their band is not touring. And in order to provide for their families, they often need to find other means of work during non-touring times.

We are living in extremely difficult economic times whereby finding a good day-job is difficult. Tracy has a great one. One that provides well for his family. Leaving this job could put his family in a tough situation upon returning from tour. We support Tracy in this decision to ensure security for his family. At the same time, we're excited to get back out on the road and share our new music and the 25th Anniversary show with our friends and fans whom we have not seen in a long time.

We're honored to have been doing this for 25 years and blessed to have the opportunity to go out on tour this fall. Without you, our friends and fans, we would not have lasted this long. Thank you. See you on the road soon.

Stryper

STAY TUNED FOR AN ALL NEW STRYPER.COM - REIGNITING THE FIRE ON AUGUST 23RD!!!"
>> Vocalist Of Advent Joins The Almost
In an interview with PunkDisasters.com, The Almost guitarist Dusty Redmon was asked about the recent departure of the band's drummer Kenny and who would be replacing him. Dusty replied...
"Our new drummer is a dude named Joe Musten. He is the singer for a hardcore band called Advent right now and played drums in my first band, Beloved. Underoath took us out on some of our first tours, so Joe and I have known Aaron for close to ten years now. Kenny is doing great though. He's a happy little married dude in Salt Lake and has a pretty cool job. We'll definitely miss him, but we're all mega-stoked about Joe jumping on board."
For the full interview with The Almost,
click here
. (Thanks to Nicholas for the link)
For more info on these artists, visit the JFH Artists Database.


[2021]
Jan. | Feb. | March | April | May | June | July | Aug. | Sept. | Oct. | Nov. | Dec.
[2020]
Jan. | Feb. | March | April | May | June | July | Aug. | Sept. | Oct. | Nov. | Dec.
[2001 - 2020]
Visit our complete MUSIC NEWS ARCHIVE