BUILDING 429 AND TODD AGNEW EMBARK ON FALL "PROMISE REMAINS TOUR" SPONSORED BY WORLD VISION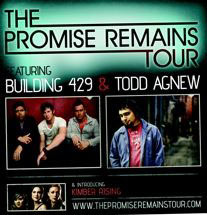 NEWS SOURCE: The M Collective
August 17, 2009
August 17, 2009…Nashville, TN…Building 429 and singer/songwriter Todd Agnew will embark on the fall "Promise Remains Tour" sponsored by World Vision. In addition, new female trio Kimber Rising is slated to open the tour as they visit 40+ dates across the U.S. beginning September 17th.
Both Building 429 and Todd Agnew have been long-time partners with World Vision. In the past year, Building 429 and the organization paired up for the "Truth Hope and Love Tour" and the highly successful World Vision Summerfest tour.
"It's been over five years since Todd and Building have toured together," explains Building 429 lead singer Jason Roy. "When we drew up a vision for the tour, the thought process was simple: God's promises remain true today, even with the economic hardships and the continuing wars that are being waged around the world. Our fans are sure to leave each night reminded of the fact that God is still in control and that all of His promises are guaranteed for those who know Him as King."
Building 429 will be performing songs off their latest self-titled release including their current and powerful single "Always," and upcoming single "Overcome" that will release to radio in October.
Preparing for his new studio release in October, Agnew will be playing fan favorites "Grace Like Rain" and "This Fragile Breath", as well as giving audiences a preview of new songs off his upcoming record NEED releasing Oct. 6. Included in the set list is the first radio single, "Joy Unspeakable" which went for adds July 17.
"We are really excited about getting back on the road this fall," states Agnew. "We look forward to sharing some songs from the new record and are really glad to be back with some dear friends, Building 429. We're also happy to have Kimber Rising back with us after touring together last Christmas. It should be a great tour and we are excited to see what God will do this fall!"
Log on to www.thepromiseremainstour.com to see if the tour is coming to a city near you.
World Vision
World Vision is a Christian humanitarian organization dedicated to working with children, families and their communities worldwide to reach their full potential by tackling the causes of poverty and injustice. World Vision provides hope and assistance to approximately 100 million people in nearly 100 countries. In communities around the world, we join with local people to find lasting ways to improve the lives of poor children and families. In 2007, 86 percent of World Vision's total revenue was designated for programs that benefit children, families, and communities in need.
Building 429
Building 429 has had a history of success with the release of three albums and now the rock band has joined forces with INO Records for their fourth studio record which became available in stores last fall. In 2005 "Glory Defined" was named BMI's Christian Song of the Year, they were named the Gospel Music Association's 2005 New Artist of the Year and nominated that same year for Rock/Contemporary Album of the Year and Song of the Year. They have toured with artists such as TobyMac, Family Force 5, Casting Crowns and Thousand Foot Krutch. Jason, Michael and Jesse are excited for their fans to hear a record that reflects where they are as individuals and artists.
Todd Agnew
Todd Agnew is a five-time Dove Award nominee, garnering numerous top ranked radio singles including two No. 1 hits, "Grace Like Rain" and "This Fragile Breath (The Thunder Song)." Agnew continues to perform over 150 dates per year and has currently sold over 500,000 units. His most recent release Better Questions entered Billboard's Christian Retail Chart at No. 1. Inspired by our need for grace and for God, Agnew is prepping to release his newest album NEED on Oct. 6.
TOUR SCHEDULE: (dates subject to change)

9/17/09 - St. Charles, MO – Church of The Shepherd
9/18/09 - TBA
9/19/09 - Elmhurst, IL – Elmhurst Christian Reformed Church
9/20/09 - Mequon, WI – Crossroads Church
9/21/09 - N. Mankato, MN – Crossview Covenant Church
9/24/09 - Cleveland, GA – Truett McConnell College
9/25/09 - Columbus, GA – Calvary Baptist Church
9/26/09 - Myrtle Beach, SC – Ground Zero
9/27/09 - Spindale, NC – The Foundation
10/1/09 - Graceville, FL – The Baptist College of Florida
10/2/09 - Brandon, FL – St. Andrews UMC
10/3/09 - TBA
10/4/09 - Orlando, FL – The Plaza Theatre
10/8/09 - Raleigh, NC – Hope Community Church
10/9/09 - Cedarville, OH – Cedarville University – Dixon Ministry Center
10/10/09 - Bidwell, OH – Fellowship of Faith Church
10/11/09 - S. Portsmouth, KY – South Portsmouth Church of God
10/15/09 - Alexandria, KY – Main Street Baptist Church
10/16/09 - Mechanicsburg, PA – West Shore Evangelical Free Church
10/17/09 - Wilmington, NC – Myrtle Grove Baptist Church
10/18/09 - Anderson, SC – Concord Baptist Church
10/22/09 - Chillicothe, MO – Cornerstone Church
10/23/09 - Aurora, CO – Southeast Christian Center
10/24/09 – Cheyenne, WY – Destiny Church
10/25/09 - Layton, UT – Calvary Chapel Church
10/26/09 - Missoula, MT – South Hills Evangelical Church
10/27/09 - Kalispell, MT – Christian Center Church
10/29/09 - Spokane, WA – Faith Bible Church
10/30/09 - Kennewick, WA – Calvary Chapel Tri-Cities
10/31/09 - Twin Falls, ID – Lighthouse Christian Fellowship
11/1/09 - Bend, OR – Christian Life Center
11/3/09 - Redding, CA – Little Country Church
11/5/09 - Manteca, CA – Christian Worship Center
11/6/09 - Rocklin, CA – Sunset Christian Center
11/7/09 - Las Vegas, NV – Calvary Chapel Spring Valley
11/8/09 - Highland, CA – Immanuel Baptist Church
11/9/09 - Murrieta, CA – Calvary Chapel Murrieta
11/10/09 - Gilbert, AZ – Sun Valley Community Church
11/11/09 - Sierra Vista, AZ – Buena High School
11/12/09 - Lubbock, TX – First United Methodist Church
11/13/09 - Broken Arrow, OK – Cedar Ridge Christian Church
11/14/09 - Chandler, TX – Faith Baptist Church
11/20/09 - Roach, MO – Missouri State Youth Conference (private event)
11/21/09 - Cordova, TN – Hope Church
11/22/09 - Milan, TN – Chapel Hill Baptist Church
For more info on Building 429, visit the JFH Artists Database.
For more info on Todd Agnew, visit the JFH Artists Database.


[2021]
Jan. | Feb. | March | April | May | June | July | Aug. | Sept. | Oct. | Nov. | Dec.
[2020]
Jan. | Feb. | March | April | May | June | July | Aug. | Sept. | Oct. | Nov. | Dec.
[2001 - 2020]
Visit our complete MUSIC NEWS ARCHIVE