JARED ANDERSON INTRODUCES NEW WORSHIP SONGS WITH LIVE FROM MY CHURCH
New CD, Worship Resources to Release September 22
NEWS SOURCE: Spinhouse PR
August 20, 2009
MOBILE, Ala. – August 20, 2009 – Jared Anderson, one of today's top CCLI songwriters and a founding member of the Desperation Band, returns to his church worship roots with Jared Anderson - Live From My Church, his 3rd solo project which releases Sept. 22 through Integrity Music.
Following the critically-acclaimed Where to Begin and Where Faith Comes From, Live From My Church is Anderson's first live, solo worship album. It is also the first project he has produced and recorded at New Life Church in Colorado Springs, Colo., his home church since childhood.
Anderson has been acclaimed for bringing a songwriter spirit to his worship music. And that spirit shines through on Live From My Church, reaffirming his ability to craft songs with congregational worship in mind while never sacrificing the immediacy of the intimate, intelligent and passionate communication for the object of his worship -- his Lord and Savior – in favor of a redundant lyric or chorus.
Also present on Live From My Church are Anderson's piano artistry and pop sensibilities that continue to make his worship accessible. As Anderson says, "There's a little something for every congregation here."
Anderson says if there is a theme for the record, it is "receive, then give."
"The first half of the record really echoes with the idea of receiving from the Lord," he explains. "Receiving his grace; receiving his mercy; receiving his forgiveness. The second half is about responding by giving back—giving our worship back to God, giving our love away...reaching out and giving what we've been given."
Live From My Church introduces new songs from Anderson including the joyful, rousing opener "Lift the Name," "Never Be Shaken," an anthem for difficult times, the ColdPlay-esque radio single "Inside" and a haunting version of John Mark McMillan's "How He Loves." The new song "Carrier" has already become a classic at New Life and is being used as the theme song for an international mission outreach.
The track listing for Live From My Church is:

1. "Lift The Name"
2. "Never Be Shaken"
3. "Prepare The Way"
4. "Fill Me Up" (co-written with Don Poythress)
5. "How He Loves" (written by John Mark McMillan)
6. "God Be In My Head" (Original Words: Book of Hours, 1514, in English in the Sarum Primer of 1558, new lyrics and music by Anderson)
7. "Inside"
8. "Glory Of God"
9. "Carrier"
10. "Glorified"
11. "We Will Be Changed"
Companion resource products for Jared Anderson - Live From My Church will include CD trax, a songbook and a (transposable) digital songbook.
Anderson is the writer of modern worship standards including "Amazed," "Rescue," "Hear Us From Heaven," "Beauty Of The Lord" and "Glorified." With the idea of introducing this songwriter's brand of thoughtful worship to an even larger audience, Anderson released his national solo debut in 2006 with Where To Begin and followed it with Where Faith Comes From in 2008.
Anderson also has a new song that he wrote and performs – "Messiah's Song" – for the upcoming Integrity release Worship & Adore: A Christmas Offering.
For more information and to view his EPK, visit http://www.jaredanderson.com.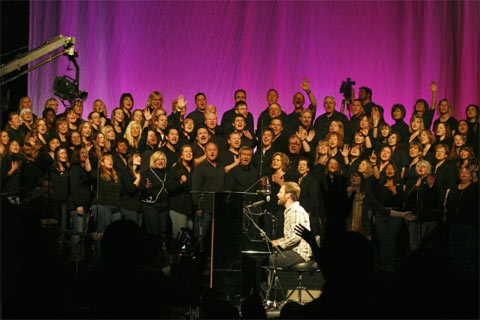 [2021]
Jan. | Feb. | March | April | May | June | July | Aug. | Sept. | Oct. | Nov. | Dec.
[2020]
Jan. | Feb. | March | April | May | June | July | Aug. | Sept. | Oct. | Nov. | Dec.
[2001 - 2020]
Visit our complete MUSIC NEWS ARCHIVE