THOUSAND FOOT KRUTCH ROCKS THE SPORTS WORLD
WITH FIST-PUMPING MUSIC
Band Performs Pre-Show for Jacksonville Jaguars
"Fire It Up" Continues to Blaze Networks
Fresh Website Launched Today
NEWS SOURCE: Overture Media
August 25, 2009
Seattle, WA...August 25, 2009...As ambassadors from the rock world to sports arenas across the nation, rockers Thousand Foot Krutch pumped up NFL fans this past weekend in Florida at the Jacksonville Jaguars pre-show concert in the end-zone of the stadium pavilion. The band enticed fans with the live performance of two new songs ("Fire It Up," "Bring Me To Life") from their upcoming release "Welcome to the Masquerade." After the pre-game show, the band watched the game in the Jacksonville Municipal Stadium from a bird's eye view in a special suite with former Jaguar Tony Boselli. This concert is just one of many sports arena appearances this band has rocked with their fist-pumping tracks.
With their wide spectrum of sports coverage, Thousand Foot Krutch has become a staple in this area delivering fast-paced, positive rock anthems. Rock-n-roll has always been present in the sports sector getting fans on their feet to cheer on the athletes. TFK has developed over the years as one of these bands who intertwines rock and sports.
2009 Sport Infused Coverage:
TFK jump-started their year with their performance at the ESPN / ABC Winter X Games in Colorado after being voted by fans as winners in the Taco Bell "Feed The Beat" competition. This summer the band's hit song "Fire It Up" has had multiple plays on the Versus' Network with IndyCar races, including a new usage this past weekend. The network also showcased "Bring Me To Life" on August 23rd in Sonoma, CA. In July, "Fire It Up" was featured on ESPN NASCAR's nationwide series featuring Kyle Busche. The hot single will also appear in EA Sports NHL 2010 video game.
Adrenaline-Rushing Songs History:
Many fans and listeners of Thousand Foot Krutch were first introduced to this band with in-your-face rock and catchy songs via the sports realm whether it be at an arena playing songs like "Move" "Rawkfist" or "Absolute" to watching Ultimate Fighting champion Joe Lauzon and his theme song "Move." It was "Rawkfist" that became one of the first great sports anthems of the 21st century being heard everywhere such as on major networks CBS Sports, Fox Sports NFL, ESPN and NFL films. The NCAA also jumped on board with this accelerating music as the Oklahoma University Sooners played "Move" when team entered the Boomer Stadium during the season. In addition the 2005 Big Ten / ACC Challenge also utilized "Move" during the tournament. Other sport sectors that have used TFK's music include the Major Baseball League and the National Hockey League. Other TFK sports highlights include: ESPN "Ultimate Highlight," "Winter X 13," Dew Action Sport Promos and Arena football.
Forthcoming Release, Tour, Website:
Thousand Foot Krutch will release "Welcome To The Masquerade" on Tooth & Nail Records on September 8th. The band will also be on the Creation Festival: The Tour this fall beginning early September. Visit the tour's site for a city near you. Today, TFK is launching their newly designed website as well as their iTunes pre-sale for $9.99. The band urges fans to pass along the website link as well as help spread the word on Twitter, Facebook and by word of mouth to include everyone at the masquerade in just two weeks.
- ### -
About Thousand Foot Krutch:
Thousand Foot Krutch, started by frontman/songwriter Trevor McNevan, have sold a half-million copies to date of their albums "Set It Off," "Phenomenon," "The Art Of Breaking," and "The Flame in All of Us." The band hit the musical scene with the "Phenomenon" album and branched into radio with songs "Rawkfist" (Phenomenon) and "Move" (The Art of Breaking). TFK has also celebrated three Active Rock/Alternative singles to break into the Top 30. For more information on TFK, follow the band on Twitter and check out their MySpace.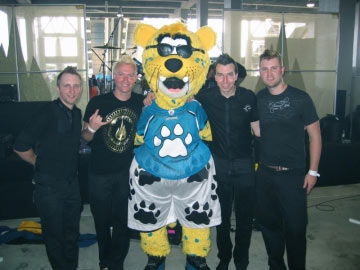 Joel Bruyere, Trevor McNevan, Jaxon de Ville, Steve Augustine, Nick Baumhardt after the band's pre-show performance at the Jacksonville Jaguars game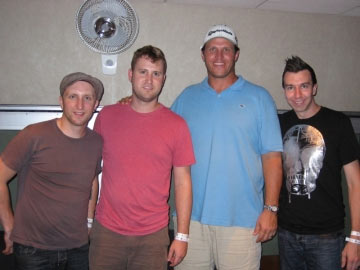 Joel Bruyere, Nick Baumhardt, Tony Boselli, Steve Augustine
For more info on Thousand Foot Krutch, visit the JFH Artists Database.


[2021]
Jan. | Feb. | March | April | May | June | July | Aug. | Sept. | Oct. | Nov. | Dec.
[2020]
Jan. | Feb. | March | April | May | June | July | Aug. | Sept. | Oct. | Nov. | Dec.
[2001 - 2020]
Visit our complete MUSIC NEWS ARCHIVE