EMI, HOT TOPIC AND THE ALMOST CREATE A NEW RETAIL MODEL PRE-RELEASE OF MONSTER MONSTER FULL-LENGTH NOV. 3
SPECIAL TWO-DISC PACKAGE AVAILABLE FOR PRE-ORDER AT HOT TOPIC OCT. 6, INCLUDES BLANK DISC FOR FREE ALBUM DOWNLOAD DAY OF RELEASE, EP ALSO ON SALE AT ALL TOUR DATES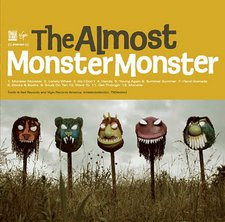 NEWS SOURCE: EMI Music
September 3, 2009
Tooth & Nail/Virgin Records (EMI) rock band The Almost have created a Monster.
Monster Monster is the five-piece rock group's sophomore album, the follow-up to 2007's Southern Weather, which scored a #7 Modern Rock single in "Say This Sooner," a slot on MTV's prestigious Discover & Download program and a quarter-million in sales after debuting in the Top 40 on the Billboard Top 200 with 29k+.
Formed by Underoath drummer Aaron Gillespie along with guitarists Jay Vilardi and Dusty Redmon, bassist Alex Aponte and newest member, drummer Joe Musten, The Almost's Monster Monster represents the culmination of two years of touring, with the resulting disc a melding of the group's individual talents into a truly collaborative effort. Before the release, The Almost will release a new video to fans, which will be followed by their lead anthemic rock single "Hands."
The album is slated for release on Nov. 3, but will be preceded by a Limited Edition special five-track EP entitled the Monster EP, featuring three album cuts and two B-sides. The EP will be available on Oct. 6 exclusively at Hot Topic stores, the band's website, as well as on the band's upcoming tour. The Monster EP will come in a special two-disc digi-pack, with a choice of five different covers. In an unprecedented new model for music delivery, EMI and Hot Topic will offer this Limited Edition EP packaging, which includes one disc with the EP's music and a second blank CD with Monster Monster's full-length artwork, lyrics and printed track listing on the physical CD, but no music. Fans will be able to download every song through a special promotional code on the day of actual physical release, Nov. 3, from ShockHound.com the MP3, merch and editorial site (http://www.ShockHound.com/ ), which is a division of Hot Topic, Inc. The version streeting on Nov. 3 will not include the special five-cover packaging or the Limited Edition EP.
"We feel strongly that physical retail is still viable and important. We are using the highly successful instant gratification model proven in the digital world but putting our own spin on it and bringing it to 681 Hot Topic stores," says Randy Nichols, manager of The Almost.
During the tour, the band will make stops at select Hot Topic stores for exclusive in-store performances and signings.
Gillespie, who played all the instruments on The Almost's first album, is thrilled the way the group began to mesh on Monster Monster, and the band itself is raring to go out and play the new songs for their rabid, loyal fan base.
"This now feels like a real band," he says. "Everyone gave up a piece of his own agenda for the good of the final result. And that's how you end up with something special. They supplied the bricks and we built this house together."
The Almost begin their own headlining tour Sept. 23 at the State Theater in St. Petersburg, FL. through Oct. 6 at SOMA in San Diego, CA, with The Used jaunt beginning the very next day, Oct. 9, in Las Vegas.
"We plan on hitting it as hard as we can," says Vilardi. "We'd like to leave and not come back for two years."
Headlining Tour:
Sep 23 State Theatre St. Petersburg, FL
Sep 24 Culture Room Ft. Lauderdale, FL
Sep 25 The Venue Gainesville, FL
Sep 26 Finlay Park Columbia, SC
Sep 27 The 7 Venue Douglasville, GA
Sep 29 Visulite Theatre Charlotte, NC
Sep 30 ROCKETOWN Nashville, TN
Oct 1 New Daisy Theatre Memphis, TN
Oct 2 Bricktown Ballroom Oklahoma City, OK
Oct 3 Zombie's San Antonio,TX
Oct 5 Club Congress Tucson, AZ
Oct 6 Soma-Sidestage San Diego, CA
Supporting The Used:
Oct 9 House of Blues Las Vegas, NV
Oct 10 Salt Air Theatre Magna, UT
Oct 11 The Fillmore Auditorium Denver, CO
Oct 13 The Myth St. Paul, MN
Oct 14 Beaumont Club Kansas City, MO
Oct 15 Riviera Theatre Chicago, Il
Oct 17 The Fillmore-Detroit Detroit, MI
Oct 18 Pageant St. Louis, MO
Oct 20 Kool Haus Toronto, ON
Oct 21 Metropolis Montreal, QC
Oct 23 House of Blues Boston, MA
Oct 24 Crocodile Rock Allentown, PA
Oct 25 Sonar Baltimore, MD
Oct 27 Roseland Ballroom New York, NY
Oct 28 Electric Factory Philadelphia, PA
Oct 30 House of Blues Myrtle Beach SC
Oct 31 (orl)House of Blues Lake Buena FL
Nov 1 The Tabernacle Atlanta, GA
Nov 3 House of Blues New Orleans, LA
Nov 5 House of Blues Dallas Dallas, TX
Nov 6 House of Blues Houston Houston, TX
Nov 7 La Zona Rosa Austin, TX
Nov 9 Marquee Theatre Tempe, AZ
Nov 10 The Wiltern Los Angeles, CA
Nov 11 Warfield Thatre San Francisco, CA
Nov 13 Showbox SoDo Seattle, WA
# # #
For more info on The Almost, visit the JFH Artists Database.


[2022]
Jan. | Feb. | March | April | May | June | July | Aug. | Sept. | Oct. | Nov. | Dec.
[2021]
Jan. | Feb. | March | April | May | June | July | Aug. | Sept. | Oct. | Nov. | Dec.
[2001 - 2021]
Visit our complete MUSIC NEWS ARCHIVE