CENTRICITY MUSIC'S HIGH VALLEY TO DEBUT ON CANADIAN COUNTRY MUSIC ASSOCIATION AWARDS SHOW
Country Star, Paul Brandt, To Perform With High Valley On Show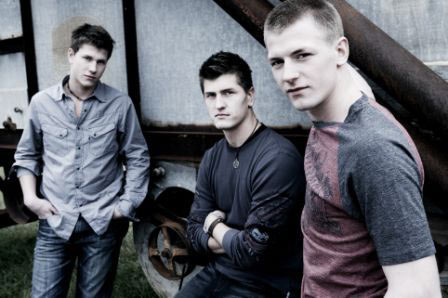 NEWS SOURCE: Bozeman Media
September 4, 2009
Toronto, ON (September 3, 2009) ----- Canadian brother trio, High Valley, is scheduled to make its debut on the Canadian Country Music Association Awards Show, September 13 in Vancouver, British Columbia. The group will perform the song, "When You Call My Name," with country star, Paul Brandt. Brandt was co-producer, along with Sean Neff (Rascal Flatts, Chicago, Mike's Chair), for High Valley's self-titled CD that will release March 2010 on Centricity Music.
"We are so excited to be a part of the CCMA Awards Show this year," says Brad Rempel, lead singer/guitarist of High Valley. "It's a thrill to share the stage with our mentor, producer and good friend Paul Brandt and to bring the new music to our hometown fans in Canada! We grew up watching this show on CBC and we're thrilled for the opportunity to expose hundreds of thousands of new fans to our music! This is another incredible opportunity as we work our way towards the release of the full album in the spring of next year."
The self-titled CD features song collaborations between Brad Rempel and some of the top songwriters in Nashville. High Valley refers to themselves as "Dierks Bentley as a trio," and their sound as not too pop with more of an organic and acoustic feel. Their strong harmony skills were developed when singing as a family in church and their must-see live shows feature their tightly honed musicianship on mandolin, acoustic guitar and bass. High Valley believes there is a strong connection between Christian and country music where their contemporary sound with faith-based lyrics definitely fill a niche.
"There's a huge part of the population that really loves positive faith-based country songs. People want to hear songs with faith and hope instead of desperation and despair, and it does seem like there's been a spike in the last few years," Brad says referencing such faith-based country hits as Carrie Underwood's "Jesus Take the Wheel" and Brooks & Dunn's "Believe." "People are searching just for some encouragement and something to believe in."
High Valley signed with Centricity Music in 2007 and the group is comprised of three brothers; Brad Rempel, Curtis Rempel (background vocals/mandolin), and Brian Rempel (background vocals/bass), who hail from Alberta Canada. The group has garnered quite a loyal fan following in Canada where they have played festivals/concerts with such superstars as Carrie Underwood, Reba McEntire, and Michael W. Smith. Their independent project, Broken Borders, was named Album of the Year (Country category) and their hit single, "Back To You" Country Song of the Year at the 2007 GMA Canada Covenant Awards. High Valley has also been nominated for Group of the Year at the Nashville-based Inspirational Country Music Awards.
For more information on High Valley please visit, www.highvalleymusic.com or www.centricitymusic.com.
Centricity Music is an independent recording and publishing company based in Bellevue, Washington and Nashville, Tennessee. The company's mission is to nurture the gifts and expand the influence of Christian artists around the world. Centricity Music's artist roster includes Jaime Jamgochian, Downhere, Jason Gray, Daniel Kirkley, Lanae' Hale, Andrew Peterson, High Valley, Matt Papa, Sixteen Cities and Me In Motion.
###


[2020]
Jan. | Feb. | March | April | May | June | July | Aug. | Sept. | Oct. | Nov. | Dec.
[2019]
Jan. | Feb. | March | April | May | June | July | Aug. | Sept. | Oct. | Nov. | Dec.
[2001 - 2018]
Visit our complete MUSIC NEWS ARCHIVE