DEBUT SINGLE FROM STEVEN CURTIS CHAPMAN'S Beauty Will Rise, "HEAVEN IS THE FACE" IS WELCOMED WITH OPEN ARMS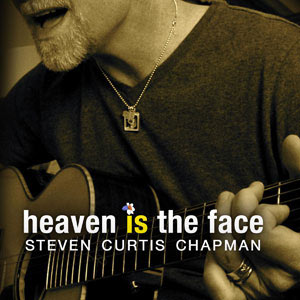 NEWS SOURCE: The M Collective
September 10, 2009
September 10, 2009… Nashville, TN… The debut single from multi-platinum selling artist Steven Curtis Chapman's upcoming project Beauty Will Rise, "Heaven Is The Face," has been welcomed with open arms. Available digitally on September 8, the single released to radio August 21 and has already pulled at the hearts of many. Thirty-one stations have added the single already, quickly finding that it is resonating with all who hear it, offering light in a dark place:
"Heaven Is The Face" is a song that takes you a little deeper each time you hear it," says Tulsa, OK, KXOJ Program Director, Bob Thorton. "The first time all I thought about was Steven and Maria. The second time all I thought about was the door of Heaven and the mystery of not being able to see the other side. The third time and each spin since, it's become a more personal song that takes me into simultaneous thanks for the present and worship for what is to come. This is raw, honest depth from our greatest writer."
"The lyrics are specific to the Chapman story, but the Hope shared is something we can all cling to," says Sandi Brown, General Manager of JoyFM in St. Louis.
Outside of radio circles, the media are also vocalizing their support for the song and Chapman family:
"Heartbreak and hope are powerfully intertwined in the lyric of this incredible song. Chapman has always had a gift for sharing how real and vibrant his faith is through his music, and even after the loss of his precious daughter, that faith remains and continues to inform his artistry. I can think of no more powerful testimony."- Billboard
"'Heaven Is The Face' marks the return of Steven Curtis Chapman to music for the first time since the tragic loss of his adopted daughter last year, and the new single is a deeply emotional journey that addresses Chapman's personal hopes and struggles throughout the painful season. It's a beautiful song and a gift to anyone who knows what it's like to experience loss."-Jesusfreakhideout.com
" 'Heaven Is The Face' portrays what Chapman http://www.examiner.com/examiner/x-2770-Christian-Entertainment-Examiner~y2009m4d29-Michael-W-Smith-and-Steven-Curtis-Chapman-together-for-the-first-time-on-The-United-Tour, his wife Mary Beth, and their family describe as 'grieving with hope.' This song resonates with a psalmist's dichotomy of loss and sorrow, hope and longing. It digs deep within the pain to find something to offer others; a promised eternal life where pain and tears do not exist and where love and joy abound."-Examiner.com
"Heaven Is the Face is a testament to Steven Curtis Chapman's perseverance in the face of tragedy. He continues to excel as a songwriter, but most importantly, is a living testimony to the power of hope and healing."- Freelancer and Gospelmusicchannel.com contributor.
As Chapman explains it, "Heaven Is The Face" is a song that he never wished to write: "Obviously heaven has become a much more real place and something I long for more now than ever before. I can't wait to see the face of my little girl that I long to see again. I'm saying to God, 'You know my heart, and I know that heaven is so much more than that, but right now Lord, this where my heart is.' So I'm just crying out to God with this song, and it's as honest and personal as I've ever been; I just poured out my heart."
Beauty Will Rise is a collection of 12 new and profound songs created over the past 15 months during the walk through the darkness of the loss of his daughter Maria and while God continued to meet him there on the journey. Part lament, part praise, part grief, part hope, part wrestling, part pondering; these tracks resonate as Chapman's personal psalms. It is a desperately hopeful, raw, personal, and honest recording that is likely the most important of his already incredible 20 plus year ministry.
"I began this process a couple of months after May 21st, not really knowing if I would ever feel like I could sing, stand on stage again, or express the emotions, the grief and the loss in music. But, in the days that followed, I felt that God was allowing me to write my own psalms, and that's really what these are to me; a collection of my own psalms, laments, ponderings, and God meeting me and my family in the grief and in the midst of our journey of the last year. It's been an amazing, wild process; very raw, real, honest."
Steven Curtis Chapman has sold over ten million records including two RIAA certified platinum albums and eight RIAA certified gold albums. Along with his Dove and GRAMMY © awards, Chapman has won an American Music Award, has recorded 45 No. 1 US radio hits and been awarded 56 Dove Awards, more than any other artist to date. A Since his recording career began in 1987, Chapman has recorded seventeen projects with Sparrow Records. A He has performed at the White House and has appeared on multiple national programs via CBS, NBC, ABC, CNN, MSNBC, CMT, FOX News, the Hallmark Channel and E!, including Good Morning America, Larry King Live, CBS Sunday Morning, The Tonight Show with Jay Leno, and more. Chapman and his wife Mary Beth created Show HOPE in 2001 after bringing their first adopted daughter, Shaohannah, home from China. The ministry's goal is to help families reduce the financial barrier of adoption, and has provided grants to over 2,000 families wishing to adopt orphans from around the world.
###
For more info on Steven Curtis Chapman, visit the JFH Artists Database.


[2022]
Jan. | Feb. | March | April | May | June | July | Aug. | Sept. | Oct. | Nov. | Dec.
[2021]
Jan. | Feb. | March | April | May | June | July | Aug. | Sept. | Oct. | Nov. | Dec.
[2001 - 2021]
Visit our complete MUSIC NEWS ARCHIVE