STRYPER KICKS OFF 25TH ANNIVERSARY TOUR AT BOSTON'S HOUSE OF BLUES
Tom Scholz and Gary Pihl of Legendary Band BOSTON Joined Stryper on Stage to Perform "Peace of Mind"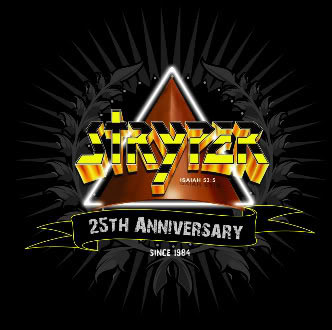 NEWS SOURCE: Nashville Publicity
September 16, 2009
(NASHVILLE, Tennessee) – Groundbreaking Christian rock band Stryper kicked off their 25th Anniversary Tour on Friday night, September 11th, at the House of Blues in Boston, MA. Making the occasion even more special, the band was joined on stage by Tom Scholz and Gary Pihl of the legendary band BOSTON for a performance of "Peace of Mind." BOSTON founder, guitarist and songwriter Tom Scholz is featured on Stryper's cover version of "Peace of Mind" on the recently released Murder by Pride (Big3 Records/SONY).
This is not the first time that Stryper and BOSTON have crossed paths. In 2008, Scholz and Pihl also joined Stryper on stage to perform "Peace of Mind" for VH1 Classic's After Math: The Station Fire Five Years Later. And last summer, Stryper's lead vocalist and guitarist Michael Sweet joined BOSTON on vocals and guitar for their 54-city headlining tour of North America.
Stryper's 25th Anniversary Tour is a family affair of sorts. That's because opening act Flight Patterns is fronted by Michael Sweet Jr., the 22-year-old son of Michael Sweet. Also on the bill is Whiplash Records rock trio Manic Drive, who earned a record seven GMA Canada Covenant Award nominations this year, taking home two awards for Rock Album of the Year and Video of the Year.
The tour will hit nearly 50 cities in North America this fall before heading out on a three month international run in early 2010. All four of Stryper's original members - Michael Sweet (vocals/guitar), Oz Fox (guitar), Robert Sweet (drums) and Tim Gaines (bass) - will take to the stage to perform their hits and fan favorites, as well as songs from Murder by Pride. Fans will also be pleased to find the band performing in all new yellow and black stage outfits from the original designer.
TOUR DATES (North America)
Sept 11 - House of Blues - Boston, MA
Sept 12 - Northern Lights - Clifton Park, NY
Sept 13 - Webster Theater - Hartford, CT
Sept 18 - The Fillmore at Irving Plaza - New York, NY
Sept 19 - The Stone Pony - Asbury Park, NJ
Sept 20 - Crocodile Rock - Allentown, PA
Sept 23 - Chameleon Club - Lancaster, PA
Sept 24 - House of Blues - Cleveland, OH
Sept 25 - The Hayloft - Mt. Clemens, MI
Sept 27 - Reverb @ Big Bop Concert Hall - Toronto, ON
Sept 28 - Club Soda - Montreal, QB
Oct 1 - Palace Theatre - Greensburg, PA
Oct 2 - Bijou Theatre - Knoxville, TN
Oct 3 - McGuffy's - Dayton, OH
Oct 4 - House of Blues - Chicago, IL
Oct 7 - Epic - Minneapolis, MN
Oct 8 - 8 Seconds Saloon - Indianapolis, IN
Oct 9 - Crossroads - Kansas City, MO
Oct 12 - Pops - Sauget, IL
Oct 15 - State Theatre - Falls Church, VA
Oct 16 - Canal Club - Richmond, VA
Oct 17 - Koka Booth Amphitheatre - Cary, NC
Oct. 18 - House of Blues - Myrtle Beach, SC
Oct 20 - The Orange Peel - Asheville, NC
Oct 21 - The Masquerade - Atlanta, GA
Oct 22 - Florida Theater - Jacksonville, FL
Oct 24 - Bourbon Street Nightclub - New Port Richey, FL
Oct 25 - Culture Room - Fort Lauderdale, FL
Oct 28 - House of Blues - Orlando, FL
Oct 30 - Wildhorse Saloon - Nashville, TN
Nov 4 - House of Blues - Dallas, TX
Nov 5 - House of Blues - Houston, TX
Nov 6 - Scout Bar - San Antonio, TX
Nov 7 - Dos Amigos Cantina - Odessa, TX
Nov 10 - Cervantes - Denver, CO
Nov 11 - Sunshine Theater - Albuquerque, NM
Nov 13 - Santa Fe Station Casino - Las Vegas, NV
Nov 14 - Club Nokia LA Live - Los Angeles, CA
Nov 16 - House of Blues - Anaheim, CA
Nov 19 - Avalon Nightclub - Santa Clara, CA
Nov 21 - Red Room - Vancouver, BC
Nov 22 - El Corazon - Seattle, WA
Nov 23 - Aladdin Theatre - Portland, OR
Dec 5 - Tito Puente Amphitheatre - San Juan, Puerto Rico
About Stryper
In 1984, Stryper broke onto the scene with their debut EP Yellow and Black Attack, and have since gone on to sell 8 million albums and tour the world spreading an inspirational message through their branded sound of rock songs, heavy guitars, and pristine harmony vocals. The group's unprecedented 1986 album To Hell with the Devil was the first Christian album to go platinum and was named one of the "100 Greatest Albums in Christian Music" by CCM Magazine. Stryper was also the first Christian band to get airplay on MTV, where they had several hit videos, including the #1 "Most Requested" videos "Free" and "Honestly."
# # #
For more info on Stryper, visit the JFH Artists Database.


[2022]
Jan. | Feb. | March | April | May | June | July | Aug. | Sept. | Oct. | Nov. | Dec.
[2021]
Jan. | Feb. | March | April | May | June | July | Aug. | Sept. | Oct. | Nov. | Dec.
[2001 - 2021]
Visit our complete MUSIC NEWS ARCHIVE