RAZZBARRY RECORDS SIGNS OHIO POWER POP BAND THE GREAT TRANSPARENCY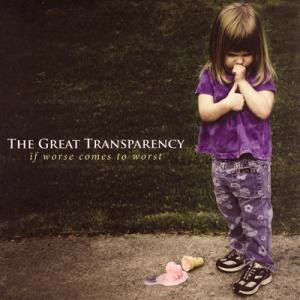 NEWS SOURCE: Razzberry Records
September 17, 2009
September 17, 2009 ….. Razzbarry Records (Jacksonville, FL) is announcing the signing of The Great Transparency (Columbus, Ohio).
Razzbarry Records is the Management Company / Label of industry veteran Barry Blaze, which is currently home to his band Code of Ethics and his solo projects.
"We are so excited To be working with The Great Transparency. These talented young men have a healthy work ethic to go with their heart to share Hope to people in what can be a very difficult world," says Blaze.
It is this work ethic that has already found them touring the country with national acts like Eleventyseven, Manic Drive, Hello Kelly, and Me in Motion, while also becoming very familiar faces at popular Summer festivals, such as Cornerstone, Ichthus, Prolife and Rockfest.
The Great Transparency started as a side project for Jeremiah Wagner,and Tommy Clingan, soon adding other members Jameson Leasure, Kyle Bigham and Ray Bertka. Playing over a 100 shows a year, they have sold 2,000 copies of their self-released EP, If Worse Comes To Worst, featuring the single "Run For It," which was produced by Grammy and Dove award winning songwriter and producer Barry Blair (known for being a founding member of Audio Adrenaline).
With almost 2,000 copies sold independently, it is no wonder they have already seen radio play on stations such as Yes FM, Remedy FM, Power FM, WBEL American family radio and even garnering three days as the winner on Radio U's Battle of the Buzz.
But it's their love for people that keep them pushing ahead, "There has been no greater time than now, in these turbulent and uncertain times, to go out, encourage and reach people of all ages where they are with this message. It's the Hope that can only be found in Jesus Christ," says TGT front man Jeremiah Wagner.
Their high energy live show has earned them opportunities to share the stage with the respected talents of such acts as John Reuben, House of Heroes, Last Tuesday, Code of Ethics, Sherwood, Kevin Max, Stellar Kart, Decyfer Down, Spoken, Staple, Day of Fire, Remedy Drive, Joy Electric and After Edmund. The Great Transparency's "Hope Restored Tour" starts September 23.
ABOUT THE GREAT TRANSPARENCY
The Great Transparency (Columbus, Ohio) is a Power Pop group that that is the latest signing of Razzbarry Records consist of band members Jeremiah Wagner, Tommy Clingan, Jameson Leasure, Kyle Bigham and Ray Bertka. They have toured the country playing over 100 shows a year while independently selling almost 2000 copies of their latest EP, If Worse Comes To Worst.
ABOUT RAZZBARRY RECORDS
Razzbarry Records (Jacksonville, Florida) is an independent label and management company founded by Barry Blaze in 2007. Their current roster includes The Great Transparency, Code of Ethics and Blaze's solo worship venture as Barry Blaze.
"Hope Restored Tour" Tour Dates (*Dates Subject To Change)
* Sept 23 Coshocton Ohio
* Sept 24 Elkins WV
* Sept 25 Butler Pa
* Sept 26 Mansfield Ohio
* Sept 27 Mansfield Ohio (Leading worship @ surge youth group Berean Baptist)
* Sept 30 Lexington Ky
* Oct 1 Acworth GA
* Oct 2 Greenville SC
* Oct 3 Kingsport TN
* Oct 7 Lexington SC
* Oct 8 Monroe GA
* Oct 9 Columbus GA
* Oct 10 Richmond KY ( Rock Fest w/ Run Kid Run, Alabastor Box, Phillip LaRue)
* Oct 11 Dayton Ohio
* Oct 23 Port Huron MI
* Oct 28 Kenton Ohio
Make sure to see them at a show near you. For the latest information on the band, visit Myspace.com/thegreattransparency, twitter.com/tgtband or The Great Transparency on facebook