JFH NEWS SHORTS FOR MONDAY SEPTEMBER 21, 2009
News on Kids In The Way, Maylene and the Sons of Disaster, Matthew West, Project 86
NEWS SOURCE: a Jesusfreakhideout.com report
September 21, 2009
>> Kids In The Way Announce Reunion!
Yesterday, rock band Kids In The Way, who had called it quits right before the release of their last album, Love Hate Masquerade, announced their return to music. Although the details are next to none, the band writes, "Hello friends, A reunion is forthcoming. If your venue would like to book us for a show simply send us a message. See you all soon, KITW." Along with the announcement, the band announced two upcoming show dates, September 24 2009 (9:00P) at The Pub in Indianapolis, Indiana, and October 17 (8:00P) at Buckley High School in Trever City, Michigan. More details to come (We hope!) on this reunion...
>> Maylene and the Sons of Disaster Singer Sits Out Of Fall Tour
Today, vocalist of Maylene and the Sons of Diaster, Dallas Taylor, announced that he will not be leading the band this Fall on tour. Although such an announcement usually comes with an official leaving of the singer, but Dallas insists he will return. In his place, vocalist Schulyar Dane of He Is Legend is stepping in... "Hey everybody this is Dallas. I just wanted to let everyone know I unfortunately will not be on the upcoming All That Remains tour. I am very excited to get back out on the road soon, however now is not the right time. We are very excited to announce our good friend Schulyar Dane, from the great band He Is Legend will be filling in on vocals. Please come out and support the guys, it's going to be a great tour, and I hope to see you all on the road soon. Thanks for all the support."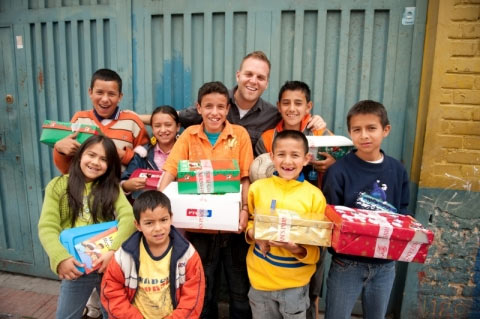 >> Matthew West Travels To Columbia With Op. Christmas Child
Sparrow Records award-winning singer/songwriter Matthew West distributes shoe box gifts with Operation Christmas Child in Bogota Columbia August 24-27, 2009. West is the official spokesperson for Operation Christmas Child, a division of the international relief organization Samaritan's Purse, and will also be collecting shoe boxes on "The Motions Tour" this fall. Additonal tour details are forthcoming. For more information about Operation Christmas Child, visit www.samaritanspurse.org/index.php/OCC/. (from Savvy Media)
>> Project 86 Announce Coats For Cold Nights Campaign
Project 86 is supporting the poor this fall with The Coats For Cold Nights Campaign. Check out the announcement below...
"We are very excited to be starting THE COATS FOR COLD NIGHTS CAMPAIGN on our upcoming PICKET FENCE CARTEL TOUR!

As our band has traveled in recent months, we have noticed that many people have a heart for charity and social action, but have no idea where to begin or how to give of themselves. This seems to be one of the biggest questions in the church: How can I give my time and my resources and know it is being given to a trustworthy cause? We are in the same boat ourselves, so we decided to do something about it.

This charity campaign involves YOU directly at each show.

It's simple, easy, and a great way to use your power to help those who are in a less fortunate position. Here are the details:

As we enter the fall and winter, each year, in every city in our country, there are thousands of homeless people who suffer through cold nights. Project 86 and all the bands on the tour are connecting directly with local homeless shelters and other related organizations in each city we hit on this tour to rally warm COATS AND JACKETS for the people who need them. Have an old jacket and don't know what to do with it? Now you know where it should go. Just make plans to come to the show in your town, bring your friends, and everyone bring a COAT! Details for collections will be at the door of each show.

This is your chance to use your voice to love the ones who need it most..."
For more info on these artists, visit the JFH Artists Database.


[2022]
Jan. | Feb. | March | April | May | June | July | Aug. | Sept. | Oct. | Nov. | Dec.
[2021]
Jan. | Feb. | March | April | May | June | July | Aug. | Sept. | Oct. | Nov. | Dec.
[2001 - 2021]
Visit our complete MUSIC NEWS ARCHIVE