DIAMOND RIO'S THE REASON STREETS TODAY AS MULTI-PLATINUM SELLING BAND UNVEILS FIRST AUTOBIOGRAPHY, BEAUTIFUL MESS
"With their unmistakable harmonies and unchanging country charm, The Reason should please every Diamond Rio diehard, as well as garner the veterans a few new fans." – ChristianMusicToday.com (Christianity Today)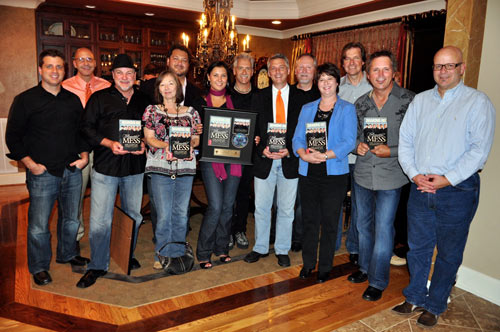 NEWS SOURCE: The M Collective
September 22, 2009
** After two decades of making music, acclaimed six time vocal group of the year and GRAMMY ® nominated Diamond Rio are unveiling their 11th album and first full length Christian record The Reason on Word Records today, September 22 as well as their first autobiography from Thomas Nelson titled Beautiful Mess.
Critics are welcoming the band's organic progression to faith-based music. Below are just examples of that the reviews are saying:
"Diamond Rio's remained one of the most consistent faith-based voices in country music but now they're letting fans see an even more spiritual side. Not only is the music right on par with previous projects, but the message is amongst the group's most important to date." - Andy Argyrakis (Freelancer/ChristianMusicPlanet.com)
"… it is the strength of Marty Roe's vocals and the incredible instrumentalization of the band that makes it all work. Roe's passionate and motive voice is perfect for an inspirational album. And combined with their long-admired harmonies, it makes for a perfect recipe for Christian radio. The album has many bright moments." – The Nashville Sound
** The band's first autobiography, Beautiful Mess, chronicles both their personal and professional legacy, along with a particularly difficult season in Diamond Rio's history that threatened the veteran band's very existence. The book tells the story of how six contrasting personalities formed a partnership that has evolved for more than two decades, establishing an inspiring musical legacy.
** Among recent appearances on Fox's Hannity, Fox and Friends and more, Diamond Rio can also been seen on GAC'S "On the Streets" today at 1:30 PM, 5:30 PM, 10:30 PM and 2:30 AM EST. You can also join in AOL's Country site, The Boot's, upcoming listening party of The Reason this week at www.theboot.com. A portion of the trials chronicled in both Diamond Rio's new book and album can also be found this week in Country Weekly, PurposeDriven.com, ABC Radio and more. Band front man Marty Roe and guitarist Jimmy Olander's interview with Dr. Maya Angelou on Oprah Radio will also run on September 30. In addition, Diamond Rio will be appearing on upcoming shows TBN's Praise the Lord, GAC Nights, Hour of Power and the 700 Club in support of the new CD and book.
** Fans can order both a signed copy of the book and CD at www.diamondrio.com.
** For the most up to date information on Diamond Rio, check out www.diamondrio.com. You can also stay in tune to all things Diamond Rio via band member Dana William's podcast. For more information, visit www.danawilliamsshow.com. Diamond Rio is also active on twitter, for more information, visit www.twitter.com/diamondrioband.
Formed in 1984, Diamond Rio features lead singer Marty Roe, guitarist Jimmy Olander, drummer Brian Prout, keyboardist Dan Truman, bassist/harmony Dana Williams and Gene Johnson on mandolin/harmony. The band signed with Arista in 1988 and embarked on one of the most successful careers in country music. The band has sold over 10 million albums earning three platinum and five gold records and won the Country Music Association's Vocal Group of the Year award four times as well as netting two Academy of Country Music Awards in the top Vocal Group of the Year category and thirteen GRAMMY ® nominations. When they debuted in 1991 with the hit "Meet in the Middle," Diamond Rio became the first group in the history of country music to have a debut single reach No. 1. They continued to place 32 more singles on the Billboard chart, including "How Your Love Makes Me Feel," "Norma Jean Riley," "Beautiful Mess" and "Love a Little Stronger." Their last recording, A Diamond Rio Christmas: The Star Still Shines, a 2007 holiday album marked their debut with Word Records.
Photo attached, from L to R: Word Records and Thomas Nelson publishing recently joined forces to commemorate the release of Diamond Rio's album and book. Pictured here: Rod Riley, COO of Word Entertainment, Curt Harding, Sr. Publicist Thomas Nelson Publishers, Diamond Rio's Brian Prout, Diamond Rio's Dana Williams, Janene MacIvor, Beautiful Mess Project Manager and Editor, Esther Fedorkevich, Fedd and Company, Diamond Rio's Jimmy Olander, Tom Roland, writer Beautiful Mess, Diamond Rio's Gene Johnson, Kristen Parrish, Editor in Chief Thomas Nelson Publishers, Diamond Rio's Dan Truman, Diamond Rio's Marty Roe and Mark Bright, CEO of Word Entertainment. Photo by Aaron Crisler/GospelMusicUpdate.com.
# # #


[2020]
Jan. | Feb. | March | April | May | June | July | Aug. | Sept. | Oct. | Nov. | Dec.
[2019]
Jan. | Feb. | March | April | May | June | July | Aug. | Sept. | Oct. | Nov. | Dec.
[2001 - 2018]
Visit our complete MUSIC NEWS ARCHIVE