JFH NEWS SHORTS FOR WEDNESDAY SEPTEMBER 23, 2009
News on The Insyderz, Skillet, Flyleaf, Sara Groves, Relient K, Ginny Owens, Saving Grace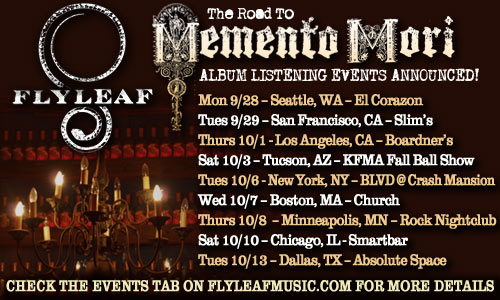 NEWS SOURCE: a Jesusfreakhideout.com report
September 23, 2009
>> The Insyderz Return!
To add to the growing list of band reunions, Motor City ska band The Insyderz are back! The band has reunited with a mix of original and new members and have began writing and recording for a new album. Front man Joe Yerke told Jesusfreakhideout.com, "As of right now we are writing and recording our new album 'The Sinner's Songbook.' We are hoping to have it out by Summer." For the latest on the guys, visit their Facebook page!
>> Skillet Featured On Raycom Sports!
Skillet is featured announcing a Raycom Sports' feature that incorporates the band's song "Monster" with footage from the band's "Hero" music video and assorted football action clips! Check it out at the band's MySpace!
>> Flyleaf Album Listening Party Events!
Can't wait for Flyleaf's long overdue sophomore album Memento Mori (Trust us, it's worth the wait!)? Well the band has answered your call! Check out this announcement of some upcoming Listening Party events!
The fans have spoken! The list is set for Flyleaf's VIP listening parties. Be the first to hear a selection of songs from the new record, Memento Mori, and view brand new music videos before they air nationwide. Based on overwhelming demand there will now be 10+ events in the cities listed above. San Antonio and Houston fans - stay tuned to flyleafmusic.com for details about your listening events, closer to the album release date in November.

You can expect to see Lacey and Sameer or Jared, who plan on making special appearances at these intimate gatherings across the country. Admission to the events is free and will be on a first come/first serve basis, so plan on arriving early!
>> Sara Groves Announces Christmas Tour Dates
Sara Groves will be heading out on a Christmas tour in December and has posted a series of dates on her website, SaraGroves.com. Check them out now here!
>> Relient K Releases New Single To iTunes
The title track from Relient K's upcoming new album Forget And Not Slow Down has hit iTunes and is already climbing up the charts! Grab it now here!
>> Ginny Owens To Host Free Online Songwriters Class
Ginny Owens is hosting a Live Interactive Online Songwriting Class scheduled for Tues, Sept 29, 2009 at 9pm Eastern Time. Ginny has a passion to teach about what she has learned in her career as a songwriter and recording artist. Check it out for free at: http://obscuregenius.com
>> Strike First Records Signs Saving Grace
"Strike First Records is proud to welcome to the family New Zealand's Saving Grace. The 4 piece Gisborne City hardcore metal hybrid have been making waves worldwide for a half decade during which the band's list of accomplishments includes the release of a self titled Demo EP in 2005, a split with friends Upheld in 2006 and their highly anticipated studio album 'Behind Enemy Lines' in 2008 which received rave reviews across their homeland and beyond in USA and Europe, and took the band on a 35-date whirlwind tour across New Zealand, Australia, Mexico and USA. Saving Grace's hard work, dedication to touring and ever-growing fan base has gained the band the reputation of the most successful spirit-filled hardcore act downunder. Playing a brutal style of music influenced by mid 90s hardcore bands such as Arkangel, Reprisal and Earth Crisis as well as legendary extreme metal classics Slayer, Sepultura, Morbid Angel and Cannibal Corpse, Saving Grace create a blend of brutal metallic hardcore unlike many of their modern day contemporaries. Saving Grace will release their sophomore album entitled Unbreakable on Strike First Records in January 2010. http://www.myspace.com/savingxgrace" (from Strike First Records)
For more info on these artists, visit the JFH Artists Database.


[2022]
Jan. | Feb. | March | April | May | June | July | Aug. | Sept. | Oct. | Nov. | Dec.
[2021]
Jan. | Feb. | March | April | May | June | July | Aug. | Sept. | Oct. | Nov. | Dec.
[2001 - 2021]
Visit our complete MUSIC NEWS ARCHIVE