JFH MORNING NEWS SHORTS FOR FRIDAY OCTOBER 2, 2009
News on The Almost, MxPx, Run Kid Run, Skillet, Pocket Full Of Rocks, Carl Cartee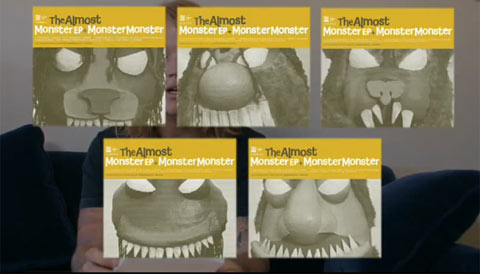 NEWS SOURCE: a Jesusfreakhideout.com report
October 2, 2009
>> Aaron Of The Almost Explains Monster EP Concept
The idea behind the new Monster EP from The Almost is certainly a unique one. With the purchase of the October 6 EP, fans will get a 5-song EP of new and b-side songs as well as a blank disc for burning their new album Monster Monster to the disc when it releases on November 3rd. Check out this video of Aaron Gillespie explaining the packaging concept...
>> MxPx Announce New EP Release
In a new YouTube video, MxPx front man Mike Herrera announces a new EP entitled Left Coast Punk. Check the video out on YouTube to hear him talk a little bit about it.
>> Run Kid Run Announce New Album Plans
Run Kid Run has announced plans to return to the studio in January to work on their third full-length studio album. Check out their announcement below...
"Well here's a little update for you right now we are in the middle of a three day break. We are on the "Confessions Tour" right now featuring Pillar, KJ-52 and yours truly. It's been going great we'll be heading east and all over the midwest in the next three weeks. So check out the dates and see if we're heading your way at all, definitely come and hit up a show and say hi. In other news were are planning on going into the studio for our third album in JANUARY. And have started the writing process... This is always an exciting and stressful time for the band so please keep us in your prayers. Pray for god's hand to be a part of the writing and everything in between. This week we are launching our webstore so finally you will be able to buy our shirts, posters, bags, music etc. from anywhere in the world. We're really excited to finally have this up and going.

ok i think that's it...i'll keep you informed. thanks so much for all your support!
love, rkr"
>> Skillet Posts Behind-The-Scenes Footage From "Hero"
While filming their latest music video, "Hero," Skillet was recorded behind the scenes talking about the filming process and video concept. Download the sweet video right here!
>> Pocket Full Of Rocks Debut New Single, Announce New Album
Yesterday, worship band Pocket Full Of Rocks posted a brand new song on their MySpace, "We just posted our brand-new single, 'Alive'... Take a listen and let us know what you think!!! The new album, More Than Noise is releasing in March 2010. Blessings, PFoR" Check out their MySpace here.
>> Carl Cartee Offers Free Worship Album Download
For a limited time, GreatWorshipSongs.com is now offering a free download of Carl Cartee's live worship album Everything You Do. Featuring the top 15 INSP radio single, "Everything You Do," music fans and worship leaders can obtain this offer by visiting www.greatworshipsongs.com/carlcartee and subscribing to the Carl Cartee and GreatWoshipSongs.com e-mail list. In addition to the album, a free chord chart of the song "Bless the Lord (Psalms 103)" is included with all downloads. (from Brentwood-Benson Music Publishing)
For more info on these artists, visit the JFH Artists Database.


[2021]
Jan. | Feb. | March | April | May | June | July | Aug. | Sept. | Oct. | Nov. | Dec.
[2020]
Jan. | Feb. | March | April | May | June | July | Aug. | Sept. | Oct. | Nov. | Dec.
[2001 - 2020]
Visit our complete MUSIC NEWS ARCHIVE