THIS FALL MERCYME INVITES YOU TO SPEND
"AN EVENING WITH MERCYME" ALONG WITH SPECIAL GUESTS
FEE, TENTH AVENUE NORTH AND JONNY DIAZ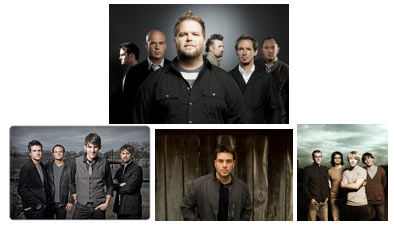 NEWS SOURCE: The M Collective
October 2, 2009
October 2, 2009…Nashville, TN… Multi-platinum and GRAMMY® nominated band MercyMe is inviting fans to spend "An Evening with MercyMe" this fall, as they visit auditoriums and churches across America.
For each night of the tour, audiences will be entertained not only by the award-winning band as they perform hits to include "Finally Home," "You Reign," "Word of God Speak," "Homesick," and of course "I Can Only Imagine," but some special guests as well. Worship band FEE and new artist Jonny Diaz will be taking the opening spots for the month of October, while GMA's New Artist of the Year Tenth Avenue North and Jonny Diaz will join forces to open the shows in November. The tour begins October 9 in Jackson, MS and concludes November 22 in Johnson City, TN (full tour listing below).
For more information on "An Evening with MercyMe" please visit www.mercyme.org.
###
MERCYME Since their debut in 2001, Grammy-nominated, American Music Award and multiple GMA Dove Award winners MercyMe have sold over 5 million units in CD and DVD sales, including "Almost There", nearly triple platinum, "Spoken For," which is approaching platinum sales, and the RIAA Gold certification for "Undone," the MercyMe Live DVD, and "Coming Up to Breathe." Their latest, "All That Is Within Me," entered the Billboard Top 200 chart at No. 15 and sold an impressive 83,626 units, the most they've ever sold in a project's first week.
MercyMe is one of few Contemporary Christian music groups to have had all of their recordings certified Gold or Platinum, as well as garner 21 No.1 multi-format Christian radio singles, and four consecutive mainstream radio hits with "I Can Only Imagine," (No. 4 AC/top 25 on Top 40/Hot AC), "Here With Me" (No. 4 AC), "Homesick" (top 10 AC), and "So Long Self." In 2008 the band was named R&R's Christian AC Artist of the Year, and as one of the industry's most notable talents, MercyMe has sold out venues including Radio City Music Hall and has been seen on The Tonight Show, CNN, Fox New Channel's Fox & Friends, ABC News, CBS' Early Show, and on the pages of Entertainment Weekly, The New York Times, USA Today, Billboard, and more. For all things MercyMe, please visit: www.mercyme.org.
FEE
From national worship conferences to local youth group meetings, Fee has brought a new level of abandon and talent to rock worship, gifting today's church with riveting songs of praise. Known for amazing live performances and the No. 1 hit "All Because of Jesus" plus "Glorious One," and Christmas song "All Creation Sing (Joy To The World)," Fee continues to inspire the church musically with this all-new release of soon-to-be modern classics. The band has been associated with some of today's most forthcoming faith-based events including Passion, 7:22 and Catalyst conferences. Fee released their debut INO project & GMA Dove nominated We Shine in September 2007. The band's hit single "All Because of Jesus" also garnered the No. 10 spot on R&R's AC Songs of the Year. Fee Front man Steve Fee was also selected to lead worship at the 92nd annual Indianapolis 500 chapel services in 2008, the biggest event of the Indy Car Series. Hailing from Atlanta, GA, Steve Fee, Matt Adkins, Heath Balltzglier and Brandon Coker still lead worship at the North Point Community Church.
JONNY DIAZ
Singer, songwriter and storyteller Jonny Diaz (pronounced dye-az) released his fourth project, More Beautiful You, May 5th - which is actually his first CD release with INO Records. Following in the footsteps of his 3 previous independent projects, More Beautiful You reveals his inspiring lyrics and catchy melodies and instrumentation. Through his songs, the listener will instantly hear a heart that is passionate about reaching his generation with the message of God's love, forgiveness, and grace. The project's first single, "More Beautiful You," was co-written by Diaz and reached #1 at radio, holding the spot for 3 weeks in a row. The song, which was also made into a music video, aims to tell women they were created by God with a specific purpose in mind and continues to generate a huge buzz at radio across the country! Diaz is consistently on the road performing at churches and conferences and has also had the opportunity to perform at some of the largest Christian music festivals in the country. He has opened in concert for Steven Curtis Chapman, Bebo Norman, MercyMe, and many other top Christian acts. www.JonnyDiaz.com
TENTH AVENUE NORTH
With one listen to Tenth Avenue North's unique brand of intellectual, melodic pop-rock, it becomes obvious that songwriter Mike Donehey and his band mates have a gift for expressing truth in a way that simultaneously educates, enlightens and entertains. "Simply, our mission as a band is to know Christ and to make him known," says Donehey. Band members are as much teachers as artists, demonstrating this through their intellectual, yet vulnerably accessible songs that echo the heart of the human condition and the hope of the risen Savior.
Named GMA Dove Awards New Artist of the Year (2009), Tenth Avenue North was the best-selling and most played new Christian artist of 2008, scoring three No. 1s at radio and crossing the 100,000 sales mark with its debut Over and Underneath (5/20/08) in just seven months. The band – Mike Donehey (lead vocals/acoustic guitar), Jason Jamison (drummer), Jeff Owen (electric guitar/background vocals) and Scott Sanders (bass guitar) – has toured extensively over the last year in support of Over and Underneath (now nearing 180,000 total album sales), and recently wrapped an impressive run of shows on its very first headlining tour- "Inside and In Between". Tenth Avenue North is one of the few debut bands that have experienced enough momentum to headline its own tour with only one album under its belt. www.tenthavenuenorth.com
Tour Dates for "An Evening With MercyMe
October with FEE and Jonny Diaz
9-Oct Friday Jackson, MS FBC Jackson
15-Oct Thursday Plymouth, MI NorthRidge Church
16-Oct Friday Bowling Green, KY Hillvue Heights
18-Oct Sunday Akron, OH Akron Civic Theatre
23-Oct Friday N. Charleston, SC North Charleston Performing Arts Ctr.
24-Oct Saturday Dothan, AL Dothan Civic Center
25-Oct Sunday Montgomery, AL Frazer Memorial United Methodist Church
29-Oct Thursday W. Monroe, LA FBC West
30-Oct Friday Fort Walton Beach, FL Emerald Coast Conference Ctr.
November *w/ Tenth Avenue North, Jonny Diaz
5-Nov Thursday Omaha, NE Bellevue Christian Ctr.
6-Nov Friday W. Des Moines, IA Lutheran Church of Hope
7-Nov Saturday W. Des Moines, IA Lutheran Church of Hope
8-Nov Sunday Valparaiso, IN Valparaiso Nazarene Church
12-Nov Thursday Midland, TX Stonegate Fellowship Church
14-Nov Saturday Austin, TX Austin Music Hall
15-Nov Sunday Mercedes, TX Rio Grande Valley
19-Nov Thursday Louisville, KY Valleyview Baptist Church
20-Nov Friday Knoxville, TN Knoxville Christian
21-Nov Saturday Dayton, OH Far Hills Community Church
22-Nov Sunday Johnson City, TN Freedom Hall Civic Ctr.
For more info on MercyMe, visit the JFH Artists Database.


[2021]
Jan. | Feb. | March | April | May | June | July | Aug. | Sept. | Oct. | Nov. | Dec.
[2020]
Jan. | Feb. | March | April | May | June | July | Aug. | Sept. | Oct. | Nov. | Dec.
[2001 - 2020]
Visit our complete MUSIC NEWS ARCHIVE