INTRODUCING BRENTON BROWN News Update...
Song Stories, Tour Photo with Casting Crowns, more...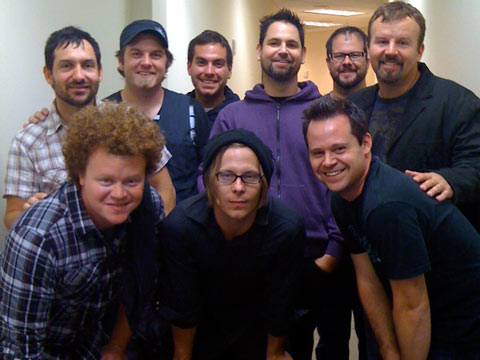 Brenton Brown and band recently joined Casting Crowns for a pair of concerts on the West Coast. Pictured (l-r) backstage at one event are: (Top Row) Daniel Ornellas, Brenton Brown band; Chris Huffman and Hector Cervantes, Casting Crowns; Brenton Brown; Juan DeVevo and Mark Hall, Casting Crowns. (Bottom Row) Brian Scoggin, Casting Crowns; and Scotty Murray and Ben Showalter, Brenton Brown band.
NEWS SOURCE: Hoganson Media
October 8, 2009
Brenton Brown has posted compelling song stories on YouTube for "Adoration" and "Everlasting God," both found on Introducing Brenton Brown, a six-song CD for $5 from Kingsway with distribution by EMI CMG.
Click on the links below and consider adding these stories to your website, passing along via twitter, incorporating into your blogs, etc.:
"Adoration" – http://www.youtube.com/watch?v=iHllp9ua9_0
"Adoration" is an encouragement from Brenton to always hold onto hope in the Lord, no matter the circumstances. The song is Brenton's expression of hope having gone through the painful loss of a stillborn baby girl, Gracie, and the terror of nine months of pregnancy before the eventual joy with the healthy birth of his daughter, Bella.
"Everlasting God" – http://www.youtube.com/watch?v=ZS7cy7OEUYI
"Everlasting God," honored by ASCAP as one of the most performed songs in the USA in 2007 across all genres, is the story of a song created as Brenton and Jude Brown wrestled with Chronic Fatigue Syndrome.
What critics are saying about Introducing Brenton Brown:
"You may not recognize his name, but you know his songs. Sung in churches all over the world, and recorded by well-known artists like Rebecca St. James, Chris Tomlin, Lincoln Brewster… Brown penned songs that are well loved by many. Now setting his own voice to familiar songs like 'Everlasting God' and 'All Who are Thirsty,' Brown brings a new life to worship music with his own arrangements and leading voice." – ChristianityToday.com
"...with Introducing Brenton Brown, he puts his unique artistic stamp on those familiar favorites including 'Everlasting God' and 'All Who Are Thirsty.'" – GospelMusicChannel.com.
"With these recognizable songs and his unarguable ability to create new songs that grab our attention right away, it won't take long for Brenton Brown to lose his billing as 'The Most Popular Worship Leader You May Never Have Heard of.' His name and face, as well as his music, will be ones we associate with meaningful corporate worship that reminds the Body of its unity, its faith, and the worthiness of its Creator to be praised." – TitleTrakk.com
Brenton Brown On Tour:
10/11/09 San Diego, CA The Rock, therocksandiego.org
10/16-17/09 Mesa, AZ Christian Musician's Summit @ City of Grace, Buy Tickets.
10/19-22/09 Orlando, FL Northland Church - Alpha Convergence, Buy Tickets.
11/13-14/09 Redmond, WA CMS @ Overlake Christian Church, Buy Tickets.
For more information on Brenton, the latest tour itinerary and more, check out www.BrentonBrown.com.
# # #
For more info on Brenton Brown, visit the JFH Artists Database.


[2021]
Jan. | Feb. | March | April | May | June | July | Aug. | Sept. | Oct. | Nov. | Dec.
[2020]
Jan. | Feb. | March | April | May | June | July | Aug. | Sept. | Oct. | Nov. | Dec.
[2001 - 2020]
Visit our complete MUSIC NEWS ARCHIVE