JFH NEWS SHORTS FOR THURSDAY OCTOBER 8, 2009
News on Third Day, Newsboys, Since October, Switchfoot, Brian Littrell, Onward to Olympas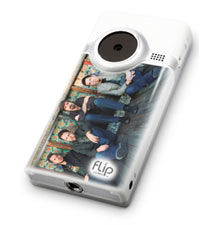 NEWS SOURCE: a Jesusfreakhideout.com report
October 8, 2009
>> Third Day Asks For Fan Reporters
Third Day is recruiting fan reporters at their shows and each fan who helps out will have a chance to win a special Third Day Flip Video Camera!
"We're looking for dedicated Third Day fans to play reporter for each night of Third Day's Revelation Tour throughout October. The criteria is simple:

You must live in the area and have tickets to the concert
You must feel comfortable using a video camera and be available 2 hours prior to the show
You must be outgoing and love the band's music
You must be 18 years or older

We'll choose one fan in each area, hand over the Third Day video camera and let you capture the excitement from the crowd, ask the band a couple questions, interview fans and film a few songs. Third Day's record label will edit the video into 2 minute clip to post on Third Day's site and various other outlets. As a thank you, each reporter will be entered to win the customized Third Day Flip Video Camera. The Third Day community will vote on whose video they like best and that reporter will win the camera.

To apply, click here"
>> Former Newsboys Singer Shares Testimony At Recent Show
On October 4th, original Newsboys vocalist John James appeared with the band to share his testimony with the audience at Calvary Assembly. A fan captured the testimony in two YouTube videos, and it's well worth a viewing! James shared the emotional story of how he had lost his vision for ministry towards the end of his time as the band's singer and when he was forced to step down while making the 1998 album Step Up To The Microphone, his world fell apart. Check out the heartbreaking but inspiring story in these videos... PART ONE and PART TWO.
>> Since October Announce New Album
Since October has announced that they will be returning to the studio next Monday to begin work on a brand new album!
"just wanted to give everyone a quick update...we are officially going back in the studio to start recording our 2nd record on Oct 12th!!! we will be in the studio until thanksgiving and will post video updates of the process...we are freaking pumped to record these new songs...the record is going to be sick! cant wait for everyone to hear it!!"
>> Switchfoot To Perform Jimmy Kimmel Live Nov. 12
This just in from Switchfoot... "Mark your calendars. Switchfoot is confirmed to perform on Jimmy Kimmel Live on Thursday Nov 12th. The band will be performing on the outside stage, and we are able to offer tickets to this special performance. However, because there are a limited # available, we are making these tickets available FIRST to anyone who purchases tickets to our Nov 11th show at the Roxy. If you are in the LA area, make sure to buy your ticket now, and stay tuned for details on how you can join us at Jimmy Kimmel Live!"
>> Brian Littrell Diagnosed With Swine Flu
Reunion Records' solo artist and original Backstreet Boy Brian Littrell was recently diagnosed with Swine Flu. A recent Big Hassle Media press release announced, "The Backstreet Boys are sad to announce they have cancelled today's NYC PINKTOBER Hard Rock Café signing due to member, Brian Litrell having been diagnosed with the Swine Flu. The other 3 members, Nick Carter, Howie Dorough and AJ McLean have seen a doctor and are not showing any symptoms. As a preventive measure, the doctor has prescribed Tamiflu to the group and their touring party, who had just returned to the states from Tokyo. ... "We were really looking forward to spending time with our closest fans and friends in NYC and take part of PINKTOBER, an unbelievable and important program" Litrell says. "I hope we can come back soon and do everything we can to help."" Please keep him in your prayers! For more about Brian, visit www.brianlittrell.com
>> Facedown Records Signs Onward to Olympas
For yet another new signing, Facedown Records welcomes Onward to Olympas to their ever growing family. The label writes, "Coming up among such North Carolina bands as Between the Buried and Me, Beloved, and He Is Legend gave the members of Onward To Olympas an appreciation for an array of genres. Since their formation in 2008, OTO has meticulously cultivated their sound, blending progressive metal, straight hardcore, and elements of death metal. That the band can indulge all their musical proclivities, yet produce such consistent results, while making it seem easy is a testament to their craftsmanship. Says vocalist/guitarist Justin Gage, "We like the challenge of including all the genres that we most enjoy without making a song sound like it is being performed by three different bands." On their new album This World Is Not My Home, recorded with Jamie King (Between the Buried and Me, For Today) Onward To Olympas make sure to bring the intensity, effortlessly melding melodic singing with thick metal-core screams, occasionally bringing a little old school back to the table with crisp gang vocals. The album is polished and impressive, and will be available on Facedown Records in January 19 2010. http://www.myspace.com/onwardtoolympas"
For more info on these artists, visit the JFH Artists Database.


[2021]
Jan. | Feb. | March | April | May | June | July | Aug. | Sept. | Oct. | Nov. | Dec.
[2020]
Jan. | Feb. | March | April | May | June | July | Aug. | Sept. | Oct. | Nov. | Dec.
[2001 - 2020]
Visit our complete MUSIC NEWS ARCHIVE