JFH MORNING NEWS SHORTS FOR WEDNESDAY OCTOBER 21, 2009
News on Sanctus Real, Matthew West, Switchfoot, Flyleaf, Everyday Sunday
NEWS SOURCE: a Jesusfreakhideout.com report
October 21, 2009
>> Sanctus Real Unveils "Forgiven"
"Ahead of its fifth studio album, due in early 2010, Sanctus Real has released another heart-stirring song, "Forgiven." The current radio single is now available wherever you buy digital music including iTunes and Amazon MP3.

The impact of the song is being felt on the band's site. Sanctus Real is streaming the song on its site and asking listeners to share their own stories of forgiveness. Numerous responses from all around the world have already poured in as people share stories of forgiveness, hope, and redemption:

"I have come to a point in my life where I have had to forgive and let go," writes Sunshine, who dealt with a father that abused her. "It wasn't an easy life at all… I just couldn't forgive him. God dealt with me, telling me that He had brought me from that difficult situation… I had to forgive him for everything and let him go…Hopefully one day my dad will see this and know that I forgive him!"" (from Sparrow Records)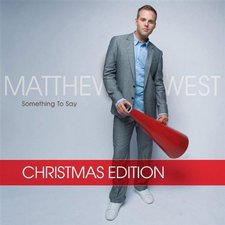 >> Matthew West Releases Christmas Edition Of Something To Say?!
Although West's latest album, Something To Say is almost two years old, the singer/songwriter has released a "Christmas Edition" of the album. About the album, Sparrow Records writes, "It may only be October, but Christmas is right around the corner! To celebrate this holiday season, Matthew West is releasing Something To Say Christmas Edition. Something To Say Christmas Edition features the original Something To Say album with an additional limited edition 5-song bonus CD. The bonus CD includes the new Veggie Tales "St. Nicholas" end credit song "Give This Christmas Away" featuring Amy Grant as well as an acoustic version of "Away In The Manger." Something To Say Christmas Edition is available now wherever you buy music including Amazon.com..."
>> Switchfoot Offers iTunes Preorder Special
Seems more and more new releases have a couple great preorder specials with all kinds of incentives (which is maddening if you can only afford one and all of it sounds good, eh?) and the Switchoot iTunes preorder offers some cool stuff as well. The band writes, "Buy the ITUNES deluxe version now, which includes exclusive recordings of 'Mess of Me'(acoustic), 'Always' (alternate acoustic version), 'Stitches' (from Eastern Hymns for Western Shores EP), and an in-studio video of 'The Sound (John M. Perkins' Blues)'. http://itunes.apple.com/WebObjects/MZStore.woa/wa/viewPreorder?id=336229567"
>> Flyleaf Offers Loaded iTunes Preorder
Aaaaand Flyleaf's Memento Mori has a killer iTunes Preorder well worth looking into. All kinds of bonus tracks are included here... " During the iTunes pre-order of the new Expanded Edition of Flyleaf's upcoming release MEMENTO MORI, fans will receive some incredible, limited time extras! Get exclusive B-side "Bittersweet" and the band's rare cover of U2's "Stay (Faraway, So Close)". These tracks are only available with the iTunes Pre-Order NOW! We have samples of both tracks in the player on our Myspace page, so come by and listen, and pre-order today!"
>> Win A Special Meet-N-Greet With Everyday Sunday
Check out this new contest from Everyday Sunday...
Everyday Sunday is touring & wants to meet YOU at a show!
Want to win your way in to an exclusive meet & greet with Everyday Sunday?

Here's what to do:
1. Make sure you're following @Everyday_Sunday on Twitter. Online, you can find and follow them at: http://twitter.com/Everyday_Sunday.
2. Make sure you have tickets to see Everyday Sunday in your city
3. Keep up with Everyday Sunday's tweets the day of the show in your city. (make sure you have @Everyday_Sunday tweets sent to your phone so you don't miss any!)
4. On the day of the show in your city, Everyday Sunday will tweet a secret secret clue where they have hidden meet and greet passes to that night's show. Clues can be in the form of TwitPics or just general hints as to the location.
5. Use the clues to find the passes, take them to the merch booth and find out what time you'll be meeting the band!

Make sure you're following @Everyday_Sunday and we'll see you on the road!
* You must be 13+ to enter. Winner will be responsible for their own transportation, lodging, and meals. By entering you agree to these terms and conditions.
For more info on these artists, visit the JFH Artists Database.


[2021]
Jan. | Feb. | March | April | May | June | July | Aug. | Sept. | Oct. | Nov. | Dec.
[2020]
Jan. | Feb. | March | April | May | June | July | Aug. | Sept. | Oct. | Nov. | Dec.
[2001 - 2020]
Visit our complete MUSIC NEWS ARCHIVE