NEWS SOURCE: Bozeman Media
November 18, 2009
Nashville, TN (November 18, 2009) ---- Jason Gray is continuing to generate strong support from press and fans for his latest release, Everything Sad Is Coming Untrue. Media accolades for the project have been strong and have solidified Jason as one of the top-notch singer/songwriters in the Christian industry with his second album on Centricity Music. JesusFreakHideout.com - "Everything Sad… is a gem." Worship Leader Magazine – "Gray's songs don't really work as background music, they demand to be listened to and considered." NewReleaseTuesday.com - "….you can't go wrong with Jason Gray," PowerSource Magazine - "Strong stuff from a strong and very creative Christian singer and songwriter – Jason Gray. ChristianMusicToday.com – "Similar to Sara Groves, Gray's musical journal is poignant and reflected in these songs." Soul-Audio.com – "Jason Gray has crafted another album full of worthy, occasionally quirky tunes. It's well worth a listen."
Gray's fans have also been very active with Everything Sad Is Coming Untrue by purchasing the special promotion packages offered with his deluxe edition of the album. Several fans have received the autographed red canvas shoes similar to the ones that Jason wears onstage and on his CD cover, others wanted the personal Facebook messages that also included a personal phone call to go with it, songs were specially written for some buyers and one lucky fan and her son got the chance to visit Gray's home in the Minneapolis area for dinner and a movie on Halloween day.
"Lori and Ben lost their husband/father, Ron, almost a year ago to cancer and Lori said that being with us was a nice distraction from the approaching anniversary," says Gray. "Ben went trick or treating with my son, Gus and those two were as thick as thieves. Trick or treating was the last thing Ben got to do with his dad before he was hospitalized, so it was something that was very special about the weekend. The verse in 'Everything Sad Is Coming Untrue (Part 2)' about death was inspired by Ben's struggle with his illness, so it got rather emotional when I sang that one for Lori and Ben."
This fall, Gray was the featured guest on the Sanctus Real tour that launched in September and in December Gray will join labelmates, Downhere and Lanae' Hale, for the popular fifteen-city Bethlehem Skyline Tour that is sponsored by Centricity Music. In January 2010, Gray will join the WAY-FM/World Vision Tour Winter '10 that will visit around twelve markets with Jeremy Camp and the Afters.
Gray just completed a 17-city promotional radio tour in support of his second single from Everything Sad Is Coming Untrue, "More Like Falling In Love." In January, Gray will launch the second phase of radio station visits with Centricity's Marketing Manager, Josh Peterson.
For more information on Jason Gray please visit www.jasongraymusic.com or www.centricitymusic.com.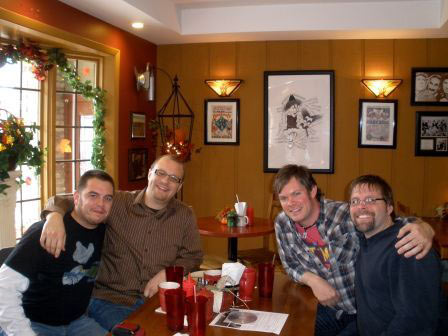 Photo ID (Left to Right): Josh Peterson, Marketing Manager, Centricity Music; Johnathan Eltravoog, Program Director, WONU/Chicago, IL; Jason Gray; Joe Buchanan, WBGL, Champaign, IL
Centricity Music is an independent recording and publishing company based in Bellevue, Washington and Nashville, Tennessee. The company's mission is to nurture the gifts and expand the influence of Christian artists around the world. Centricity Music's artist roster includes Jaime Jamgochian, Downhere, Jason Gray, Daniel Kirkley, Lanae' Hale, Andrew Peterson, High Valley, Matt Papa, Sixteen Cities and Me In Motion.
###
For more info on Jason Gray, visit the JFH Artists Database.


[2021]
Jan. | Feb. | March | April | May | June | July | Aug. | Sept. | Oct. | Nov. | Dec.
[2020]
Jan. | Feb. | March | April | May | June | July | Aug. | Sept. | Oct. | Nov. | Dec.
[2001 - 2020]
Visit our complete MUSIC NEWS ARCHIVE