33MILES HERALDS CHRISTMAS SEASON WITH
SECOND ANNUAL ³BELIEVE² TOUR
Jonny Diaz Joins Bill of Food for the Hungry Sponsored Shows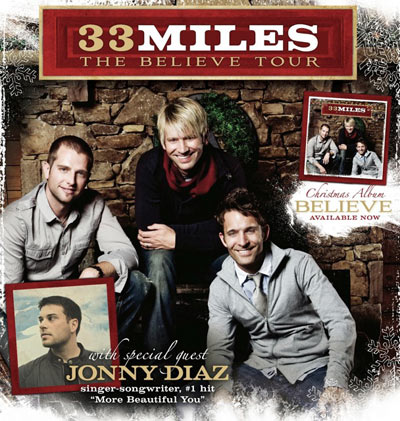 NEWS SOURCE: The M Collective
November 19, 2009
Nashville, Tenn.. November 19, 2009… 33Miles will launch their second annual "Believe" tour this December with the help of Food for the Hungry and INO Records' label mate Jonny Diaz.
Church worship teams and choirs will join the band on each of the eleven tour stops and take part in the musical line up for the evening.
The tour will feature music from 33Miles' debut Christmas release titled Believe that is available exclusively at Family Christian Stores this holiday season. The band's third studio album was produced by Nathan Nockels (Passion, Point of Grace, Phillips, Craig & Dean) and includes traditional favorites like "O Holy Night," "I'll Be Home For Christmas" and "O Come, O Come Emmanuel," along with several original songs including "Finally Christmas" and "I Could Not Come To You." In addition, "Finally Christmas" and the classic "Joy to the World" will be released to radio during the holidays.
"Christmas is my absolute favorite time of year," says 33Miles' Jason Barton. "There's something so beautiful about how the God of the universe stepped off of His throne and came to earth in the form of a baby. The King of all Kings became a servant. It's humbling to know that God loves us that much. We're excited and privileged to share that message of love this Christmas season on the 'Believe' tour with our friend Jonny Diaz."
The "Believe" concerts arrive directly after the band's first headlining tour, which included multiple sold out shows. The "One Life" tour visited 20 cities earlier this fall. For a full list of tour dates, visit www.33milesonline.com/tour
More information on 33Miles:
After logging in over 120,000 miles (not including air travel), performing at over 200 churches, garnering radio hits and a 2008 Dove nomination for "New Artist of the Year," 33Miles released their sophomore record One Life on Sept. 16, 2007 to much praise. Critically acclaimed One Life entered the Top Christian Soundscan Album Sales chart and the Christian Digital chart at No. 5, while debuting at No. 160 on the Billboard Top 200. Since their debut in 2007, 33Miles' Jason Barton (lead vocals), Chris Lockwood (guitar) and Collin Stoddard (keys) celebrated one of the highest-selling freshman albums of 2007 with their GMA Dove nominated project 33Miles.
More information on Jonny Diaz:
Singer, songwriter and storyteller Jonny Diaz (pronounced dye-az) released his fourth project, More Beautiful You, May 5th - which is actually his first CD release with INO Records. Following in the footsteps of his 3 previous independent projects, More Beautiful You reveals his inspiring lyrics and catchy melodies and instrumentation. Through his songs, the listener will instantly hear a heart that is passionate about reaching his generation with the message of God's love, forgiveness, and grace. The project's first single, "More Beautiful You," was co-written by Diaz and reached #1 at radio, holding the spot for 3 weeks in a row. The song, which was also made into a music video, aims to tell women they were created by God with a specific purpose in mind and continues to generate a huge buzz at radio across the country!
Diaz is consistently on the road performing at churches and conferences and has also had the opportunity to perform at some of the largest Christian music festivals in the country. He has opened in concert for Steven Curtis Chapman, Bebo Norman, MercyMe, and many other top Christian acts. You can visit www.JonnyDiaz.com for more information.
*all dates subject to change, please visit www.33milesonline.com for the most updated tour information.
11/29/09 – Baltimore, MD – 1st Mariner Arena
12/3/09 – Castalia, OH – CBM Worship Center
12/4/09 – Margaretville, NY – Catskill Mountain Christian Center
12/5/09 – Barre, VT – Barre Opera House
12/10/09 – Danville, IL – The Rock Church
12/12/09 – Greenville, MS – Greenville Christian School
12/13/09 – Hattiesburg, MS – First Baptist Church Hattiesburg
12/18/09 – North Platte, NE – North Platte Community Playhouse
12/19/09 – Derby, KS – First Christian Church of Derby
12/20/09 – Azle, TX – The Church of Azle
12/21/09 – Kilgore, TX – St. Luke United Methodist Church
For more info on 33Miles, visit the JFH Artists Database.


[2021]
Jan. | Feb. | March | April | May | June | July | Aug. | Sept. | Oct. | Nov. | Dec.
[2020]
Jan. | Feb. | March | April | May | June | July | Aug. | Sept. | Oct. | Nov. | Dec.
[2001 - 2020]
Visit our complete MUSIC NEWS ARCHIVE