Newsboys and GlobalTribe Complete 5 Evangelistic Events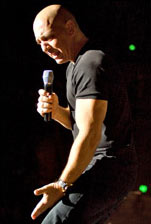 NEWS SOURCE: Newsboys
November 19, 2009
Brentwood TN: Newsboys "That's The Way We Roll" Tour with Seventh Day Slumber, MeInMotion, and Bread of Stone, setting the stage for 2 nights of music and ministry in Ft. Wayne and Tucson October 18 and 31 respecively. The featured evangelist reunites original front man, John James, with Newsboys, a band with whom he performed for 16 years. James message was powerful –"The God of the Second Chance," and following the invitation, James joined the prayer team to pray and speak with those who responded.
New to the Reach events was the addition of a morning prayer breakfast in both cities. The events were held specifically for local law enforcement. GlobalTribe Executive Director, Rob Michaels, a former police officer from Norfolk VA, organized the events with local officers.
The fall Reach events bring the total to 5 events since fall 2008: Tucson 2008 / Family Life Radio, Johnson City TN / WCQR, Saginaw MI / Family Life Radio, Ft. Wayne IN / Star 88.3, and Tucson 2009 / Family Life Radio. In total, the collective impact reflects the heart of the ministry:
5 cities
5 radio partners
36,000 attended
650 volunteers from 150 churches
1180 responded to the Gospel
17 tons of food was collected for the poor
And through the 12 months 3,500 people asked for information about missions trips

The core mission of GlobalTribe is to wage war on poverty – physical and spiritual. It began in 1992 when founder Anthony Walton led a team of 30 to Romania to provide aid for the children victimized by the cruel dictator Nicolae Ceausescu. Through the years, GlobalTribe has partnered with ministries with orphanages in 5 countries, missions in the Amazon and Zambia, evangelism and homes for the poor in Baja, launched youth centers in New Zealand, and conducted the 5 Reach events. For 2010, GlobalTribe's focus is launching a village of 350 homes in Baja, partnered with Teen Mania and Baja Christian Ministries.

For more info on Newsboys, visit the JFH Artists Database.


[2022]
Jan. | Feb. | March | April | May | June | July | Aug. | Sept. | Oct. | Nov. | Dec.
[2021]
Jan. | Feb. | March | April | May | June | July | Aug. | Sept. | Oct. | Nov. | Dec.
[2001 - 2021]
Visit our complete MUSIC NEWS ARCHIVE