NORMA JEAN PERFORMING NEW SONG "KILL MORE PRESIDENTS" ON THE EXPLOSIONS 2009 TOUR
CREATING LIVE MUSIC VIDEO VIA FAN VIDEO CLIPS WITH PRIZE PACK GIVEAWAYS

NEW ALBUM OUT SUMMER 2010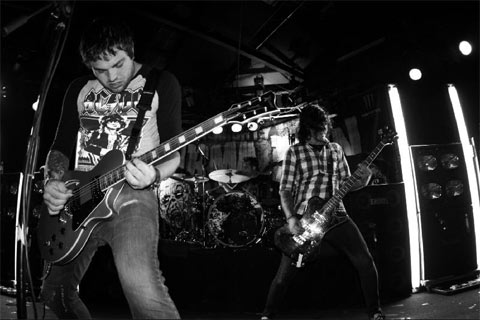 NEWS SOURCE: Razor & Tie
November 24, 2009
Calling all Norma Jean fans--get your video phones & flip cams charged and ready to record the live performance of their new song, "Kill More Presidents," for their current EXPLOSIONS 2009 Tour. The band is asking fans to use their portable digital cameras to film the band playing the new song live and then upload to a microsite after the show. Norma Jean will then create a live music video with all material coming from fan submissions.
For those who submit video clips, Norma Jean offer a hefty set of prizes from such sponsors as Monster Energy, Activision/Tony Hawk RIDE, Alternative Press Magazine, Denny's, Keep A Breast, Rockett Clothing and Hot Topic. Those without a digital video camera can still submit their email address for the Norma Jean mailing list and enter to win the second tier prize pack. Winners will be chosen at random.
Norma Jean will be playing "Kill More Presidents" live on the 2009 EXPLOSIONS tour with support from Horse The Band, The Chariot, and Arsonists Get All The Girls. A new Norma Jean album is slated for summer 2010.
Click here for the contest microsite: http://www.normajeannoise.com/video/
"one of noisy hardcore's more convincing and dexterous." Alternative Press
"swinging, furious urgency..." Revolver
"sounds like a thousand rabid children hacking away at a piñata packed with explosives." Decibel
"Norma Jean's hidden strength lies in their dedication to melody." All Music Guide
"Norma Jean sounds like extra time in a brutal pit. Awesome." Kerrang!
"this band kind of totally rules." Altpress.com
"Norma Jean have transcended the metalcore scene entirely .....raw, melodic and extremely angry" Artist Direct
NORMA JEAN MUSIC / VIDEOS AND LINKS
http://www.myspace.com/normajean
http://twitter.com/NormaJeanband
http://www.facebook.com/normajean
http://www.youtube.com/user/antimother
Norma Jean Tour Dates
Nov 24 - Tempe, AZ - The Clubhouse
Nov 25 - Ponoma, CA - The Glasshouse
Nov 27 - San Francisco, CA - Slim's
Nov 28 - Portland, OR - Hawthorne Theatre
Nov 29 - Seattle, WA - El Corazon
Nov 30 - Boise, ID - The Venue
Dec 1 - Salt Lake City, UT - Club Sound
Dec 2 - Denver, CO - Marquis Theatre
Dec 4 - St. Paul, MN - Station 4
Dec 5 - Chicago, IL - Reggie's Rock Club
Dec 6 - Cleveland, OH - Peabody's Dow
Dec 7 - Pittsburgh, PA - Altar Bar
Dec 8 - Toronto, Ontario - The Opera House
Dec 9 - Montreal, Quebec - La Tulipe
Dec 11 - New York, NY - Gramercy Theatre
Dec 12 - Lancaster, PA - Chameleon Club
Dec 13 - Towson, MD - Recher Theatre
Dec 14 - Richmond, VA - Canal Club
Dec 15 - Columbia, SC - New Brooklyn Tavern
Dec 17 - Ft. Lauderdale, FL - Culture Room
Dec 18 - St. Petersburg, FL - State Theater
Dec 19 - Atlanta, GA - Masquerade
**featuring Horse The Band, The Chariot and Arsonists Get All The Girls
# # #
For more info on Norma Jean, visit the JFH Artists Database.


[2022]
Jan. | Feb. | March | April | May | June | July | Aug. | Sept. | Oct. | Nov. | Dec.
[2021]
Jan. | Feb. | March | April | May | June | July | Aug. | Sept. | Oct. | Nov. | Dec.
[2001 - 2021]
Visit our complete MUSIC NEWS ARCHIVE