Sent By Ravens Headline The Follow Us On TwitTOUR
"FOLLOW US ON TWITTOUR" Brings Up-and-Coming Bands To Your Backyard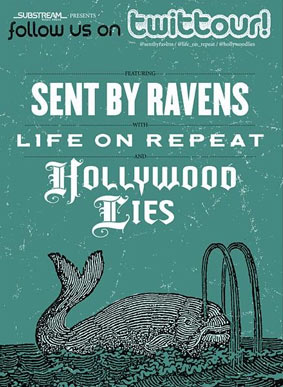 NEWS SOURCE: Sent By Ravens
November 24, 2009
NOV 24 - Three of the east coasts' fastest rising bands – Sent By Ravens, Life On Repeat, and Hollywood Lies – have teamed for a December tour, dubbed the "Follow Us On Twittour", and Twitter contest.
Headliners, Sent By Ravens, were recently picked up by Tooth and Nail Records; their forthcoming debut full-length was produced by label mate Matt Carter of Emery and producer Aaron Sprinkle (Underoath, The Almost). The band are hometown heroes in their native Myrtle Beach, SC, where they have headlined at the House of Blues.
Supporting is Maryland's Life On Repeat, who have completed an impressive nine tours in the past two years. The recent Equal Vision signees new EP, As I Grew, sports a "pay-what-you-want" plan for early download and is available December 1st in physical form. The Brian McTernan (Thrice, Circa Survive, Senses Fail) produced EP showcases the band's signature mix of c atchy hooks and heavy breakdowns.
Rounding out the bill is Boston, MA rock 'n roll stalwarts Hollywood Lies. The band boasts 3500+ records sold in just three weeks on Vans Warped Tour 2009, 125+ east coast dates in the past six months, and have shared the stage with such diverse artists as The Cab and Sean Kingston.
"Follow Us On Twittour" is presenting a unique contest in conjunction with Substream Music Press to give back to the fans via the latest social-networking craze – Twitter. Starting at 10:00 AM EST on Tuesday, November 24th, Twitter users will simply "tweet" the date they'd like to attend, followed by the hashtag #followusontwittour. Any user with a valid Twitter account is eligible to enter, however users must be following @sentbyravens, @life_on_repeat, and @hollywoodlies. Three prize packs are up for grabs, and the winners will be randomly chosen and alerted via a direct message from one of the bands Twitter accounts. Winners will be chosen Saturday, November 28th.
One (1) grand prize winner will receive:
1 year subscription to Substream Music Press, as well as a Substream t-shirt
1 t-shirt and CD from Hollywood Lies, Sent By Ravens, and Life On Repeat
2 tickets to the show of their choosing (you must be able to attend the date)
One (1) second place winner will receive:
1 t-shirt from Joshua Clothing
Assorted merchandise from Tooth & Nail and Equal Vision
A $300 credit on any merch order placed at Storenvy
One (1) third place winner will receive:
1 CD from Hollywood Lies, Sent By Ravens, and Life On Repeat, and assorted merchandise from both Tooth & Nail and Equal Vision.
Follow Us On Twittour dates
Sun November 29th - Hamden, CT @ The Space
Tues December 1st - Cambridge, MA @ Middle East (Upstairs)
Weds December 2nd - Wilkes-Barre, PA @ Cafe Metro
Thurs December 3rd - Allentown, PA @ Croc Rock
Fri December 4th - Ronkonkoma, NY @ Traxx
Sat December 5th - Berlin, MD @ The Pulse*
Sun December 6th - Linthicum Heights, MD @ MACC
Tues December 8th - Raleigh, NC @ The Brewery
Weds December 9th - Wilmington, NC @ Lucky's Pub
Thurs December 10th - Charlotte, NC @ Tremont Music Hall
Fri December 11th - Charleston, SC @ Oasis
Sat December 12th - West Columbia, SC @ NBT
Sun December 13th - Jacksonville Beach, FL @ Freebird Live
Mon December 14th - Orlando, FL @ Club 57 West
Tues December 15th - Columbus, GA @ Gallery 13
Weds December 16th - Marietta, GA @ Swayzes
Thurs December 17th - East Ridge, TN @ The Warehouse
Hey guys we are not going to be playing the Dec. 5th date in Berlin, MD. We are hate we are missing this show because its suppose to be an awesome show and a fun time. But we are pulling off this date to do a show with Advent and Rise Against at the Fillmore in Charlotte, NC.
We plan to do all the other dates but we just couldn't pass up this opportunity to be direct support for this tour. If you are interested in going here is all the information.
Saturday, December 5th - The Fillmore - Charlotte, NC
Rise Against - Sent By Ravens - Advent
Doors - 7:30
Thanks so much for everything guys. Hope to see a lot of new faces out on the road. Now get tweeting and come see us!
SBR
# # #
For more info on Sent By Ravens, visit the JFH Artists Database.


[2022]
Jan. | Feb. | March | April | May | June | July | Aug. | Sept. | Oct. | Nov. | Dec.
[2021]
Jan. | Feb. | March | April | May | June | July | Aug. | Sept. | Oct. | Nov. | Dec.
[2001 - 2022]
Visit our complete MUSIC NEWS ARCHIVE