JFH NEWS SHORTS FOR WEDNESDAY NOVEMBER 25, 2009
News on Switchfoot, Skillet, Day Of Fire, Jars Of Clay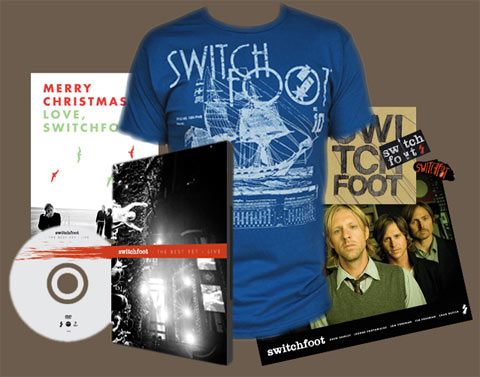 NEWS SOURCE: a Jesusfreakhideout.com report
November 25, 2009
>> Switchfoot Offers Exclusive Live DVD With Holiday Package
Each year, Switchfoot offers fans a unique holiday package deal in their own webstore and this year, an exclusive live DVD entitled The Best Yet - Live is part of the deal...
"The Holidays are right around the corner, which means our special Holiday Package is now available! This year our new live DVD - 'The Best Yet - Live' - is available to purchase exclusively with the holiday package. Featuring 12 songs, this DVD was shot in Nashville in 2008 during our Music Builds Tour. Please see track-listing below:
1. Stars
2. Oh! Gravity
3. Gone
4. We Are One Tonight / Shadow Proves The Sunshine
5. This is Home
6. This is Your Life
7. American Dream
8. Dirty Second Hands
9. On Fire
10. Awakening
11. Meant to Live
12. Dare You to Move

The Holiday Package includes:
*'The Best Yet - Live' DVD
*Choice of shirt
*2 Stickers
*Studio poster
*Oh! EP
*Signed Christmas card

The DELUXE Holiday Package is the same as above, except you get a new hoodie instead of a t-shirt. Click here to purchase your Holiday Package now!"
>> Chat Skillet Live On December 3rd
Skillet will host a live chat on December 3rd, at 6:30 pm EST via Facebook and partner UStream. The band will be answering your questions so make sure to RSVP now on their official Facebook page and tune in for the broadcast next Thursday. The band is currently on the Awake And Alive tour with Hawk Nelson and Decyfer Down to promote their latest album, Awake. Awake is available now on iTunes and includes songs "Hero" and "Monster," the first single from the record. (from Total Assault)
>> Day Of Fire Releases New Single Bundle To iTunes
Day of Fire's single, "Lately", is available now as an exclusive iTunes bundle. Included in the bundle is the album version of "Lately", a live audio version of the song, and a live video. 'Lately' is climbing the charts on Active Rock and Christian rock radio. It was #1 most added at Christian Rock on impact week and #2 Most Added at Active Rock. Helping to build on this radio success, the band has radio shows lined up for the month of December and a slated tour in the works for January/February 2010. (from Razor & Tie)
>> Jars Of Clay Do Christmas Dates With Bebo
To celebrate the Christmas season, Jars Of Clay will be hitting the road with Bebo Norman and the Henry Brothers for a short run of Christmas shows starting in December. Head on over to the tour section of JarsofClay.com to see if there is a stop near you. (There are no dates listed yet, but keep an eye posted there!)
For more info on these artists, visit the JFH Artists Database.


[2022]
Jan. | Feb. | March | April | May | June | July | Aug. | Sept. | Oct. | Nov. | Dec.
[2021]
Jan. | Feb. | March | April | May | June | July | Aug. | Sept. | Oct. | Nov. | Dec.
[2001 - 2022]
Visit our complete MUSIC NEWS ARCHIVE