AIR 1 RADIO AND C28 PRESENT THE TO SAVE A LIFE LAUNCH PARTY AND CONCERT, JANUARY 21, 2010 IN CORONA CALIFORNIA
To Celebrate the Release of the Anticipated Film To Save A Life, Seventh Day Slumber, Paul Wright and J.Rus Perform to Inspire Teens to Reach Out to the Hurting in Their Communities.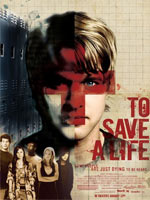 NEWS SOURCE: Biscuit Media Group
January 12, 2010
Air 1 Radio and C28 Stores announce the official TO SAVE A LIFE Launch Party and Concert, January 21 at Crossroads Church in Corona, CA. The event is FREE and open to the public.
The concert event features BEC recording artist Seventh Day Slumber, as well as Paul Wright and J.Rus who have music featured in the film. Also attending will be special surprise guests and an exclusive sneak peek from the movie TO SAVE A LIFE
TO SAVE A LIFE is an indie movie about the real-life challenges of teens. In the movie, Jake and Roger grew up as best friends. But in high school, Jake becomes a star athlete who has it all: a college scholarship and the perfect girl, an ideal life that comes at the exclusion of his childhood friend. Meanwhile, Roger no longer fits in anywhere and becomes tired of always being pushed aside. He makes a tragic move that spins Jake's world out of control. As Jake searches for answers, he begins a journey that will change his life forever.
This event hopes to not only provide a great evening of entertainment, but also hopes to raise awareness about the film, and inspire teens to reach out to their friends who may be hurting, or to seek help if they are feeling lonely or helpless. We also hope to inspire youth leaders and mentors to open up discussions with teens and help encourage them to not give up.
"When we heard about the film, we just had to be involved," states Joseph Rojas, lead singer of Seventh Day Slumber. "TO SAVE A LIFE really motivates you to be a better person. You never know who is hurting around you. I really believe this film will touch a lot of people, and it is built around the same things our band is about – saving lives and seeing lives changed."
TO SAVE A LIFE will be in theaters nationwide January 22, 2010. The film is rated PG-13, was created by New Song Pictures, Outreach Films and is distributed by Samuel Goldwyn Films.
AIR 1 RADIO AND C28 STORES PRESENT:
TO SAVE A LIFE – Launch Party and Concert
Featuring Seventh Day Slumber with Paul Wright and J.Rus
Special surprise guests and an exclusive sneak peek from the film TO SAVE A LIFE
January 21, 2010 - Doors open at 6:00pm, Concert at 7:00
Event is FREE and open to the public
CROSSROADS CHURCH - 2331 Kellogg Ave - Corona, CA 92881 (951) 737-4664
ABOUT TO SAVE A LIFE
An all-star athlete and his girlfriend find their lives spinning out of control when Jake loses a childhood friend. Help comes when he reaches out to others who are hurting, and he realizes some people are just dying to be heard. The movie asks...
How far would you go?
How much would you risk?
How hard would you fight...To Save A Life
ABOUT OUTREACH FILMS
Outreach Films is a division of Outreach, Inc. in Vista, CA. Outreach has helped promote and release films like THE CHRONICLES OF NARNIA, FIREPROOF and THE PASSION OF THE CHRIST. The Films division equips group leaders with inspiring entertainment for rewarding audience experiences.
ABOUT NEW SONG PICTURES
New Song Pictures is proud to release To Save a Life, their debut production. New Song Pictures is based in Oceanside, CA, and seeks to make films that tell relevant stories while being encouraging and uplifting.
ABOUT SAMUEL GOLDWYN FILMS
Samuel Goldwyn Films is a major, independently owned and operated motion-picture company that develops produces and distributes innovative feature films and documentaries. The company is dedicated to working with world renowned and emerging writers/filmmakers and committed to filmed entertainment that offers original voices in uniquely told stories. This steadfastness is best exemplified by the Academy Award® nominated SUPER SIZE ME, AMAZING GRACE and Julie Delpy's hit comedy 2 DAYS IN PARIS. Goldwyn's past slate included PRICELESS, a romantic comedy starring Audrey Tautou, Academy Award® winner Claude Lelouch's ROMAN DE GARE, the critically hailed ELEGY starring Academy Award® nominee Penélope Cruz and Academy Award® winner Ben Kingsley and the box office smash FIREPROOF.
# # # # # # # # # # #


[2021]
Jan. | Feb. | March | April | May | June | July | Aug. | Sept. | Oct. | Nov. | Dec.
[2020]
Jan. | Feb. | March | April | May | June | July | Aug. | Sept. | Oct. | Nov. | Dec.
[2001 - 2020]
Visit our complete MUSIC NEWS ARCHIVE