PURPLE DOOR FESTIVAL 2010 ANNOUNCES LINE-UP!
Festival's 15th Anniversary to take place August 13 and 14, 2010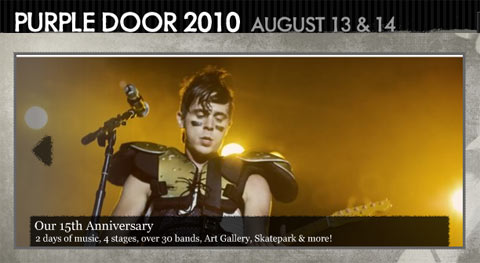 NEWS SOURCE: Purple Door Festival, a Jesusfreakhideout.com report
January 13, 2010
Today's the day, Purple Door fans! The artist lineup for Purple Door Festival 2010 (August 13 and 14) in Lewisberry, PA has been announced! Along with announcements of an additional stage this year (its 15th Anniversary!), "Facedown Friday" on the Side Stage, and over 30 bands, the festival's official site, PurpleDoor.com has revealed the main roster, with additional bands to be announced later. You can get tickets now for just $35.50 for the whole event (before April 2, then the price goes up to $39.50) at iTickets.com.
Jesusfreakhideout.com plans to attend again this year and feature our merch booth where you can meet us and hang with us! The first night of the festival, Friday August 13th, is JFH's 14th Anniversary online! So come and celebrate with us!
Below is the official lineup of artists for Purple Door Festival 2010. More bands to be added soon!
Main Stage
Family Force 5
Thousand Foot Krutch
August Burns Red
Project 86
Lecrae
The Classic Crime
House of Heroes
Children 18:3
I Am Terrified
Ivoryline
New Artist Showcase
*** More artists to come!
Side Stage
Demon Hunter
Showbread
Mychildren Mybride
Texas In July
Ace Augustine
War of Ages (part of Facedown Friday)
*** More artists to come!
Gallery Stage
Bradley Hathaway
Paper Route
Seabird
John Mark McMillan
Deas Vail
B. Reith
Esterlyn
Oceans in Love
*** More artists to come!
The Forum
Derek Webb
Thi'sl
Bradley Hathaway - Poetry Writing Seminar
Andrew Schwab - Lead singer of Project 86
Family Force 5 - Unplugged
*** More artists to come!
Main Stage Speakers
Renee Yohe - Inspiration behind TWLOHA
Lecrae ***** All artist subject to change without notice
For the JFH Review of Purple Door 2009 with photo gallery, click here.
For more info on Purple Door 2010, please visit www.purpledoor.com.


[2021]
Jan. | Feb. | March | April | May | June | July | Aug. | Sept. | Oct. | Nov. | Dec.
[2020]
Jan. | Feb. | March | April | May | June | July | Aug. | Sept. | Oct. | Nov. | Dec.
[2001 - 2020]
Visit our complete MUSIC NEWS ARCHIVE