PASSION 2010 KICKS OFF NEW YEAR WITH UNPARALLED RESPONSE DRAWING MORE THAN 22,000 TO ATLANTA
OVER 1 MILLION DOLLARS GIVEN BY ATTENDEES TO VARIOUS GLOBAL CAUSES THROUGH DO SOMETHING NOW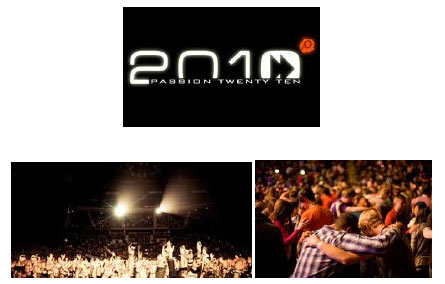 NEWS SOURCE: The M Collective
January 21, 2010
January 21, 2010… With worship led by Chris Tomlin, David Crowder*Band, Charlie Hall, Matt Redman, Christy Nockels, Kristian Stanfill, FEE, Hillsong United and speakers including Passion founder Louie Giglio, John Piper, Andy Stanley, Francis Chan and Beth Moore, Passion 2010 kicked off the year with an unparalleled response when more than 22,000 university-aged young people from across the U.S. and world filled Phillips Arena and the Georgia World Congress Center in downtown Atlanta, GA.
At the heart of it all, Passion exists to see a generation stake their lives on what matters most, the fame of Jesus, the One who rescues and restores.
In the four-day conference (held January 2-5), attendees responded to the challenge to wed worship and justice by giving more than 1 million dollars on-site to various causes around the world to help those in need through the Do Something Now campaign.
Do Something Now, a movement launched by Passion in 2007, has to date funneled more than two million dollars to those in greatest need throughout the world. At the core of it all for Passion, is a desire to wed worship and justice, believing that what God wants most is not just another song, but a reflection of His love and mercy among the poor, the imprisoned, the voiceless and the oppressed.
At Passion 2010, Do Something Now introduced 12 partner organizations with the goal of raising $500,000. The goal was not to gain pledges for the future, but for the thousands of students to collectively give during the four-day conference to those with immediate needs.
Some of the causes included building an education center for the Dalit people of India through Operation Mobilization, small business loans for women in Haiti through Hope International, providing 100 cleft plate surgeries for children in Afghanistan with Cure International, sponsoring a child effected by HIV/AIDS in Mozambique with World Vision and many more. By the end of the four days, attendees responded overwhelmingly to the $500,000 goal, well-exceeding it by giving $724,480.42 to the different organizations. In addition, a special donation made by a family at Passion 2010 matched the total given at the start of the fourth day with a generous gift of $668.597.00, resulting in a grand total of $1.4 million.
In addition to the global relief, the students' joined together and gave 14,820 towels and 72,600 pairs of socks to assist the homeless shelters of Atlanta.
"The heartbeat of the Passion Movement is not simply about filling arenas, but a generation mobilized to carry the message of God's fame to the unreached, oppressed and forgotten wherever they are on the planet," says Louie Giglio, the verse, 'where your money is your heart is also,' applies here, and believe many lives have been captured by His global purposes in these days."
Donations are still being accepted to help the organizations involved with Passion 2010. This can be done by texting OMC to 20222 and/or giving online at onemillioncan.com . One hundred percent of all monies given online and by text will go to directly to the onemillioncan causes. For more details on all of the organizations and projects involved please visit http://268generation.com/passion2010/dosomethingnow.
###


[2020]
Jan. | Feb. | March | April | May | June | July | Aug. | Sept. | Oct. | Nov. | Dec.
[2019]
Jan. | Feb. | March | April | May | June | July | Aug. | Sept. | Oct. | Nov. | Dec.
[2001 - 2018]
Visit our complete MUSIC NEWS ARCHIVE