MERCYME ENCOURAGES "ALL OF CREATION" TO 'LOVE WELL'
WITH RELEASE OF "THE GENEROUS MR. LOVEWELL" ON MAY 4
DEBUT SINGLE ADDED AT OVER 55 STATIONS
FOLLOWING SUCCESSFUL RADIO PROMO TOUR ACROSS THE U.S.
NEWS SOURCE: The M Collective
February 10, 2010
NASHVILLE, TN…2/10/10…Multi-platinum and award-winning band MercyMe is encouraging "All Of Creation" to "love well" with their upcoming studio album "The Generous Mr. Lovewell" (INO Records), scheduled to arrive May 4th nationwide.
"The album, "The Generous Mr. Lovewell," revolves around a fictional character we created who reminds us that we simply need to love others well," explains MercyMe frontman Bart Millard. "For some of us, it means that we need to put hands and feet on our ideology and rhetoric. For others, it means that we need to continue in doing well, but to not stop there. We need to let people know why we are called to make a difference. Our prayer is that this album would mobilize the body of Christ to encourage people in word and deed."
MercyMe recently had the opportunity to share this concept as they personally premiered their first single, "All of Creation" to radio stations across the U.S. The band split up into three teams of two, making stops at major market stations such as K-LOVE, Z88 in Orlando, The Fish Los Angeles, KCMS in Seattle, WCSG in Grand Rapids and dozens more.
Produced by Brown Bannister and Dan Muckala, the project features 11 tracks, and with each member sending regular tweets throughout the recording, photo shoots and more, fans have been able to stay connected to the process. The band plans to continue this process, and has already posted YouTube videos talking about the idea behind Mr. Lovewell and the new single:
Millard Describes the idea behind "The Generous Mr. Lovewell"-
http://www.youtube.com/watch?v=yS4Q8xiP6N8
Millard Introduces "All Of Creation"-
http://www.youtube.com/user/INORecords#p/a/u/0/q-tywXLREik
"We as a band are all very excited about "The Generous Mr. Lovewell," continues Millard. "And hopefully it will create a movement of encouraging people to make a difference in the world whether it's helping your neighbor or just loving each other."
Also this spring, fans can catch MercyMe on the Rock And Worship Roadshow as they travel across the country alongside fellow acts David Crowder*Band, Family Force 5, Francesca Battistelli, Fee, Remedy Drive and Sidewalk Prophets. To see if the tour is coming to a city nearby please visit: www.rockandworshiproadshow.com.
For more information on MercyMe and "The Generous Mr. Lovewell," please go to www.mercyme.org or www.mrlovewell.com, or via Twitter @MrLovewell.
###
Since their debut in 2001, Grammy-nominated, American Music Award and multiple GMA Dove Award winners MercyMe have sold over 5 million units in CD and DVD sales. Their latest, "All That Is Within Me," entered the Billboard Top 200 chart at No. 15, selling an impressive 83,626 units while being one of few Contemporary Christian music groups to have had all of their recordings certified Gold or Platinum, as well as garner 22 No.1 multi-format Christian radio singles, and four consecutive mainstream radio hits with "I Can Only Imagine," (No. 4 AC/top 25 on Top 40/Hot AC), "Here With Me" (No. 4 AC), "Homesick" (top 10 AC), and "So Long Self."
In 2009 BILLBOARD named MercyMe's "Word Of God Speak" the #1 Song of The Decade and the group the #1 Christian Songs Artist of the Decade, with an additional #1 as the Christian AC Song Artist of The Decade.
As one of the industry's most notable talents, MercyMe has sold out venues including Radio City Music Hall and has been seen on The Tonight Show, CNN, Fox New Channel's Fox & Friends, ABC News, CBS' The Early Show, and on the pages of Entertainment Weekly, The New York Times, USA Today, Billboard, and more.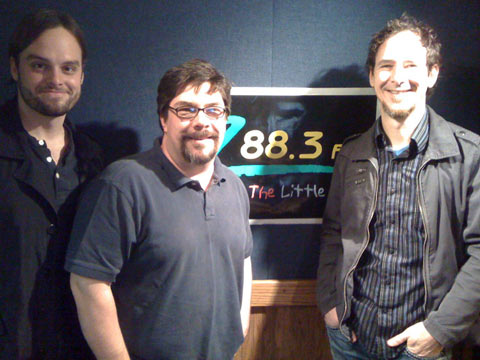 Nathan and Jim with Z88's Jeff Cruz in Orlando, FL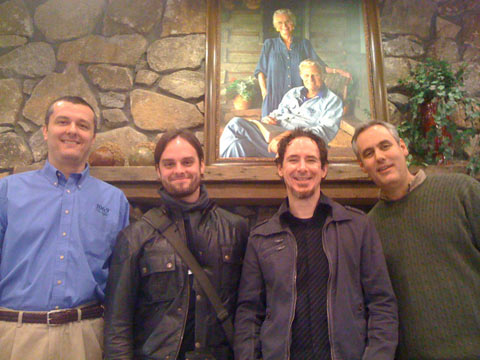 Nathan and Jim with WMIT's Tom Greene and Matt Stockman in Asheville, NC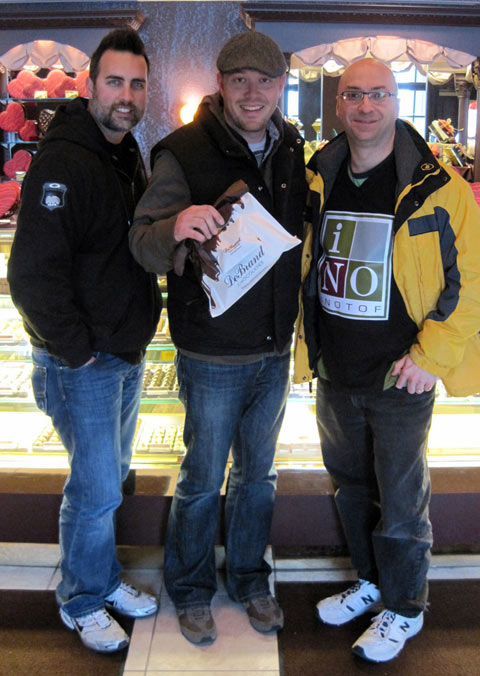 Mike and Robby with Star88.3's Don Buettner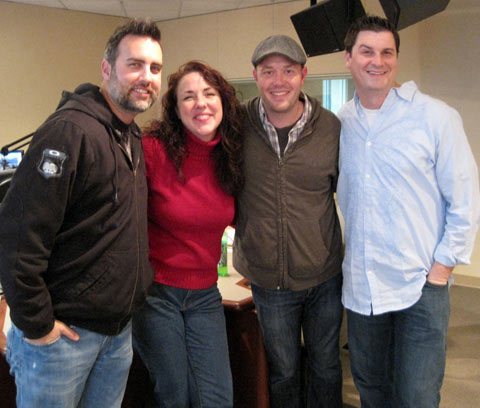 Mike and Robby with K-LOVE's morning crew Eric and Lisa in Indianapolis, IN.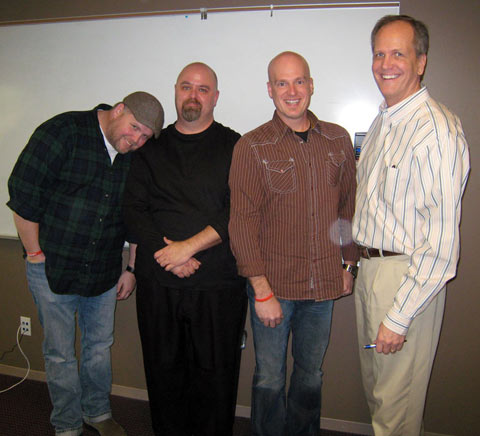 Bart, Barry, Dan Michaels of INO Records and WAY-FM Media Group's Lloyd Parker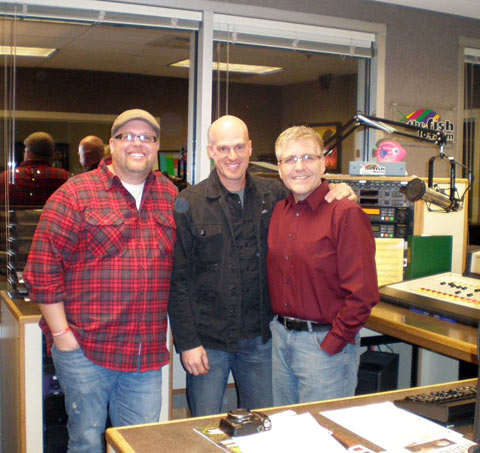 Bart and Barry with Fish Portland's Dave Arthur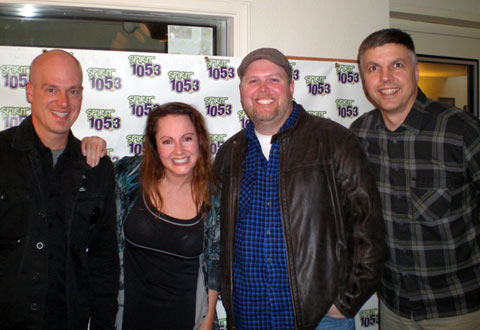 Bart and Barry with KCMS's morning crew Scott and Sam in Seattle, WA.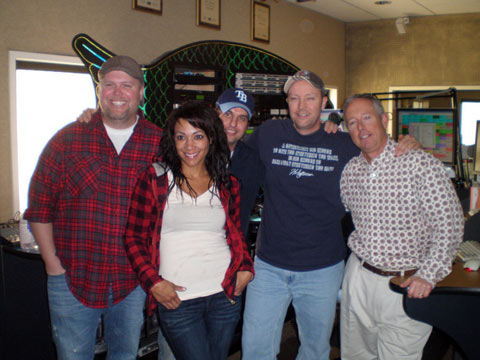 Fish Los Angeles morning crew Bobby & Reba plus Chuck Tyler & Ryan James along with Bart and Barry
For more info on MercyMe, visit the JFH Artists Database.


[2022]
Jan. | Feb. | March | April | May | June | July | Aug. | Sept. | Oct. | Nov. | Dec.
[2021]
Jan. | Feb. | March | April | May | June | July | Aug. | Sept. | Oct. | Nov. | Dec.
[2001 - 2021]
Visit our complete MUSIC NEWS ARCHIVE