D A V E B A R N E S

WHAT WE WANT, WHAT WE GET
RELEASES APRIL 6TH ON RAZOR & TIE RECORDS;
First Radio Single "God Gave Me You" Already Making Huge Impact At CHR;

Long-Time Supporter Of Mocha Club; Barnes Performed At Nashville's Help Haiti Live Benefit
NEWS SOURCE: Vining Media, a Jesusfreakhideout.com report
March 3, 2010
March 3, 2010 - Nashville, TN - What happens when, as a child, you can't decide what to do with the rest of your life? When Dave Barnes was a little boy, he wanted to grow up and be Spiderman or play music. He chose the latter because becoming Spiderman would have been a long shot, and thankfully years later we get to enjoy the music and lyrics from Dave Barnes, most recently from his brand new album What We Want, What We Get. Releasing April 6th on Razor & Tie Records, this is Barnes' fourth project to date and his second full-length project with Razor & Tie.
What We Want, What We Get showcases Barnes at his best yet as he explores a range of texture and melodies with songs expressing a wide range of emotions. The most accessible and inspiring of all of his projects, he explains, "When I decided to make this record I really wanted to write songs that people could quickly assimilate in to their own life. I'm excited because I think this record is the most 'easily digestible' of anything I've ever written."
Just a few years into Barnes' musical career, which started with an EP in 2002 that led to opening some shows for fellow singer/songwriter Matt Wertz, Barnes began to build his own audience. He also began to obtain fans in respected artists such as Bonnie Raitt, Marc Cohn, Vince Gill, Amy Grant and John Mayer, something for which he is very grateful. "The thing that fires me up, and still blows me away, is when I am able to meet someone I've admired and has inspired me, only to find out they feel the same way about what I do. Respect is a pretty heavy currency in my little world, and it has hugely impacted my music."
Encouraged by these artists as well as influenced by Stevie Wonder, Doobie Brothers, Indigo Girls, and authors Donald Miller and Frederick Buechner, Barnes was more than eager to create What We Want, What We Get. The project's theme reflects how Barnes deals with expectations of life. "I've been very blessed but still struggle with a head full of dreams," he shares. "Be it good, be it bad, what do we do when we don't get what we expected?"
He also co-produced this new project, partnering with Ed Cash (Steven Curtis Chapman, Amy Grant) who has also co-produced all of Barnes' full-length releases.
Known for honest lyrics and not hiding his feelings behind metaphors, Dave Barnes continues to approach his subject matter directly. His first radio single, titled "God Gave Me You," is a beautiful up-tempo love song for all ages: God gave me you for the ups and downs / God gave me you for the days of doubt / For when I think I lost my way / there are no words here left to say, it's true / God gave me you.
"God Gave Me You" is already making a huge impact at CHR radio, capturing fans in both promoters and the radio listener. The single debuted this week on Billboard's CHR charts at #28, with more adds coming in weekly.
No matter what, Dave Barnes is just enjoying every minute of every day. "What really blows my mind is that every day is a constant invitation from God, for us to participate is His will for our lives," he says. "Yet something that the devil loves to do is to pull us into thinking that there's just that one chance, that one choice, and when you've made that choice you've made it for the rest of your life. And the beauty of what God says is, 'No! Every second of every moment, of every day, of every year of your life, I'm inviting you to do this, and You can participate or not.' Every moment God gives us is another chance," he concludes.
Sure, Dave Barnes never did become Spiderman, swinging from tall buildings by the thread of a web, but we're glad he has become entangled in something much more spectacular.
What We Want, What We Get song listing:
1. Little Lies
2. God Gave Me You
3. What I Need
4. What We Want, What We Get
5. Chameleon
6. Somebody's Someone
7. Look So Easy
8. Same for Me
9. My Love, My Enemy
10. Amen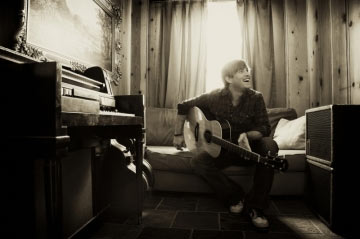 INSIDE THE HEART AND MIND OF DAVE BARNES
Growing up the son of a pastor, there wasn't a time in his life that Dave Barnes hasn't been in the church. "Because of my parents' faithfulness and love, I never knew a time not knowing the Lord," he gratefully mentions. There also hasn't been a time in his life that he hasn't had music around, something his parents have always supported. With music on during homework to housework chores, "If I am doing anything, I've got music on in the background." He even studied percussion in college with hopes to then move to Nashville to become a session musician. Yet when his dorm room was just too small for his drum set, he picked up his roommates' guitar and taught himself to play. Along the way, Barnes discovered he also had a real knack for songwriting.
Some may also be surprised to know that he has a separate, and successful, career as a stand-up comedian. Motivated by the stand-up work of Bill Cosby, Barnes has performed several sold-out dates in and around Nashville, garnering positive reviews and more fans with each performance.
Passionate to share his heart through his music, Barnes has been immensely inspired by The Mocha Club and puts the ministry as a priority at all of his shows. "I view my work with The Mocha Club as, in some ways, the reason why I do what I do," he shares. "I realized early on in my career, as Solomon did, if I'm doing this to bring attention to myself, it gets really miserable. I have been able to go to Africa three times with them and each time, it becomes more and more the story that God is writing in my life. One of my best friends in the world, Barrett Ward, runs it so it was an easy and obvious choice. He is an amazing man and I knew what he was involved with would be full of integrity and vision."
Most recently Barnes was one of the many artists joining their talents at last weekend's Help Haiti Live benefit, supporting Compassion International's Haiti disaster relief fund. He shared the stage with Alison Krauss and Union Station, Jars of Clay, Matt Kearney, Brandon Heath and Matt Wertz at Nashville's historic Ryman Auditorium. Photos are below from the event.
For more information, please visit: