FRANCESCA BATTISTELLI, REMEDY DRIVE, AND SIDEWALK PROPHETS JOIN ALL-STAR LINE-UP FOR 2ND ANNUAL ROCK AND WORSHIP ROADSHOW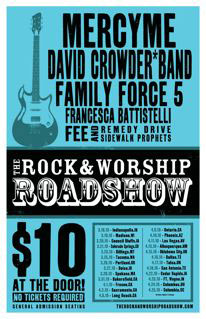 NEWS SOURCE: Word Records
March 17, 2010
NASHVILLE, TENNESSEE (March 17, 2010)— Three of Christian music's favorite artists will be joining the 2nd Annual Rock and Worship Roadshow tour, launching March 18 in Indianapolis, IN. Word Label Group's Francesca Battistelli, Remedy Drive, and Sidewalk Prophets are set to be featured alongside leading industry acts including MercyMe, David Crowder*Band, Family Force 5 and Fee. With $10 admission, the tour will be hitting 25 cities through the end of April. For more information, including a full list of tour stops, please visit http://www.therockandworshiproadshow.com.
Grammy-nominated Francesca Battistelli set the Christian radio charts on fire in 2009 with her smash hit "Free To Be Me" which held the #1 slot for 10 consecutive weeks. She recently released My Paper Heart: Deluxe Edition featuring two songs and four new versions of the hits "Free To Be Me", "It's Your Life", "I'm Letting Go", and "Beautiful, Beautiful." Additionally, Battistelli had music featured on AOL Music's homepage, in ABC's "Extreme Makeover: Home Edition," TLC's "Jon & Kate Plus 8," NBC's "Biggest Loser," Fox's "So You Think You Can Dance," and many other television shows and movies.
Known for their over-the-top live performance antics, three-time GMA Dove Award nominee Remedy Drive is preparing for the March 30 release of Daylight is Coming: Expanded Edition featuring three new songs. Fans who already have the original Daylight is Coming release in their music collection can download the digital-only Daylight EP featuring three new songs, plus the acoustic version of "All Along" and the dance remix of "Daylight", mixed by Family Force 5 frontman Soul Glow Activatur. The band's new single "Speak to Me" will hit radio stations on April 9.
New artist Sidewalk Prophets recently garnered two GMA Dove Awards nominations including a nod for "New Artist of the Year." The band's debut single "The Words I Would Say" held the #1 slot on the AC Indicator chart for 5 consecutive weeks. Releasing in August 2009, Sidewalk Prophets debut record These Simple Truths scanned more than 10,000 units the first month of release. Booked by Word's own The Breen Agency, Sidewalk Prophets is currently on their self-proclaimed "VanGo Tour" comprised of the Winter Jam 2010 tour and Rock and Worship Roadshow playing for nearly 550,000 fans this spring.
For more information, visit http://www.wordlabelgroup.com
A leader in the music industry for more than 50 years, Word Entertainment, a Warner/Curb company, is a unique, comprehensive entertainment company comprised of multi-faceted artist service departments including publishing, merchandising, booking, and online initiatives. Word Entertainment represents some of the top names and brands in music, including Point Of Grace, BarlowGirl, Mark Schultz, Big Daddy Weave, Group 1 Crew, Sidewalk Prophets, Remedy Drive, pureNRG and Francesca Battistelli, and is home to Word Distribution, Word Print, The Breen Agency, Word Music Publishing and Word Label Group's Word Records, Fervent Records, Myrrh Records and Squint Records.


[2022]
Jan. | Feb. | March | April | May | June | July | Aug. | Sept. | Oct. | Nov. | Dec.
[2021]
Jan. | Feb. | March | April | May | June | July | Aug. | Sept. | Oct. | Nov. | Dec.
[2001 - 2021]
Visit our complete MUSIC NEWS ARCHIVE