TYRUS MORGAN AND JUST LOVE COFFEE ROASTERS PARTNER TO PRESENT SIGNATURE BLEND AND TOUR
Just Love Coffee "Acoustica Tour" To Launch This Spring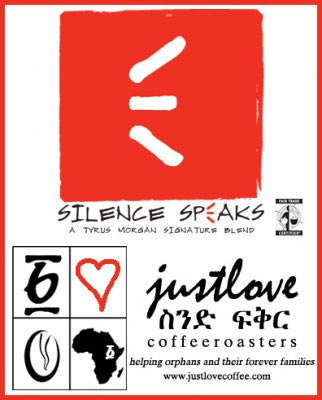 NEWS SOURCE: SPRINGBOARD Entertainment
March 17, 2010
Nashville, TN (March 17, 2010) – Singer/songwriter, Tyrus Morgan, has teamed with Murfreesboro, TN based company, Just Love Coffee Roasters to present Silence Speaks, a special blend of Fair Trade coffee inspired by the song of the same name from Morgan's new album Sycamore. The coffee can be purchased through various online outlets and Morgan's concerts.
"The song, 'Silence Speaks,' represents one's opportunity to speak for what is silent or to give a voice to the voiceless," explains Morgan. "This is a way to bring awareness to whatever a person is passionate about… poverty, orphans, the homeless, etc… When we are still and give silence a chance, often times it's the loudest message we ever hear."
Morgan continues, "This partnership with Just Love Coffee Roasters really makes a lot of sense, as we both share a heart for doing something beyond ourselves… especially in the way of orphan advocacy and poverty. Also, the coffee is outstanding!"
The Silence Speaks Blend is a medium roast of beans from Ethiopia and Sumatra with a smooth, even taste.
In addition to the coffee blend, the pair is teaming together for the Just Love Coffee "Acoustica Tour." Set to launch this Spring, the tour will present intimate acoustic shows with a focus on the concept of doing things outside of our own small worlds. Morgan and Two Empty Chairs frontman, Cliff Preston, will provide music for the evening, which will also include discussion and interaction, all over a cup of coffee.
"We are excited about our new partnership with Tyrus Morgan," explains Rob Webb Founder/Owner of the coffee company. "It was a perfect fit for Just Love Coffee Roasters since Tyrus has the same passion for the cause of the orphan as we do personally and as a company. We look forward to collectively speaking out with Tyrus for those that have no voice."
Silence Speaks Blend can be purchased at www.justlovecoffee.com, www.tyrusmorgan.com and live shows. Current information about the "Acoustica Tour" can be found on these sites as well. Dates for the tour are being booked now for Spring and Summer throughout the Southeast and Midwest.
About Tyrus Morgan
Growing up in Kansas, Morgan honed his musical skills playing solo acoustic shows throughout college, eventually filling the role of primary songwriter and frontman in a college band, propelling them to an award-winning regional act. Moving to Nashville and branching out as a songwriter, Morgan began writing for other artists and in 2007 Mark Miller, frontman for GRAMMY award-winning country group Sawyer Brown, recorded "Covered In Love" to be used as the theme song for Project Linus, a national non-profit organization. Morgan and his wife recently adopted a little girl from Ethiopia, a life-changing experience that has led Morgan to partner with several orphan advocacy organizations. He is also a founding member of the Will Play For Water Tour (WPFW) benefitting Living Water International, an organization focused on building wells and providing clean water in third world countries. Morgan's album, Sycamore, was released in January and is available now online through iTunes, Amazon and www.tyrusmorgan.com as well as at his live performances.
About Just Love Coffee Roasters
Just Love Coffee Roasters, a new 100% Fair Trade Specialty coffee roaster based in Murfreesboro, TN was born out of owner and founder, Ron Webb's journey of adopting two girls from Ethiopia as well as his desire to sell Fair Trade coffees that support coffee farmers. Direct sales of Just Love Coffee product supports Kids Care Orphanage in Addis Ababa, Ethiopia, while adoptive families, benevolent organizations, churches, foster parents and adoption agencies can host their own customizable Just Love Coffee Storefront to raise money for their own initiatives. A family can sign up with Just Love Coffee Roasters Fundraising Program, host their own personalized store with a unique URL and simply drive traffic to their online store and receive a check each month.
For more information about Tyrus Morgan and for up to the minute news on Sycamore, please visit www.tyrusmorgan.com and follow him on Twitter at www.twitter.com/TyrusMorgan. Information about Just Love Coffee Roasters can be found at www.justlovecoffee.com.
# # #


[2022]
Jan. | Feb. | March | April | May | June | July | Aug. | Sept. | Oct. | Nov. | Dec.
[2021]
Jan. | Feb. | March | April | May | June | July | Aug. | Sept. | Oct. | Nov. | Dec.
[2001 - 2021]
Visit our complete MUSIC NEWS ARCHIVE